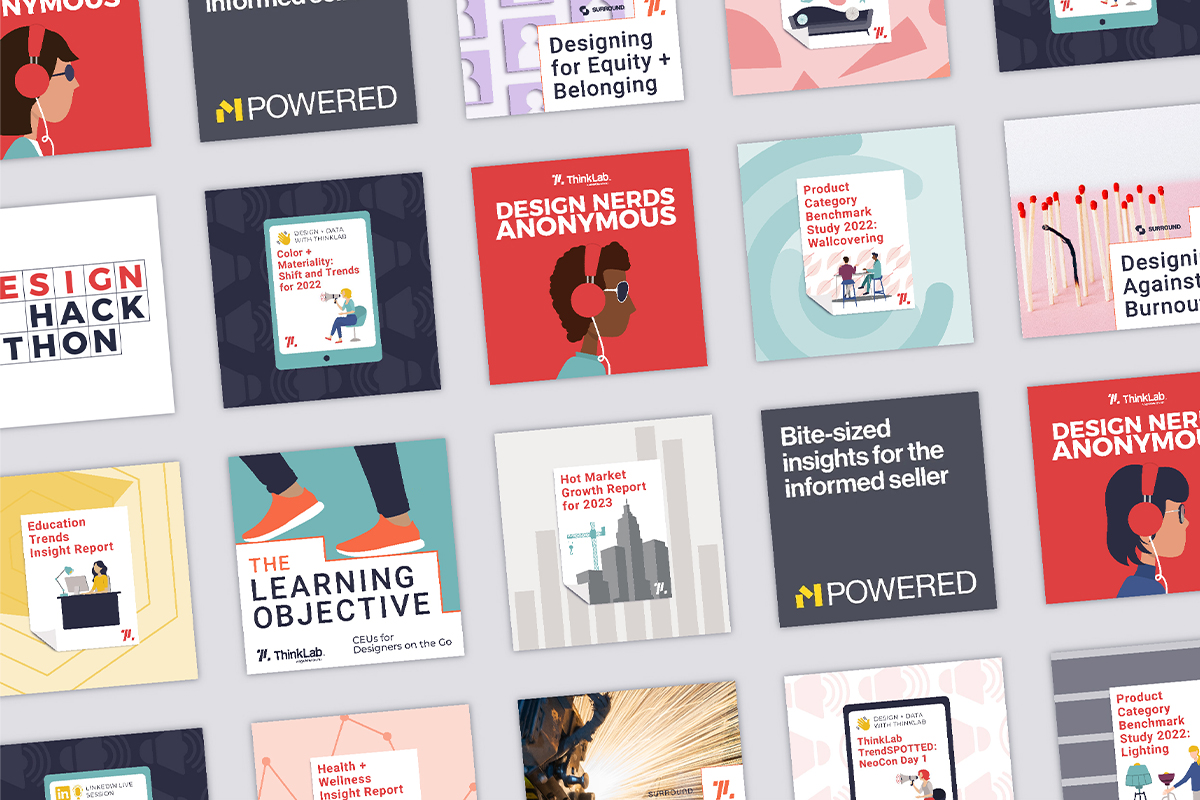 Now that Mariah Carey's "All I Want For Christmas" is playing on repeat, it's time to put on our comfiest PJs, heat up a cup of cocoa, and reflect on this past year. And, since it's the giving season, ThinkLab is here to share our own greatest hits from the year to help you prepare for 2023.
If holiday music isn't your jam, don't worry! Our hits have less to do with music and more to do with the best interior design industry market research released this year. So tune in, and turn up the volume (especially on the podcasts), as we highlight our best insights of 2022.
1. Debuted the interiors industry's first-ever persona study
Insight: Your clients all share the same core value: ease of doing business. But how they measure success is different.
Our greatest hit of 2022? Well, as researchers, it is no surprise that it was a study that involved six months of generative research with the industry's finest decision-makers, including architects, designers, manufacturers, commercial real estate, and end users.
Each year, ThinkLab conducts a design hackathon to tackle one of the industry's biggest challenges. Our challenge this year: "What is a decision-maker's ideal blend of human and digital interaction with a brand?"
What we've discovered may not surprise you: What clients want most is ease of doing business, but how they measure success can be quite different. To meet their needs, you first have to understand them.
Not all decision-makers operate the same way in the phygital (physical + digital) world. Some prefer greater digital interaction, while others choose greater human interaction. And to understand what clients need when in the design process, ThinkLab created the industry's first-ever persona study uncovering five key specifier personas.
Whether you are in sales, marketing, or another strategic role, you can learn more in our easy-to-digest Design Nerds Anonymous podcast episode "Why Your Brand Needs Specifier Personas Now More Than Ever." (We'd also recommend diving into our on-demand specifier persona course.) If you're a designer, you may be wondering which one persona you might identify with. You can read more on all five personas here.
2. Helping your business succeed with new industry benchmark reports
Insight: It's easier than ever to be surrounded by data, yet starved for insights.
What is our jam? Removing assumptions and replacing them with data. Better yet, combining market data with actionable insights, giving you a competitive edge, and empowering you to make informed decisions.
We've learned in this era that it's easier than ever to be surrounded by data, yet starved for insights. Yet even those insights are only as valuable as those you can empower to make a difference.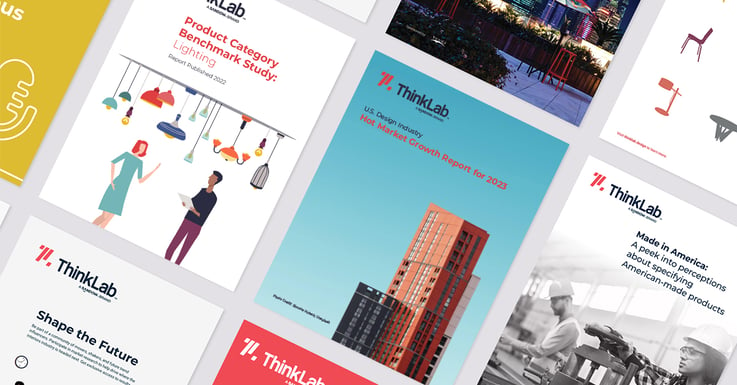 ThinkLab creates annual benchmarking market research reports for the design industry to help your brand plan for the coming year, complete with easy-to-digest visuals and actionable ideas.
Our favorites?
This three-part series for the design industry covers hot vertical markets, hot geographic regions experiencing growth in the coming year, and hot product categories. These are so hot we can only give you a preview. (Psst . . . if you're a ThinkLab Insider, you have access to the full report.) And, better yet, it's super visual with quotable quotes and snippable graphics to help you end internal debates and move decisions forward.
2. The Interior Design Giants of Design Report
While the entire industry is used to getting great information from 40 years of editorial on the Interior Design Giants of Design, ThinkLab is taking a slightly nerdier look by leveraging their data to improve our industry insights. You can watch this short link of our presentation live from the Interior Design Giants of Design event. And get ready, because we'll be doing it again this year!


This annual report leverages data to help you harness the exponential specification power of A&D to grow your business — starting with analyzing the key shifts that happened over the past year. Each year, this report clarifies the similarities and differences between the commercial and residential sectors. But data is just data until you make sense of it. So, in addition to sharing bold insights, this complimentary report shares snippable visuals to help you tell your data story. From shifting demographics in the design industry to what matters most when selecting products, this is a can't-miss report as you plan for 2023.
3. Launching the first-ever CEU-certified podcast, The Learning Objective

Insight: Hours don't signify effectiveness, and the creative burnout is real.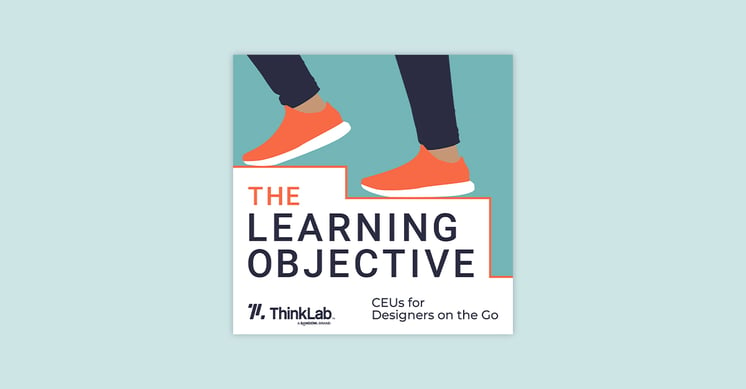 If you've been tuning in the last few years, the term "burnout" may not be new to you. You may have even experienced it yourself. Today, much of our industry is Zoom-fatigued, yet connection-starved. So, rather than creating more ways to sit and stare at your screen, ThinkLab created The Learning Objective, where designers can earn micro-credits through AIA and IDCEC for following along. And since it's audio-only, listeners are encouraged to pop in those earbuds and take a walk while they listen.

And our first topic? Burnout. Here are three key signs to identifying it:
Overwhelming exhaustion
Feelings of cynicism and detachment from the job
Sense of ineffectiveness and lack of accomplishment
So, how to do you reduce the risk or counteract burnout if it's already in effect? We tackled this conversation head-on in The Learning Objective's "Designing Against Burnout" episode. You can learn about this topic and many more wherever you get your podcasts, or by checking out this link here.
The best thing about it? These topics are insightful whether you need CEU credits or not!
4. Bringing consumer sentiment practices to contract interiors with ThinkLab Trendspotters
Insight: We're so excited to see people, it's easy to miss all the great product launches.
For Chicagoans, NeoCon has always marked the unofficial start of summer. It was inspiring to have the industry's most predominant contract show, and THEMART, in full swing and back to its normal June programming.
But, with nearly two years of unusual scheduling, what changed?
First up, many of us were so excited to reconnect with one another that it was tougher than ever to get to all the product we wanted to. So, what better way to find out than through the unfiltered lens of the most powerful specifiers around — designers.
In true ThinkLab form, we took one of the best consumer practices and applied it to our industry. Cue ThinkLab's 2022 Trendspotters.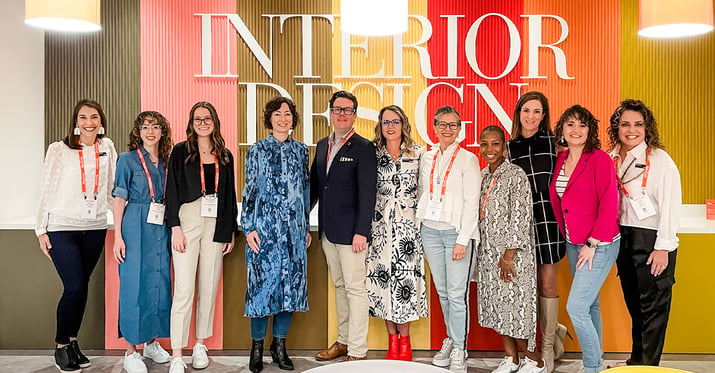 Now, whether you were at the show or not, it was nearly impossible to see everything. If you're like most, you needed a debrief on what not to miss. That's why our Trendspotters rounded up the top 10 commercial design trends at NeoCon.
If you are curious about how to build an improved designer experience, especially as brands begin to plan next year's showroom experiences, tune into our Mpowered episode "What Is the Future of Showrooms?"
5. Hosting the Mpowered podcast to help leading reps navigate the "next normal"
Insight: While a lot has changed, a lot also hasn't changed.
After the transformative changes we've seen in the past few years, you may be heaving a sigh of relief that things are finally starting to feel "back to normal." But what does this mean exactly? And how do can we help reps thrive today?
While it is true that digital tools are a growing necessity in today's selling climate, since they provide information for you and your customers to self-serve, our research has found that people still want to do business with people. So, what does this mean for our beloved reps? Good news!
As ThinkLab's Erica Waayenberg has put it: "What designers need from a rep hasn't changed . . . perhaps only intensified."
So, where do you start if you are a sales rep?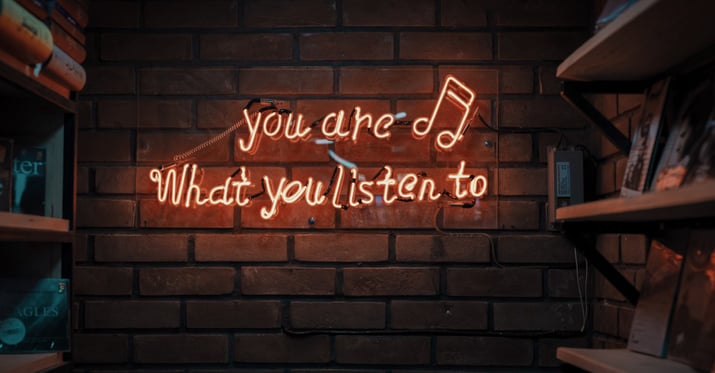 Partnering with Material Bank, ThinkLab launched the Mpowered podcast which provides bite-sized, actionable insights to help you succeed as a B2B rep. Each episode tackles one key question, some submitted by our audience, then answers them with quotable ThinkLab stats — plus tactical ideas for today's reps to test for themselves — all in just about five minutes per week.
One quick tip from Mpowered's most popular episode:
"Embrace your problem-solving superpowers as a rep. Designers say the best reps are uber-responsive problem-solvers. Typically, if your client is reaching out, they have exhausted their own resources and are looking for a quick answer. Some examples on how to flex your rep superpower: being actively involved in product substitutions, providing proactive communication on lead time or delays, and following up even after the project is complete. That way, you can find out how to do even better on the next opportunity."
Want more juicy tips on how to be an informed seller? Tune in weekly to Mpowered, wherever you get your podcasts.
Or dive right in with our three most popular episodes:
At ThinkLab, we pride ourselves not only on providing research-led insights to help you grow your business, but also on sharing them in whatever way helps you digest those insights best.
Audiophile?

We've got you. Check out any one of our three podcasts mentioned in this article (

Design Nerds Anonymous

,

The Learning Objective

, or

Mpowered

), and be sure to tune in next year to our continued LinkedIn Live audio events by following ThinkLab's

LinkedIn page

.

Visual learner?

You'll love the simple-to-understand-and-share graphics in our multitude of industry benchmark reports.

Love to read?

Us, too.

Bookmark our blog

to discover even more insights from ThinkLab.
And just when you thought ThinkLab couldn't offer any more gifts, we have one more way we give. Not only do we give insights, we're also giving back to our environment!
In lieu of cash gifts to take part in ThinkLab research, we are proud to announce this year we have planted 1,800 trees and counting. View our ThinkLab forest here. If you are an industry partner, such as an architect or designer, help us plant more!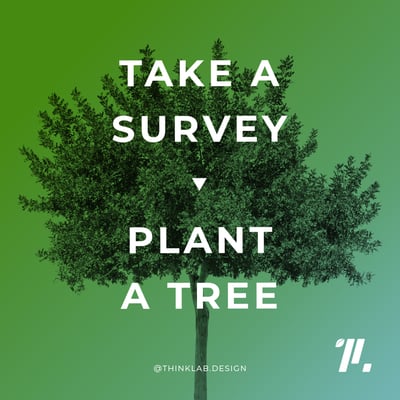 All you need to do is sign up here to participate in one of our industry surveys. For every completed survey, ThinkLab plants a tree.
Thanks for being a part of our 2022, and we're excited to discover more "greatest hits" together in 2023.