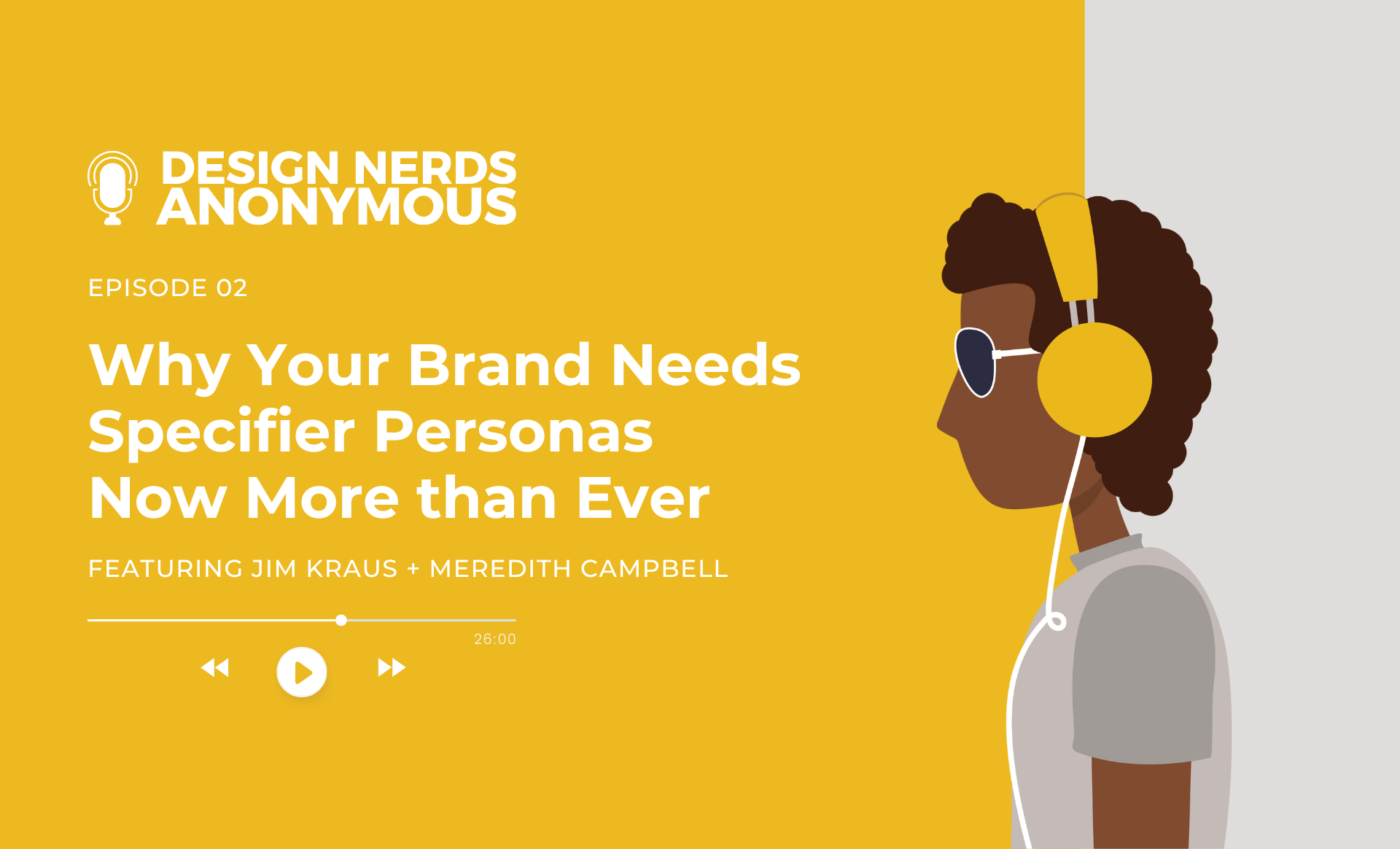 Why Your Brand Needs Specifier Personas Now More than Ever
The Latest Design Research And What It Means

In this episode, ThinkLab interviews two experts on the importance of buyer personas and how these profiles can help guide brands on how they go to market, as well as ease frustration with the specifying process in a phygital world.
Subscribe to view future episodes here:
Design Nerds Anonymous Podcast
Season 4, Episode 02 Show Notes

Our first guest is Jim Kraus, president of the Buyer Persona Institute, who defines how these personas work by walking through what he calls "the five rings of buyer insights." Kraus also discusses how the wider world leverages personas for sales and marketing and explains ways that companies commonly fail to get the most out of persona work.
Our second guest is Meredith Campbell, the host of The Learning Objective podcast and part of ThinkLab's research and content development team. She shares an inside look at ThinkLab's most recent design hackathon research, which explored the desired balance between human and digital interaction with brand reps today. From this proprietary research, ThinkLab identified and developed unique specifier personas specifically for the commercial interior design industry and captured each persona's distinct preferences throughout the specifying journey.
Highlights from this episode:
[6:58] Jim explains "the five rings of buyer insights," which includes desired outcomes and the buyer's journey.

[9:45] "If you just have demographics on a buyer persona, you're not going to be able to get that deep. You're not going to get to that layer of trust with them."

[17:28] Meredith explains the roots of the persona research drawn from ThinkLab's hackathon sessions.

[22:00] Meredith identifies the one key success factor shared by all personas and describes how each persona defines it differently.
Connect with our expert guests on LinkedIn:
Take Action on this Episode
This season of Design Nerds Anonymous is brought to you by Mannington Commercial, theMART, and NeoCon, companies doing big things to move the design industry forward.
Download our leading-edge playbook: 5 Personas and 50 Ways to Design Their Phygital Journey.
Design Nerds Anonymous is a proud member of the SURROUND Podcast Network. Discover more shows from SURROUND at surroundpodcasts.com. This episode of Design Nerds Anonymous was produced and edited by SANDOW Design Group, with music from Blue Dot Sessions. Special thanks to the podcast production team: Hannah Viti, Wize Grazette, and Samantha Sager.
---
Special thanks to our podcast season sponsors,  Mannington Commercial, theMART, and NeoCon – companies doing big things to move the design industry forward.