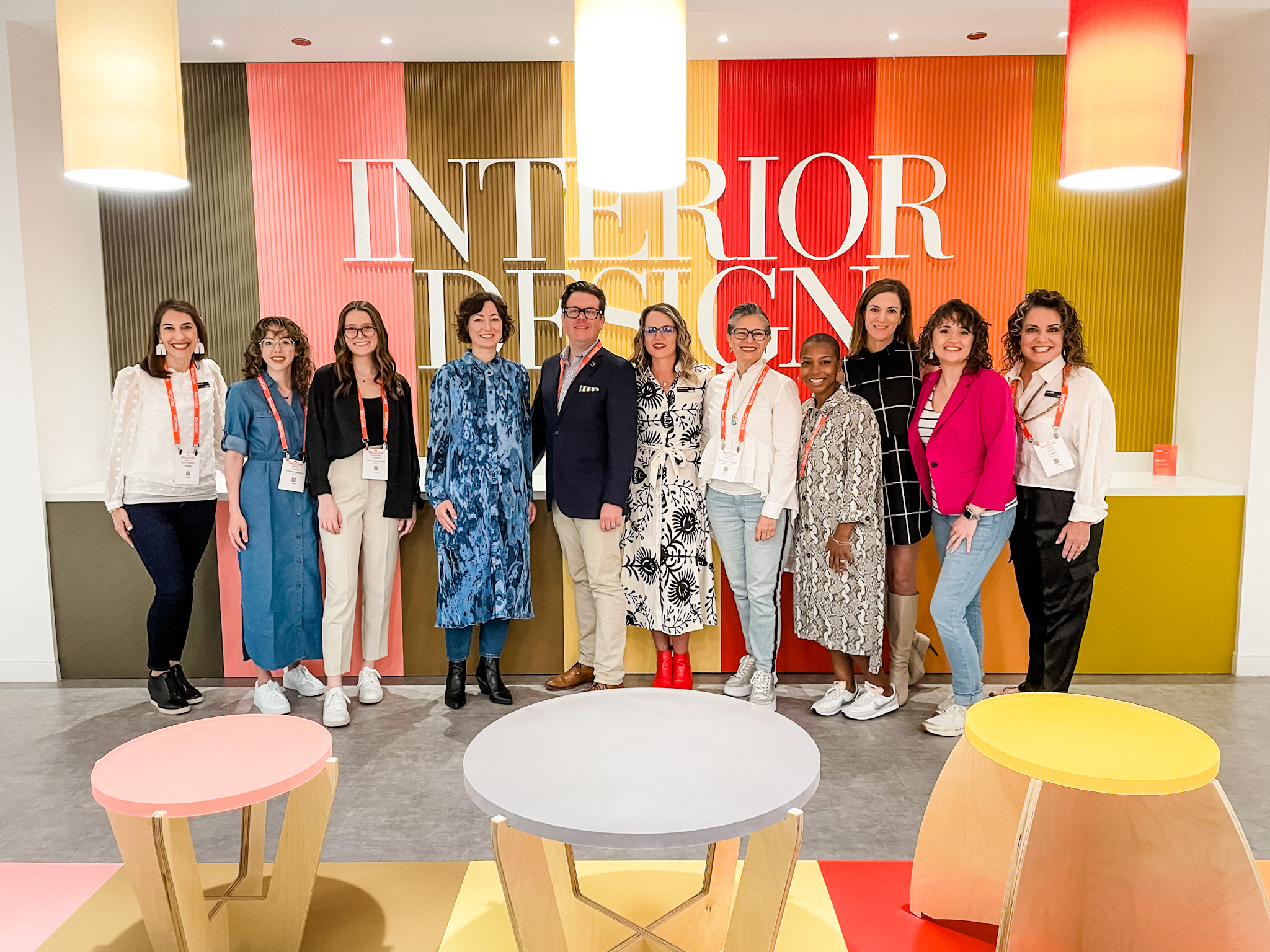 NeoCon 2022 was back to its usual mid-June date after 2020's show was postponed to October 2021. Attendee numbers crept back up, clocking in at around 70 percent of what they were in 2019 (however, the elevators were 100 percent as crowded.)
A couple of key changes this year included a new Best of NeoCon award for Business Innovation. A Fast Company article (titled "Why an empty booth was my favorite exhibit at this year's NeoCon trade show") captured the spirit of this new category and highlighted one of its winners, Reseat. Another shift that our Trendspotters reported was attempting to balance the logistics of visiting off-site showrooms at the new Fulton Market development with their already-packed touring schedule in and around theMART.
The ThinkLab Trendspotters, a curated group of the industry's finest architecture and design professionals, were at it again this year — for the second time, they were scoping the show, helping those on-site prioritize what to see, and bringing the "hallway conversations" to the virtual attendees.
But what's especially exciting about this program is that it gives an unfiltered view of the show through the eyes of a powerful group of specifiers, and this year's group was even more diverse — both in their level within their firms and their vertical focus — for an even richer perspective.


ThinkLab Trendspotters Top 10 Trends at NeoCon 2022
Our 2022 NeoCon Trendspotters team shared what they hoped to see and experience going into the show. Now, we're sharing a roundup of the top 10 trends that they identified this year.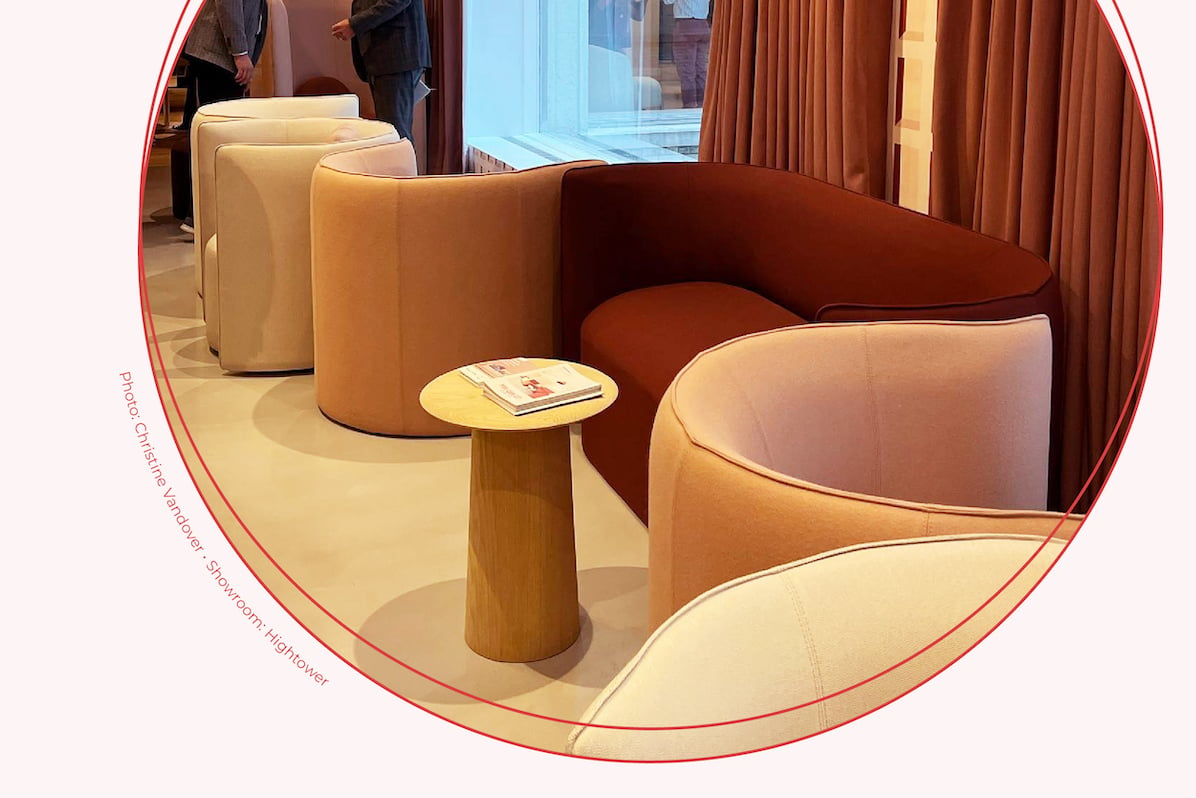 Design Trend #1:

Gen Z Cozy
What they saw: Our Trendspotters affectionately coined the phrase "Gen Z Cozy" to describe the visual vibe spotted throughout the show. They noted big color, bold statements, and playful textures as predominant themes, as well as "unapologetically feminine" spaces (soft pink, anyone?) Also spotted:
Dark and moody colors, with plenty of drama

Warm textures (think velvets and bouclé), giving a soft quality of touch and residential level of comfort

A celebration of woodgrains, mixing different tones in the same piece

A touch of nostalgia

,

with typewriters at KI and the re-release of the Frank Lloyd Wright desk at Steelcase
Where they saw it: HBF, Hightower, KI, MillerKnoll, Steelcase, Turf

What we heard: "It's bold, it's a statement, it's refreshing to see. It's a celebration of something different."
— Matt Rebbe, Design Director, Interiors, AECOM, Chicago, IL
Design Trend #2:

Building Your Own Environment
What they saw: Return to the workplace has taken on a "build your own adventure" approach. User-adjustable is the name of the game. Also spotted:
A variety of personal storage in a range of sizes and levels of lockability and movability

A focus on user adjustability (vs. facilities changes) for individual workstation pods, occasional tables for collaborative areas, and even lighting
Where they saw it: Allermuir|Senator, Allsteel (occasional tables and Rise), Davis (Cantina), Haworth (Echo Desk and Pergola), Hushoffice, Keilhauer, Kimball International, OFS, OneFlor USA, Steelcase (Eclipse ring light)

What we heard: "I liked seeing super-flexible spaces because they not only enabled users to customize to their needs — they also enable less waste in design changes down the line."
— Catherine O'Brien, Junior Designer, IA Interior Architects, Chicago, IL

Design Trend #3:

Cross-Pollination of Vertical Markets
What they saw: While the NeoCon of the past felt mainly geared towards workplace design, our Trendspotters were delighted to see touches of residential and hospitality make their way into the show. Hospitality teaches us about experience, and residential informs comfort and choice in the places that we work.
Where they saw it: Hightower, JSI

What we heard: "The hybrid workplace is nonbinary, meaning it's not just home or office. The fluidity of space is critical, but also the seamlessness of the digital workplace. We should expand our thinking on where work happens."
— Erica Buss, Manager, Research & Information Services, Ankrom Moisan, Portland, OR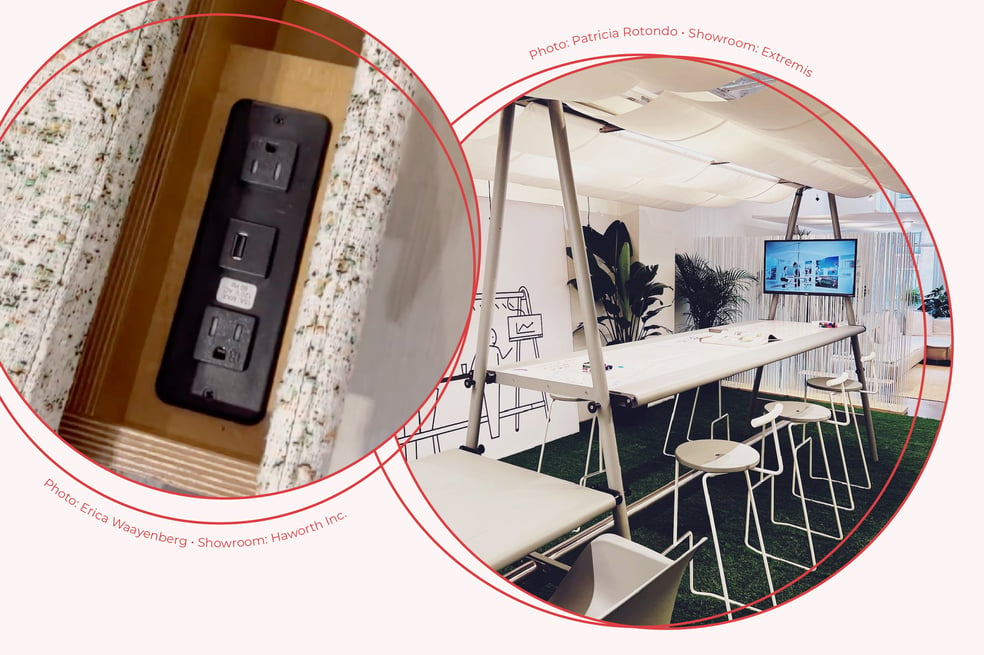 Design Trend #4:

Untethered, Unobstructed Technology Integration
What they saw: Whether they were meeting in a conference room, working outside, or collaborating with a small group in a café, the Trendspotters reported a seamless tech experience beyond just powering up at their tables (though they were also impressed that those power connections were hidden away or achieved through wireless charging).
Where they saw it: Artome, Enwork, Haworth, MAMAGREEN, Nucraft, Steelcase
What we heard: "The location of power was tucked away and not in your face, not so obvious. It was elegant."
— Krystal Lucero, Senior Interior Design, E+M Interior Design, Austin, TX
Design Trend #5: Reimagining the Formal Conference Room
What they saw: The curves and softness that we observed in Trend #1 have made their way to the formal conference room as well. Also spotted:
Comfortable, sophisticated forms that nod to hospitality more than corporate

A transformation of the conference room

,

even, in some cases, taking it out of the usual four walls into an open space to support multiple postures



Where they saw it: Enwork, Keilhauer, Steelcase

What we heard: "I saw a softening and sophistication in conference room environments."
— Amber DeVine, Director, San Francisco Bay Area, M Moser Associates, San Francisco, C

Design Trend #6: Innovation in the Physical Showroom Experience
What they saw: This year's NeoCon showcased the creation of sensory experiences (think color baths and microenvironments). Also spotted:
Technology used to enhance storytelling

,

through QR codes and VR experiences
Cohesive showroom design expressed through lighting, sound, and material choices (with a level of swank that you might expect in an art gallery)

Extended customization through digital tools on iPads that let you customize textiles and wallcoverings as you walked the space
Where they saw it:
What we heard: "I was drawn to the showrooms that felt cohesive, and you could see yourself working there, rather than it feeling like a product display or shopping experience. Brand over product."
— Grace Gadow, Junior Designer, IA Interior Architects, Chicago, IL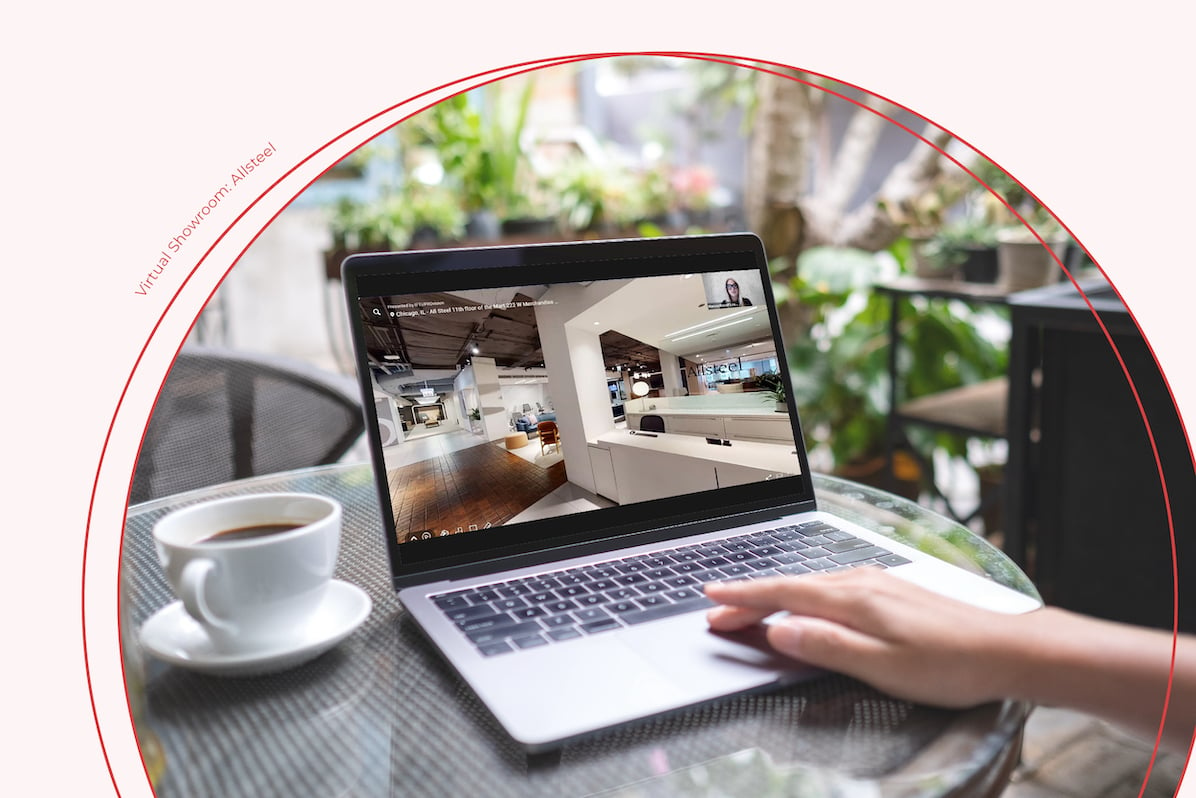 Design Trend #7: Innovation in the Virtual Showroom Experience



What they saw: Three of the 2022 Trendspotters attended the show virtually, and aside from the NeoCon Hub with its daily programming and CEU tracks, the virtual component was noticeably lighter this year than last. A few manufacturers offered virtual tours of the physical space, or a virtual tour of a digital twin of the space (to avoid the crowds!). But our Trendspotters were left hoping for more virtual experiences during the show.
Where they saw it: Allsteel, Hightower, Spacestor
What to check out after NeoCon: You can find a number of virtual experiences available now or launching soon.
3form

will be rolling out a new, completely virtual campus experience soon.

Personal Studio

by Mohawk Group is an interactive visualization and personalization platform that allows you to visualize in-room scenes and order printed or physical samples from the tool.

Mannington

has an immersive virtual tour to view real-world applications in a 3D space.



What we heard: "I wanted the armchair traveler experience."
— Erica Buss, Manager, Research & Information Services, Ankrom Moisan, Portland, OR
THINKLAB TIP: Get over 20 research insights + ideas on crafting a physical + digital showroom experience in ThinkLab's latest design industry playbook.

Design Trend #8: Sustainability and Social Equity
What they saw: New materials and technology were on display, highlighting the innovation happening in the sustainability category. From a social responsibility perspective, the Trendspotters got a sense that many companies are realizing that supporting social equity is the right thing to do, so their efforts felt sincere rather than performative.
Where they saw it: Andreu World, Bobrick (touchless fixtures), Haworth, Keilhauer, Mohawk Group, Reseat, Steelcase and Microsoft collaboration
What we heard: "A group of designers of color gathered together at NeoCon, and it was incredibly powerful to see the representation of this group all together."
— Krystal Lucero, Senior Interior Design, E+M Interior Design, Austin, TX
Design Trend #9: Indoor/Outdoor Connection



What they saw: Products that could be used both outdoors or indoors were observed throughout the show. From outdoor modular collaboration spaces to sit-to-stand outdoor tables and thoughtful power integration, the group was delighted to see that this category wasn't afraid of color.
Where they saw it: Where they saw it: Brown Jordan, DEDON, Extremis, Ghent, JANUS et Cie, MAMAGREEN, Nardi , Pavilion, Tuuci

What we heard: "The connection between the indoors and outdoors is key, especially now. I saw quite a bit of innovation with manufacturers creating products that give a seamless user experience in nature."
— Patricia Rotondo, Senior Principal | Director of Interior Design, Antunovich Associates, Chicago, IL
Design Trend #10: Beta Test Mode
What they saw: The Trendspotters reported that pieces had a feeling of impermanence based on their scale and size. These pieces don't feel cheap, but you instinctively knew that they were meant to be moved around, supporting a beta test mode.
Where they saw it: Mizetto, Steelcase

What we heard: "I really wanted to see the future of work explored more at this show. I realize that there are challenges with supply chain (tooling, transportation, etc.), but we want more exploration. How can we study, measure, and track to collect data and make informed decisions as we test?"
— Anne Gibson, VP, National Workplace Practice Leader, NELSON Worldwide, Chicago, IL
4 Key Opportunities for Commercial Interiors Product Manufacturers in 2023
Looking forward to NeoCon 2023, our Trendspotters identified four key opportunities for manufacturers:
More progress in the sustainability and equity category:

The Trendspotters were energized and excited by what they saw, and it left them wanting even more. As Diana Pisone, Principal, Workplace Market Leader, Stantec, Chicago, IL, said, "I didn't set out looking for this, but it slapped me across the face in the best way possible."





A bolder view of the future of work and beta test mode:

As ThinkLab's Erica Waayenberg eloquently put it, "We hope a spirit of design courage emerges in our industry, which means being willing to put your foot out there. How can we shift our focus to study more about the people who are using space and less about our old frames of reference?"





A more equitable experience for virtual NeoCon attendees:

"It seemed like we just went back to 'in real life' at NeoCon this year. When you realize that your connection as a brand to specifiers is so much broader than just reaching the people at the show, there is such opportunity," said David Taglione, Director, ICRAVE, New York, NY.





More collaboration between theMART and outside showrooms

: "Could you change it to Chicago Design Week? It's more holistic and inclusive. It could evolve to something bigger than it is today," mused Matt Rebbe, Design Director, Interiors, AECOM, Chicago, IL.
Are you a designer interested in expanding your influence and participating in exclusive industry opportunities? Join our ThinkLab Trendspotters team to make new connections, access curated experiences, and get on the shortlist for media spotlights! *Open to architects & designers only
Meredith Campbell is a member of the Research & Content Development team for ThinkLab, the research division of SANDOW Design Group. At ThinkLab, we combine SANDOW Media's incredible reach to the architecture and design community through brands like Interior Design Media, Metropolis, Luxe, and Material Bank with proven market research techniques to uncover relevant trends and opportunities for the design industry. Join in to explore what's next at thinklab.design/join-in.