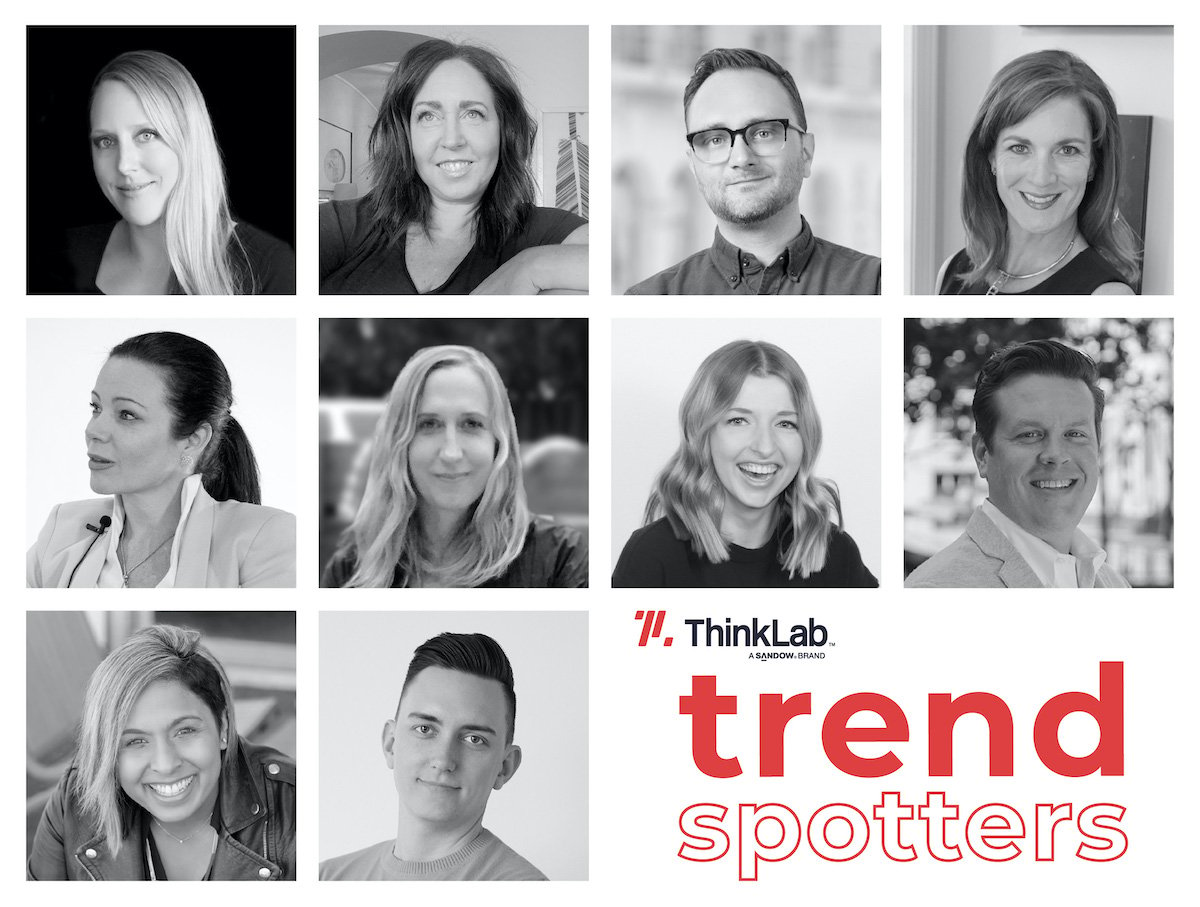 ThinkLab Trendspotters: Who You Need to Follow at NeoCon 2021
NeoCon is going to be different this year.
With full days of live and virtual events, new travel requirements, and last-minute changes, it's going to be a challenge to keep up.
ThinkLab has you covered with the very first team of Trendspotters.
We've enlisted experienced A&D professionals to share what they are seeing, hearing, thinking, and loving about the show in an unfiltered way. In this remarkable year, ThinkLab's Trendspotters are here to inspire bigger thinking and provide solutions for those pressing issues.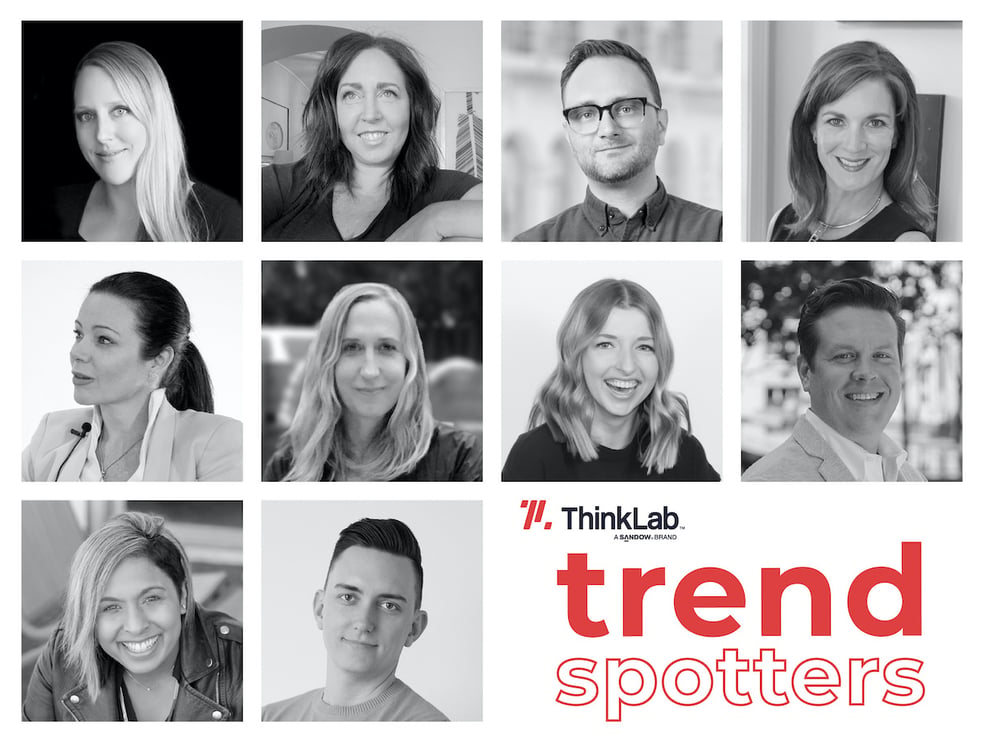 Kelly Bacon
Principal, Global Practice Lead, People + Place Advisory, AECOM, Phoenix, AZ.
This past year, Bacon represented AECOM—and the industry as a whole—by testifying as a subject matter expert in the Congressional hearing regarding the future of the Federal workplace. Her degrees in business, sociology, and predictive analytics enable her to provide a societal context for organizational and spatial change.
Curious to see how manufacturers have designed for 'hybrid work', Bacon is on the lookout for products that integrate and support technology. Given the rate of change over the recent years, she can't wait to see how this will be realized as furniture that looks timeless but, also allows for continual technological updates.
Having honed her skills for industrial and interior design during her time with HNI as the Showroom real estate manager, NeoCon remains a key learning event for the whole design process. We'll be watching to see what Bacon suggests is worth learning more about this year.
Mary Kate Cassidy
Senior Interior Design Professional, HOK, Chicago IL
"I'm thrilled to connect with people I haven't seen in what seems like forever!" Cassidy said. She can't wait to be back at NeoCon this year. "Being from Chicago, NeoCon is always such an exciting time to connect with industry friends and with people we've only talked to through our computer screens for the last couple of years."
As the senior designer at HOK for corporate workplace design, Cassidy's design ethos stems from connection. In her continued research about neurodiversity and its relationship to workplace design, she provides insight into the benefits this provides for corporate clients as well as tips for achieving beautiful, inclusive, and effective spaces.
With the workplace being one of the top spaces to reimagine in the coming months, we can't wait to see what Cassidy highlights during the show.
Mike Goetz
Principal and Senior Project Designer, HOK, Chicago, IL
With more than a decade's worth of design experience in the corporate workspace, hospitality, and higher education, Goetz excels at creating highly functional and efficient environments that are unique, colorful, and inspirational.
If he only had one word to describe his feeling toward the show this year, it would be "excited"! Aside from being excited about new products and materials, Goetz says he is most excited to work right beside his clients again. Taking advantage of being so close to theMART, he says: "It has always been a great way to invite clients into the process in which we select products and finishes."
Having been featured in Interior Design magazine three times over the past few years for his work on the he Pritzker Group's Los Angeles headquarters, the California Institute of Technology's Ronald and Maxine Linde Hall of Mathematics and Physics, and Alibaba Pictures, we're curious to see what Goetz predicts as noteworthy for the coming year.
Anne Gibson
VP, National Workplace Practice Leader, NELSON Worldwide, Chicago, IL
As the global workplace practice leader for NELSON Worldwide, Gibson is an award-winning designer who believes that everything is connected. She thrives in designing layered, complex experiences that play a crucial role in reaching an organization's strategic goals.
With over 20 years of experience, Gibson has developed a human-centric design approach and works collaboratively to shape the built environment to tell stories, communicate values, and make meaningful experiences for communities. Her career serendipitously started at NeoCon—Gibson remembers that her first internship was at theMART on the first day of NeoCon. "I thought, wow, this is a big deal!" she says. And it still is. With many colleagues and teams coming together during the event, we're all looking forward to seeing what the turn out will be like.
Diana Pisone
Studio Principal at Ted Moudis Associates, Chicago, IL
With more than 25 years of architectural and interior design experience, Pisone is known for her hands-on approach when coordinating conceptual, design, and logistic processes of any given project.
"NeoCon has been such an important part of my career," she says. As a life-long Chicago-an, Pisone is spoiled with easy access to theMART and all it has to offer. "Being able to take clients through the showrooms and meet with the manufacturers provides a level of cache, familiarity, and confidence."
Having a deep value for community and altruistic endeavors, Diana also sits on the board of directors for the Les Turner ALS Foundation and formerly taught classes at the Illinois Institute of Art for seven years.
We're eagerly awaiting to see what Pisone finds to be your need-to-know news from this year's show.
Matt Rebbe
Design Director, Interiors, AECOM, Chicago, IL
Rebbe leads design for AECOM Chicago's Interior Design practice, providing expertise and leadership throughout the Americas. As a registered architect with more than 20 years of experience, he has a diverse portfolio grounded in a passion for design thinking.
Like most of us, Rebbe remains curious and genuinely excited to see people and experience products in person again. "NeoCon has always been for me the great refresher," he says. "Every year it's a way to reconnect, learn, feed the design soul, and recharge with fresh ideas. It helps me continue to think differently and be challenged in what I do and how as a collective we solve the world's problems through design."
With a passion for cooking and all things food, Rebbe is working his way through no less than three cookbooks right now centered on family and homestyle cooking. We can't wait for what he brings to the table as must-sees for the season.
Kimberly Richter
Branded Environments Practice Leader and Design Principal, Perkins&Will, Austin, TX
Richter's design philosophy is inspired by how multiple disciplines can arrive at one unified story. Her master's in architecture from the School of the Art Institute of Chicago combined with a professional background in the film and entertainment industry shapes her foundational understanding of the way in which audiences connect to spatial narratives.
"I'm most excited to see how the last year and a half is shaping the design conversation as it relates to health and product priorities," Richter shares. Insights from Thinklab's research and the Interior Design Giants of Design 2021 suggests that healthcare clients are willing to entertain new ideas more than before and are relying heavily on their design partners for solutions. We're all hopeful to see what inspiration there is at this year's show.
In the meantime, binging the Smartless podcast and escaping on some road trips has been keeping Richter busy. "The hilarious banter keeps the hours a little less painful," she says.
David Taglione
Director, ICRAVE, New York, N.Y.
Taglione serves as a Managing & Creative Director at ICRAVE and has been a part of the ICRAVE team since 2005. He has managed several large-scale projects including Delta Terminals C and D at LaGuardia Airport, Terminal G at Minneapolis–Saint Paul Airport, and the Josie Robertson Surgical Center and David H. Koch Center for Cancer Care at Memorial Sloan Kettering Cancer Center.
He has been a forefront of thought leadership at ICRAVE, working in numerous sectors influencing thinking such as transforming the passenger experience in airports, shaping the future of cancer care, creating a vision for the future of retail, building the next evolution of the food hall, and creating numerous unique brand experiences. We're excited to see what he finds to be outstanding and worth remembering this year at NeoCon.
Amber DeVine
Director San Francisco Bay Area, M Moser Associates, San Francisco, CA
As director and head of office for M Moser San Francisco, DeVine's passion for design, workplace, PropTech, and extended reality has helped create award-winning projects for clients locally and globally. Joining the team this year as a virtual Trendspotter, DeVine will be covering the virtual experience.
"I am hoping the silver lining in all of our industry's challenges this past year will be the nudge we need to get out of our comfort zone," she says. DeVine looks forward to seeing how this past year has further accelerated our industry's capability to enhance and support the merging of the physical and virtual environment, the evolution of textiles, and the opportunities within hybrid and virtual environments.
"We're beyond the era of just customizing the physical realm of a workspace," DeVine says. "As we move forward, we are looking at new and emerging realities surrounding people, their workplace, and how our buildings can positively impact the environment and people's well-being. Our clients need us to integrate the future of work and create adaptable models that blend culture, brand, and technology."
Looking forward to creating inspirational work environments that seamlessly integrate physical, digital, and the social needs of today's businesses and their employees, DeVine is going to be absorbing every bit of NeoCon she can this year. "Inquisitive" would be the one word to sum up her feelings towards the event, and like the rest of us, she is wondering what the best will bring.
Meena Krenek
Interior Design Director and Principal, Perkins&Will, Los Angeles, CA
"My sentiment toward NeoCon this year is to rethink," Krenek says. "I'm looking forward to seeing seamless technologies, mobility in all forms, lounge pieces for one, and solutions for outdoor work venues." She joins us this year as a virtual Trendspotter from her office on the West Coast.
Krenek has worked all over the map in New York, Atlanta, and now Los Angeles with Perkins&Will since 2005, focusing on integrating both architectural and interior design to create solutions that cross boundaries, encourage emotional connections with space, and prioritize health, wellness, and human energy.
When she's on the go, Krenek is a keen podcaster, rotating between Dr. Maya Shankar's A Slight Change of Plans, Jessi Hempel's Hello Monday, and of course, ThinkLab's own Design Nerds Anonymous. As a close friend of ThinkLab, Krenek has appeared on our Clubhouses and several roundtables, and we're looking forward to hearing more of what she has to say.
Don't miss a thing by following #thinklabtrendspotter on Instagram and LinkedIn.
Read their posts and watch their stories during the day before winding down in the evenings with a daily Clubhouse recap. Here's how you tune in:
The wait for NeoCon 2021 has been long. With everyone watching and waiting for the main event, you can be sure that ThinkLab Trendspotters are watching a little closer for the extra details that will set you up for a successful 2022.
Anna Lu is the project manager at ThinkLab, where we combine SANDOW Media's incredible reach to the architecture and design community through brands like Interior Design Media, Metropolis, Luxe, and Material Bank with proven market research techniques to uncover relevant trends and opportunities for the design industry. Join in to explore what's next at thinklab.design/join-in.