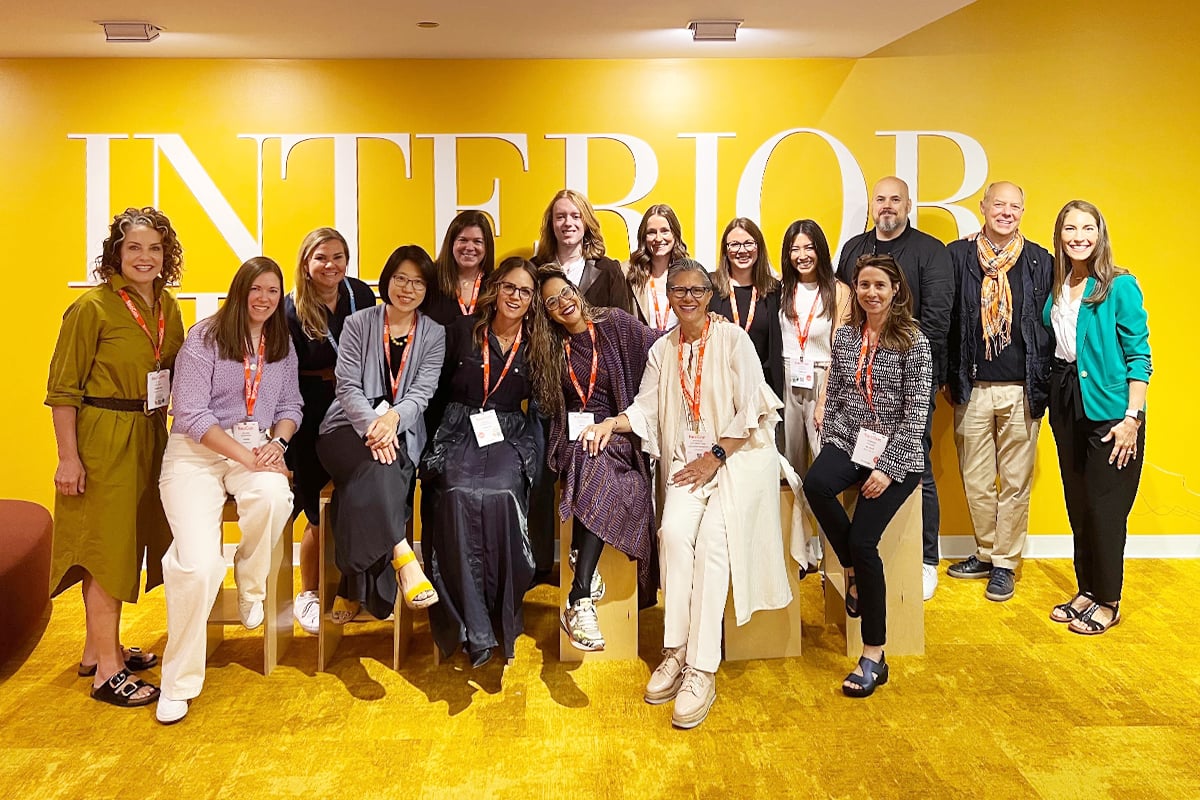 The hallways of THE MART were bustling with energy, as specifiers of all generations eagerly toured the show.
After all the seismic changes our industry experienced over the past three years, one thing has remained constant: Staying ahead of design trends is crucial to creating spaces that continue to evolve and answer our clients' toughest concerns.
To capture the best of the best, for the third year in a row, we enlisted the ThinkLab Trendspotters. For this year's NeoCon, we tapped 14 key specifiers from all over the country, from seasoned leaders to emerging talent, to spot the top trends.
The show featured a dizzying array of inspiration and product innovations, but we've narrowed it down to the top five influential trends shaping the commercial interior space. But, if you're hungry for more, check out the full Top 10 Trendspotter report.
Design Trend #1: ARTISANAL ELEMENTS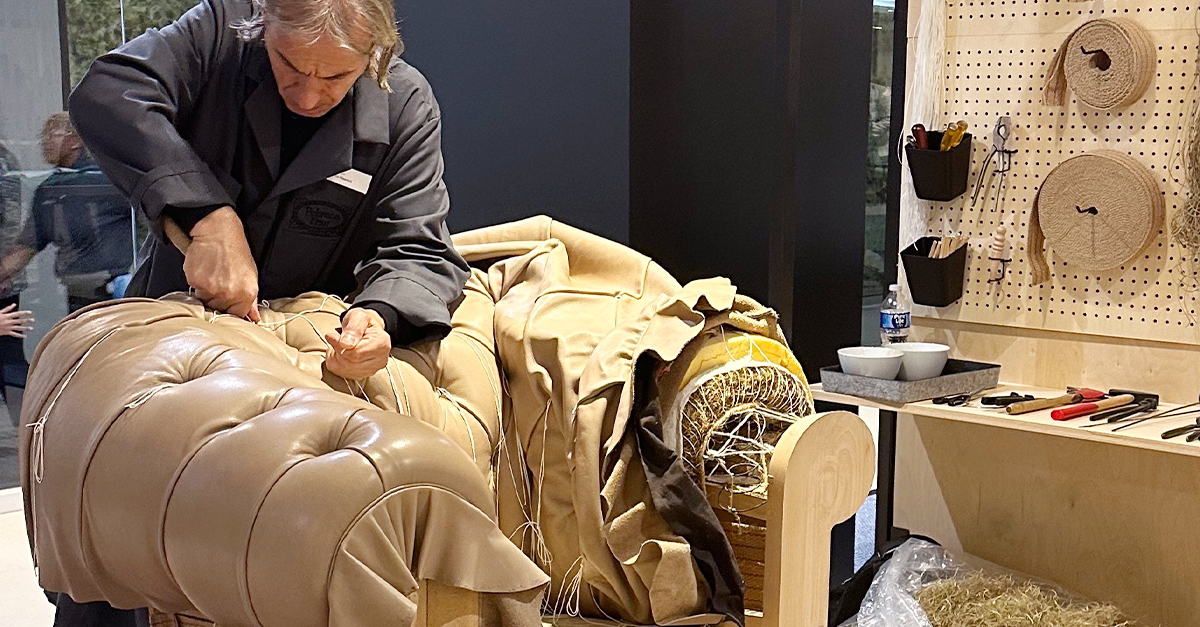 Image Credit: Lisbeth Jimenez, Showroom: Haworth
What they saw:

Brands showcased a beautiful contrast to AI by featuring artisanal elements that gave a heightened sense of the human touch. Spotted in two ways:

Through the celebration of product construction, showcasing layered details that were formerly kept hidden, and through detailed joinery methods that felt bespoke

By displaying art, process drawings, and detailed product construction drawings throughout the space, as well as bringing out artists to demonstrate their craft and craftspeople to build furniture

Where they saw it:

Haworth

,

Andreu World,

OFS

,

Bernhardt

What we heard:

"Through joinery details within the materiality, we could see the details coming together in a sophisticated, handcrafted way vs. a machine connection. It provided a layer of bespoke." — Nicole Zack, M Moser Associates



Design Trend #2: "SUSTAINABLE-DISPOSABLE"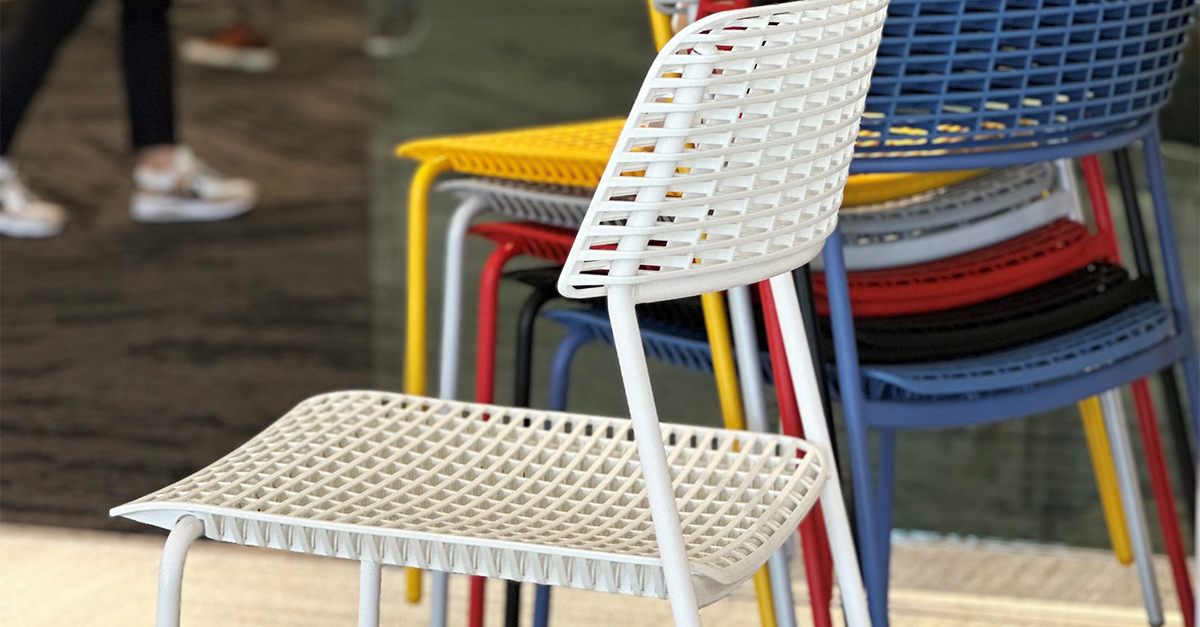 Image Credit: Patricia Rotondo, Showroom: Sandler Seating
What they saw:

A new trend so big, we needed to give it its own name. This year's NeoCon featured a clear, concerted effort to improve, expose, and remove the elements within a product — thereby limiting waste and making that product as pure as possible to ensure circularity at end of life. The Trendspotters also made a few other notable mentions around circularity:

Behind-the-scenes partnerships continue to make their way into materiality. By diverting discarded products (such as milk cartons and fashion textiles) away from landfills, the industry has upped its game in post-consumer recycled content. Spotted at Fulton Market Design Days:

LUUM

.

Where they saw it:

Sandler Seating

,

Scandinavian Spaces

What we heard:

"This embodies everything: minimal (or no) waste, recycled content, circular. It should have a new name — it's really 'sustainable-disposable.'" — Bill Bouchey, Gensler
Design Trend #3: VARIETY WITH FLOW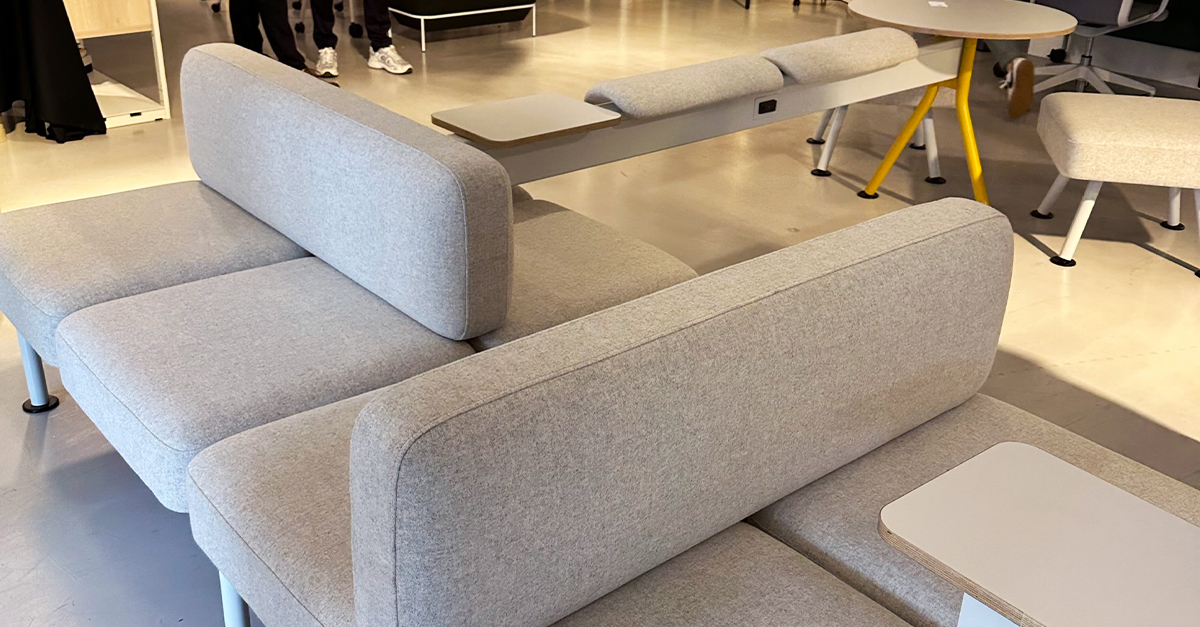 Image Credit: Ethan Barbour, Showroom: Allermuir
What they saw:

A somewhat controversial furniture trend, due to its unique form and multi-function offering. One piece that offered a variety of seating options from perching to standard height, integrated tables throughout, untethered power, and movable work surfaces, allowing for multiple people and multiple activities to occur within one piece.

Where they saw it:

Allermuir,

Extremis

What we heard:

"Giving your employees variety and the ability to choose the style and place you work is so important, especially when it comes to neurodiversity. This is a beautiful manifestation of this concept. They have variety and cohesive functions. Funny part of this, it was also my most controversial post." — Ethan Barbour, IA Architects
Design Trend #4: BIODEGRADABLE BEAUTIES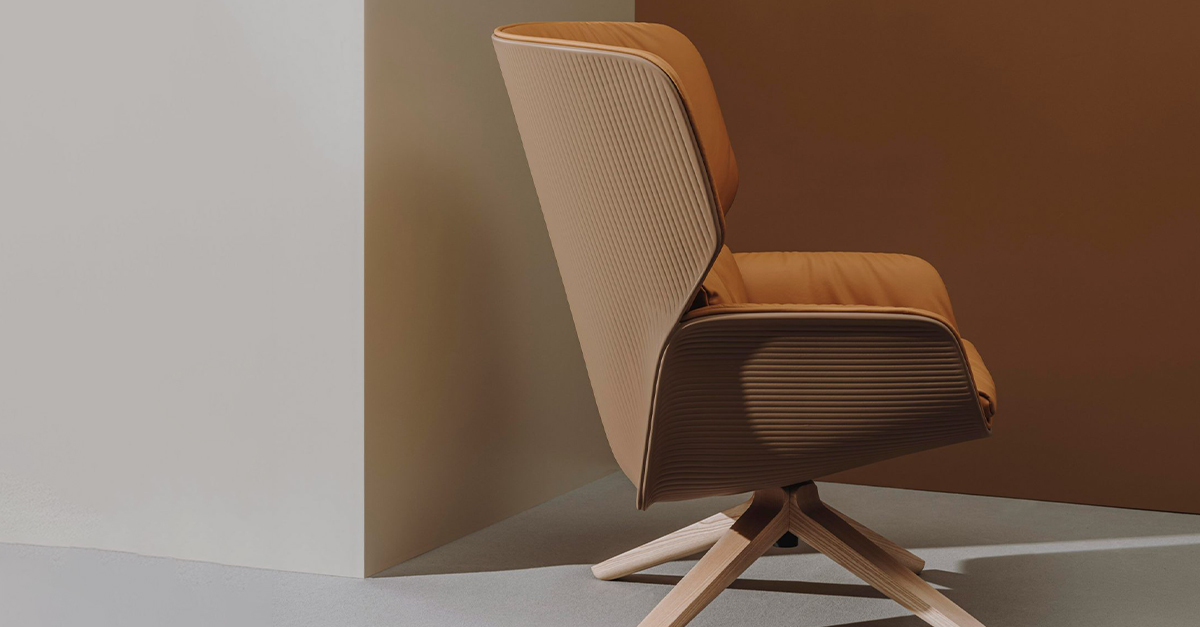 Image Credit and Showroom: Andreu World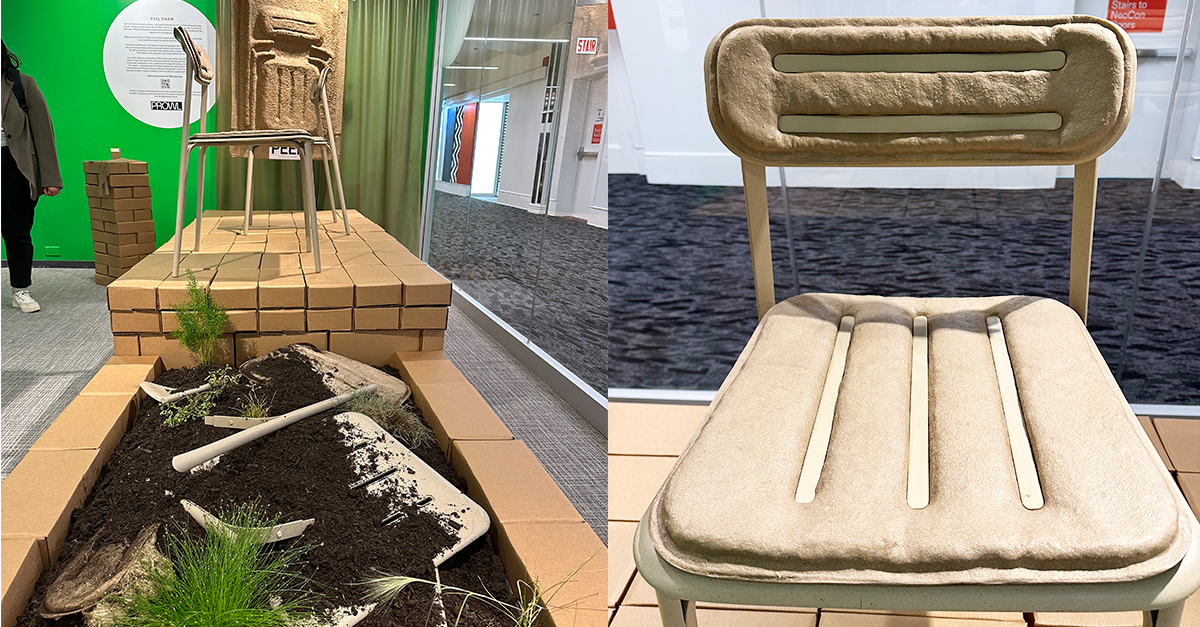 Image Credit: ThinkLab, Showroom: Metropolis' Sustainability Lab
Showroom: Metropolis' Sustainability Lab
What they saw:

Products that are not only circular, but also biodegradable, answering the long-time question: "What happens to this product at end of life?" Manufacturers are bringing materials down to their true form, using products like bioplastics, and reducing any other additives, such as adhesives. While some of these pieces were showcased at other trade shows previously, our Trendspotters were thrilled to see them on display at NeoCon.

Where they saw it:

Andreu World

(Nuez Lounge BIO),

Metropolis' Sustainability Lab

(Peel Chair)

What we heard:

"This addresses our biggest issues with plastic, which really adds to the conversation. Biodegradable at end of life is big." — Sabrina Pagani, Savills
Design Trend #5: INCLUSIVE RECONFIGURATION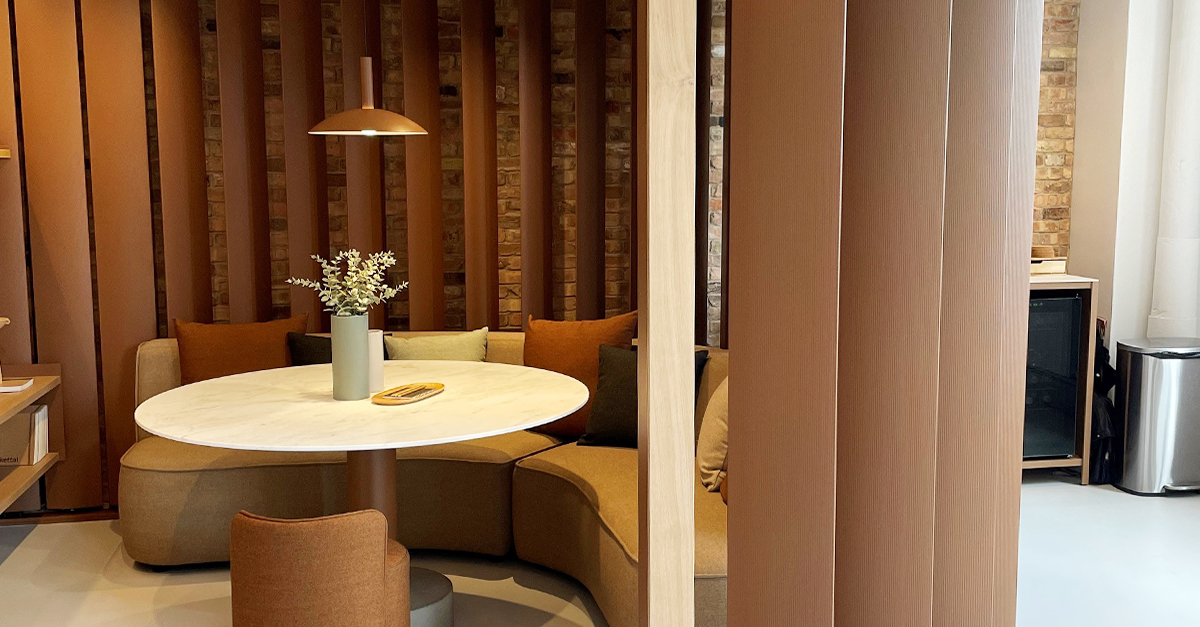 Image Credit: Courtney Zastrow, Showroom: Kettal
What they saw:

Approachable and user-friendly solutions that are designed to change throughout the day: from light movable furniture, to levers that easily turn for added privacy. These options easily adapt without heavy lifting or time-consuming reconfiguration.

Bonus! "Reconfiguration of a product was also a great sustainable solution. One product that can adapt overtime was a nice sustainability win." — Catherine O'Brien, IA Interior Architects

A standout mention for inclusivity goes to Nienkämper. "I was so happy to see a wheelchair at a table in the Neinkämper showroom. Too often, products are designed too heavy, hard to move, and unusable for many folks. We want to see more designs that are truly equitable". — Nicole Zack,

M Moser Associates

Where they saw it:

Kettal

,

Hightower

,

Nienkämper, Okamura Global

What we heard:

"We're using other vertical market strategies in workplace. The world is morphing, and the flow is not only about the furniture but also how people are experiencing the spaces." — Patricia Rotondo, Lamar Johnson Collaborative
The Missing Design Trend At NeoCon 2023

Along with capturing the trends they loved, the Trendspotters also all shared those they expected to see more of. One of those trends: more experiences, instead of simply showing product. And they don't mean VR goggles per se. These Trendspotters want to feel an experience that tells them a story, inspires them, and evokes emotions — all while educating them. A tall order, we know.
Trendspotter's recommendation: If you want to break the mold, creating experiences is a great way to do it and why these showrooms were talked about so often. Collaborate with the right artists, designers, and UX designers to bring these to life.
"This is why I attend Salone. For the experiential component where brand + product = immersive experience. It's been missing from NeoCon. [For the showrooms that did] it felt like Salone being brought in. I loved it." - Bill Bouchey, Gensler
Looking for inspiration? Two brands that successfully provided experience over product were:
Turf

, with their moody break from the show, fully equipped with an immersive meditation room.

Impact Acoustics

, with their powerful, immersive storytelling via a shipping container pop-up in Fulton Market.
Want to read the full roundup of all five missed opportunities? Download the exclusive version in the insider portal. Not an insider? Contact Marykate McCarthy to learn more.
Jessica Jenkins is a member of the Research & Content Development team for ThinkLab, the research division of SANDOW Design Group. At ThinkLab, we combine SANDOW Media's incredible reach to the architecture and design community through brands like Interior Design Media, Metropolis, Luxe, and Material Bank with proven market research techniques to uncover relevant trends and opportunities for the design industry. Join in to explore what's next at thinklab.design/join-in.