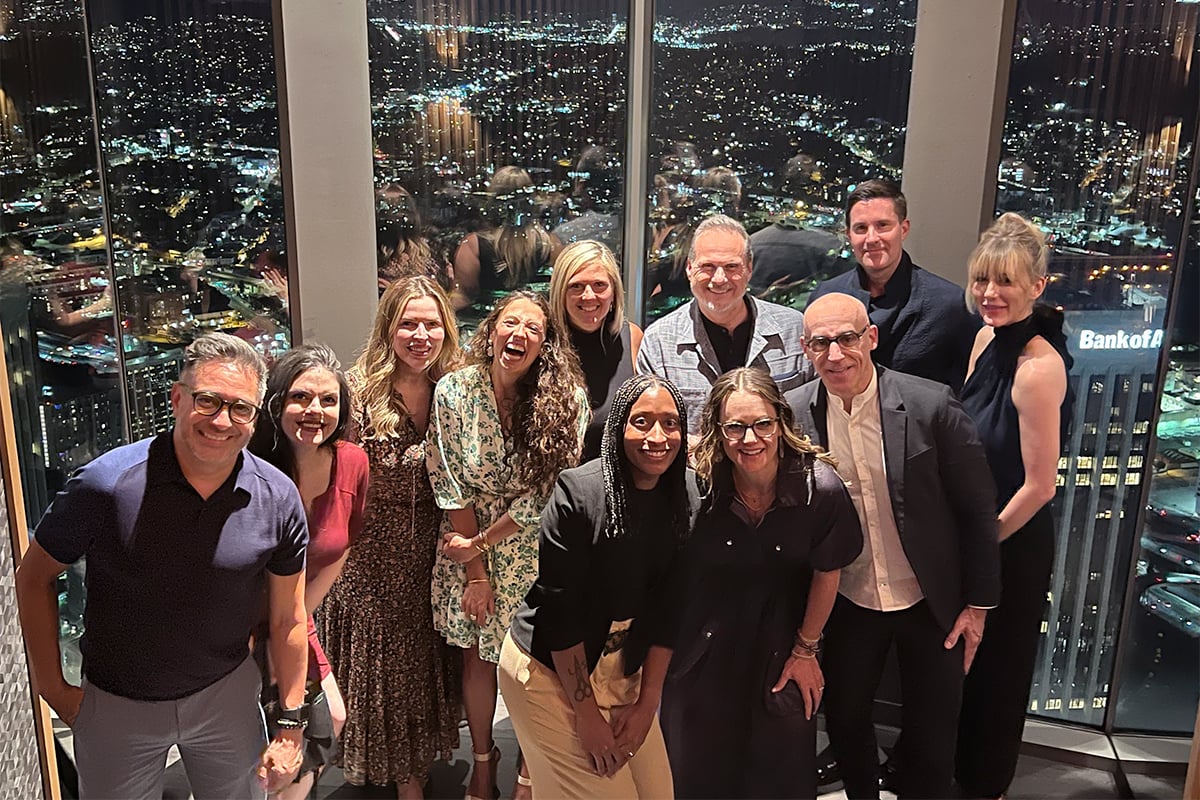 Left to right: Carlos Madrid III, SOM; Anosha Zanjani, HDR; Anya Ostry, CBRE; Nellie Hayat, Density; Marisa Bodecker, Material Bank; Amiyra Perkins, Pinterest; Brett Shwery, AECOM; Amanda Schneider, ThinkLab; Bill Bouchey, Gensler; James Woolum, ZGF Architects; Katlain Schultz, Williams Sonoma
"Oh my goodness, I can't remember the last time I didn't check my phone for such a long period of time. I was just so 'in it.'" — Tina Lamkey, CBRE Chicago

"I am literally still floating from that convo, so much so that I requested a last-minute meeting with my mentor to discuss future ideas!" — Amiyra Perkins, Pinterest

"This dialogue became a discourse that 'rings success.' It was satisfying, enriching, and certainly piqued my curiosity in a fresh way." — Bill Bouchey, Gensler LA

"Wow, what a huge undertaking herding us all together, and so impressed with the quality of discussion and insight!" — Katlain Schultz, Williams Sonoma
As you can tell by these quotes from our Jeffersonian dinner guests, this was not your average dinner discussion. Wait, you haven't heard of a "Jeffersonian dinner" before
And that's exactly what ThinkLab is doing with our own Jeffersonian dinners. Think of them as an innovative spin on industry-wide team-building events — just brought down to the local

The tradition of the Jeffersonian dinner began at the home of Thomas Jefferson in the late 1800s. Jefferson was known to invite the thought leaders and influencers of his day to share in conversation. And there was a distinct characteristic to these talks that made them special: Jefferson and his guests engaged in one single thread of conversation, with only one person speaking at a time. By doing so, they unlocked the power of their collective wisdom.

Our rules for a

Jeffersonian dinner

are very simple
We have one main conversation (no side conversations).
We try to engage in equal "airtime" for all guests.
There are no right or wrong answers. Vulnerable sharing is encouraged, as is challenging your neighbor (respectfully).
Step 1: The Setup
Proper event organization and planning is key: Book a private room at an inspirational local restaurant. This private room aspect is a critical part of creating that "safe environment." That way, participants will not only hear each other well but will also be more likely to get vulnerable and honest with their peers.
The dinner's theme is informed by what insights the sponsor hopes to glean from the dinner. Typically, when hosted by ThinkLab, the theme has something to do with the business of design and the ecosystem that surrounds it, with a focus on "what's happening in this local market." However, if you have an experienced facilitator and get the right mix of people to the table, the topic can be about nearly anything. We recommend choosing broader, open-ended topics over narrow and specific questions.
The most-critical component is recruiting the right individuals and bringing together that right mix of people. ThinkLab's goal is always to assemble a group where even the
The second-most critical component to creating that safe environment and encouraging vulnerability in discussion is the "what to expect" invite, typically sent out 24 hours to a week in advance. This is an email sent to all participants that shares the following:
A welcome message
The rules of a Jeffersonian dinner
Three discussion questions (one of which will accompany the start of each course)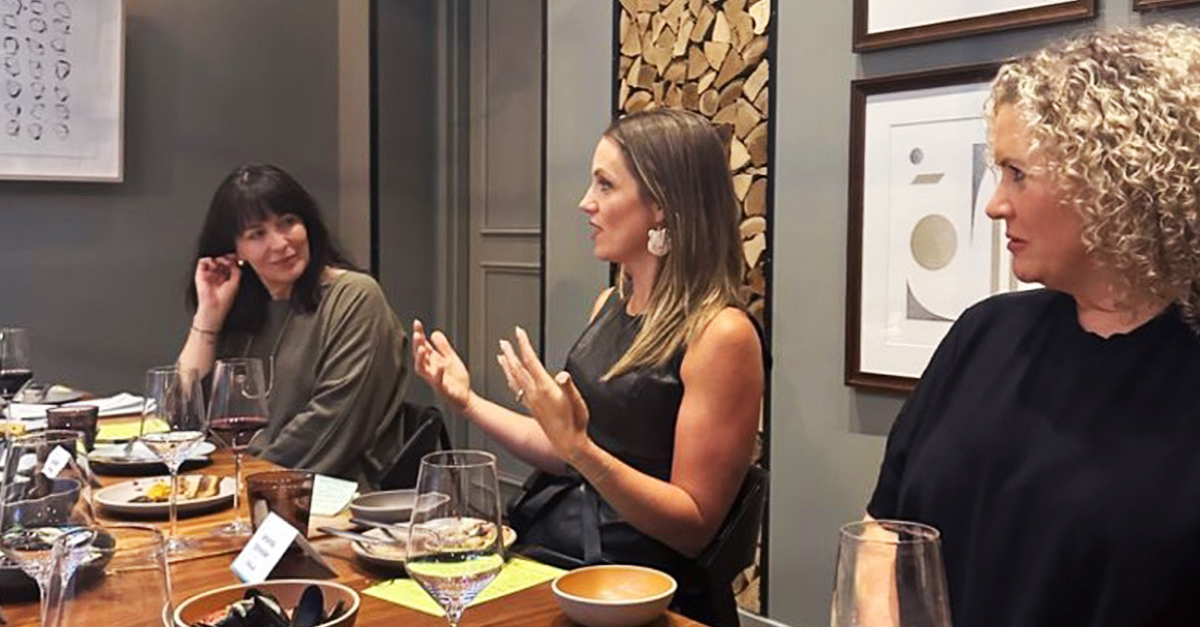 Left to right: Jennifer Ruckel, 3form; Amanda Schneider, ThinkLab; Rhiannon Adams, Mohawk
Step 2: The Dinner
Be forewarned: This is not your typical corporate networking event. Our dinners typically start early (because they can go LONG). We recommend a start time of 5:30 p.m. Our plan is always to host cocktail hour from 5:30–6 p.m. and dinner from 6–8 p.m, but some dinners have gone as long as FIVE hours (only because are participants get so into it!). Each dinner has a total of 8–12 participants, including sponsors and hosts.
To kick off, the facilitator welcomes everyone, reminds them of the rules of a Jeffersonian dinner, and typically prompts the start of the discussion with something like, "We can have the same discussions we always have, or we can get into what you really want to discuss. It's up to all of you." A new question is introduced with each course.

Step 3: Lightning Round
While enjoying a (decaf) coffee or after-dinner drink, we typically close with one last "lightning round" around the table exploring the following prompt:
Here are some of our favorite "lightning round" quotes:
"I didn't agree with everything said but I loved the discussion. Our world needs more space for healthy debate like this."

"I'm thinking, 'We really need to do one of these with our management team internally.' This has really driven a much deeper level of conversation than we typically are able to get to."

"Wow, I am leaving here really introspective on myself. I'm trying to pinpoint why all this hybrid and Gen Z discussion makes me so agitated. And it finally dawned on me: Maybe I'm the one that needs to change?"
Creating a vibrant ending allows the momentum to continue long after the event is over.


Step 4: What Happens Next
So, you find the idea of a Jeffersonian Dinner fascinating, but are unsure of where to start?
To properly host a Jeffersonian dinner of your own you'll need to:
Identify the ideal market/location.

Recruit influential guests. (We recommend both within and slightly "adjacent to" the industry.)

Select an experienced facilitator
Why You NEED an Experienced Facilitator:
Experienced Facilitators keep neutrality for the brand in the discussion, and guide the conversation to stay on topic.

A ThinkLab facilitator can curate insights from our research to help guide and inform the discussion.

Expertise in facilitating Jeffersonian Dinners means you will have a successful outcome

that leaves a lasting, memorable, positive impression and association with your brand.



Unsure about your facilitator?

Need help choosing your influential guests and location?
We're here to help! Our specialty is enabling hours of thought-provoking conversation that spark insights and ignite innovation.
Discover the perfect way to cultivate meaningful connections, drive engaging conversations, and inspire ideas. We not only provide you with step-by-step guidance for hosting exceptional Jeffersonian Dinners, but we also offer our expertise to ensure your success.
Our goal is to create a memorable experience for your brand. Let us help you unlock the true potential of Jeffersonian Dinners, where connections thrive and ideas flourish. Connect with our team for a list of upcoming cities where you can explore becoming a host or participant!

Amanda Schneider is President of ThinkLab, the research division of
SANDOW
. At ThinkLab, we combine
SANDOW Media
's incredible reach to the architecture and design community through brands like Interior Design Media, Metropolis, Luxe, and Material Bank with proven market research techniques to uncover relevant trends and opportunities for the design industry. Join in to explore what's next at
thinklab.design/join-in
.