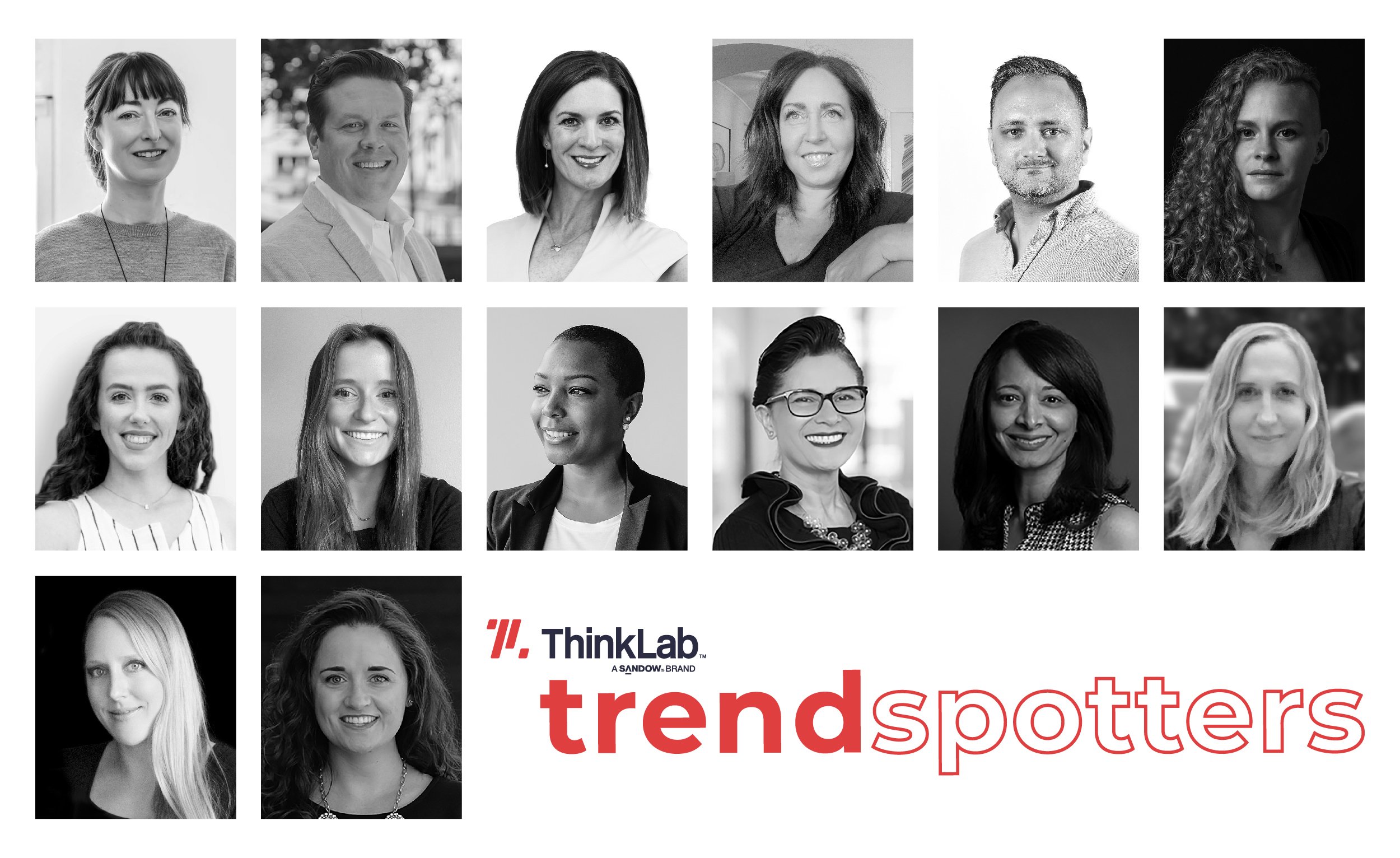 Each year in June, thousands of designers gather at The Merchandise Mart in Chicago to see the latest innovations in commercial interior design. Hailed as one of the most important events of the year for the commercial design industry, the NeoCon trade show is a touchstone for the commercial design community, serving as a hub for designers, architects, end-users, manufacturers, dealers, service providers, students, media (and us, your design industry market research team!) each year.
We like to think that the plans for NeoCon 2022 signal that soon things will be not only "back to normal" but "back to better." Early indicators suggest that show traffic is inching back toward pre-pandemic numbers, but that's not to say that lessons learned from the past two years no longer apply.
If you're curious to hear what's changed, explore what the A&D community and their clients are looking for, and get a fly-on-the-wall view, we have you covered — with content from a powerful lineup of ThinkLab Trendspotters this year.
As one of the largest exhibitions of its kind, it's fairly impossible to see everything at the show. (Have you ever tried to walk all of NeoCon? Pro tip: wear sneakers. Comfortable sneakers.)
To help maximize your experience at NeoCon 2022, we've invited some of the industry's finest architecture and design professionals, from seasoned leaders to emerging talent, to share what they are seeing, hearing, thinking, and loving about the show — unfiltered.
For those on-site, our Trendspotters will identify must-sees at the show to help you plan your route, meeting up each evening for conversations to digest everything you've seen.
And, for those not on-site, we'll bring you the "hallway conversations" to help you discover the products, brands, experiences, and insights you don't want to miss.
With days packed with live events, virtual events, new product offerings, and client meetings (and parties!), our expert Trendspotters are here to help you get through the all that NeoCon 2022 has to offer – and to cover all the ground that you may not be able to get to.
Meet the 2022 ThinkLab Trendspotters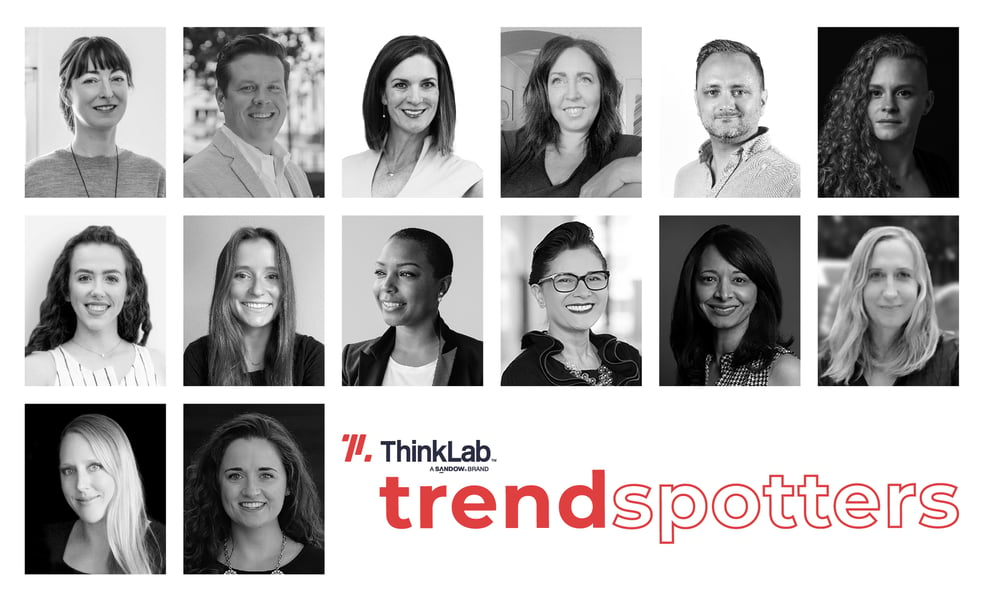 From top left: Christine Vandover, Matt Rebbe, Diana Pisone, Anne Gibson, David Taglione, Nicole Ravasini, Grace Gadow, Catherine O'brien, Krystal Lucero, Patricia Rotondo, Erica Buss, Kimberly Richter, Amber DeVine, Shannon Noon
What Designers are Looking For at NeoCon 2022
We asked our Trendspotter team of experienced designers and architects, librarians, and new talent in our industry to share what commercial design products, innovations and achievements in sustainability/social responsibility they are looking for at this year's show. Here's what they told us they are hoping to find:
Matt Rebbe
Design Director, Interiors, AECOM, Chicago, IL
Joining us for the second year of ThinkLab Trendspotters, Rebbe is looking for products that are helping the design world address carbon emission and pushing forward carbon reduction initiatives. In addition to smarter solutions that integrate technology, he is curious to see innovative ideas for flexibility of use and long-term design thinking.
Rebbe says, "The idea of the 'Great Re-imagination' is upon us, and I'm encouraged that what's driving this change is about the human experience and how the built environment can affect our quality of life. While this may seem like a trend now, I truly hope it's the new baseline for all thinking going forward."

Patricia Rotondo
Senior Principal | Director of Interior Design, Antunovich Associates, Chicago, IL
With over 25 years of experience in the hospitality and residential industry, Rotondo joins Trendspotters for the first time this year.
"I'm looking for inspiration, visual stimulation, and seeing my industry friends for the first time after a long isolation," Rotondo says. Outside of leading and growing her team, she is watching The Home Edit in her downtime, especially how the designers help clients contain their clutter to create functional and beautiful spaces: "It reminds me how our creative minds work and how solution oriented we are."
Krystal Lucero
Senior Interior Design, E+M Interior Design, Austin, TX
Lucero also joins Trendspotters for the first time this year, but you may have heard her voice on some of our Clubhouse sessions. Lucero has 15 years in the industry with a focus on higher education, healthcare interiors, and furniture consulting.
She says, "I'm looking for in-person connection with industry friends and colleagues from around the country. It will be the first time meeting some of them in person. Nothing beats real-life eye contact and a smile!" One of the current trendsetters she's watching closely is the Designers Mind community as its members focus on and embrace well-being as designers. As for the top trend she's watching for, Lucero says, "I'm looking for how Diversity Equity and Inclusion will be integrated into the design industry."
Christine Vandover
Principal / Senior Project Interior Designer,  HOK,  New York, NY
From the east coast and joining Trendspotters for the first time this year, Vandover is looking for forward thinking design and products that inspire new possibilities. With close to 10 years at HOK focusing on healthcare and workplace design, Vandover is keeping a close eye on the 'Comfort Movement.'
"I'm watching how the wellness trend is moving into retail, residential and corporate" Working in New York and living in Brooklyn provides Christine with unlimited access to grow her design interests, including pop-up event design, product design and backstage dressing at NY Fashion Week. "My favorite trendsetters are Ilse Crawford, Kelly Wearstler, Kara Mann, Raf Simons and Li Edelkoort…just to name a few!"
Catherine O'Brien
Junior Designer, IA Interior Architects, Chicago, IL
One of the newest members to our team has been with IA Interior Architects for just over a year and is excited to see how manufacturers have continued to push the boundaries of flexible spaces, while keeping new hybrid environments in mind. Having recently passed her LEED exam, environmental design solutions is top of mind.
"Given climate projections, I hope to see manufacturers showcasing new areas of sustainability in their products." She's currently following a slower growing trend where architects have started to build skyscrapers out of timber such as the Brumunddal Tower, located in Norway. "I'm excited that this trend combines sustainable choices in building materials while calling back to more traditional construction types."
Grace Gadow
Junior Designer, IA Interior Architects, Chicago, IL
Joining O'brien also from IA Interior Architects is Gadow who has also been with the firm for just under year. Together they are revolutionizing the Chicago studio's materials libraries and maximizing digital tools to broadcast and organize what's available. As for NeoCon, Gadow is looking forward to bold statements of progress towards sustainable solutions.
"Given the state of the global climate crisis, I'm interested to see how brands and manufacturers are going above and beyond with their product, resource, and energy choices." Gadow notes that Mexican design company WEWI is on her hotlist to watch right now, as "their work is clean and warm while catering to Their local traditions that dominate the architecture found in Mexico."
David Taglione
Director, ICRAVE, New York, NY
"I'm looking for innovation in tech integration and something delightful. The most interesting trend I'm watching right now is the end of saturated minimalism," Taglione says. "And the most comfortable chair imaginable."
Joining us again for the second year, he hopes to see manufacturers showcasing more than just the product. Inspired by creative leaders, designers, and all those who do it their own way, he describes what he's looking forward to at the show: "I want to see the next evolution in collaboration and custom capabilities."
Nicole Ravasini
Senior Designer, ICRAVE, Miami, FL
Also from ICRAVE, and with us for the first time this year, Ravasini has worked on a wide breadth of project typologies from healthcare to hospitality. When asked who her most notable trendsetter is right now, Ravasini points to C.J. Hendry: "I'm loving how she's transforming a defunct church in East London right now."
At the show this year, she's looking forward to seeing thoughtful details implemented to come up with new and improved solutions that address the multiple challenges the industry has had to face in the past few years. She also hopes to see manufacturers showcasing more options for easy customization.
Anne Gibson
VP, National Workplace Practice Leader, NELSON Worldwide, Chicago, IL
"I'm looking for energy, joy, and hopefulness in this year's showrooms! Positive vibes!" says Gibson. Joining us for the second year in a row, Gibson cites Juliette Wanty as a trendsetter to watch for her dynamic and wonderful color combinations. At the show Gibson is excited to see what our industry is doing to address the environmental impact that our work has. Much like some of our other Trendspotters, Gibson is really looking for those designers who are addressing the environmental and social impact of a product, especially its cost at the end of its lifecycle.
Diana Pisone
Principal, Workplace Market Leader, Stantec, Chicago, IL
"The most interesting trend I'm watching right now is seeing who can talk about the furniture without saying, 'Return to Work', 'Pandemic', or 'Hybrid'." Pisone makes a good point. In reality, people were always 'returning to work' be it medical leave, vacation, or other reasons.
We have also always had varied work preferences, whether it was celebrated or not. "Let's praise that we are in a time that allows people to work the way that benefits them and supports an improved workstyle." Returning to Trendspotters this year with a new position at Stantec, Pisone is looking for lounge furniture that is comfortable but supportive to someone who might be on a laptop. What else? "Oh! and it should be beautiful. Can we get the Holy Trinity of furniture?"


Shannon Noon
Associate, Senior Interior Designer, Ewing Cole, Philadelphia, PA
With over 14 years at EwingCole, Noon has a strong belief in the collaborative design process.
She understands that a space that will fit the client's needs and surpass their guests' expectations, is always realized through a combined effort.

Having had experience as Head of EwingCole's material libraries in multiple north-east locations, Noon is an expert in interior materials and products. Outside of just her work in the interiors industry, Noon is also an active participant in Women@EC - an employee resource group focused on promoting the professional growth of women in the design industry.
What Designers are Looking for from a Virtual NeoCon Experience
As part of the "phygital" shift in the commercial interior design industry, NeoCon is hosting a lineup of virtual programming for those that are unable to travel to the show in person. In keeping with the physical + digital experience trend of the past few years, many manufacturers are also offering a virtual component to their NeoCon showcase.

Meet our Trendspotters who are dialing in virtually this year and will be reporting what they experience online:
Erica Buss
(Manager, Research & Information Services, Ankrom Moisan, Portland, OR)
Joining for the first time this year, Buss is going to be on the lookout for fresh insights on how we can use design to support new work mindsets.
"I see the notion of work and career taking on a different shape in people's lives. Many people report that they are re-evaluating their priorities. I want to see how NeoCon expands on this topic," she says. In terms of manufacturers, Buss is looking for those that push the boundaries in the biodesign landscape: "We need more plant-based, regenerative, lower-impact products." She is keenly following what she calls an "all the feels" trend where people are seeking spaces that support, affirm, heal, and most importantly, provide joy. "I'm looking forward to seeing some playfulness in interiors," she says.


Amber DeVine
(Director, San Francisco Bay Area, M Moser Associates, San Francisco, CA)
"I'm looking for opportunities that can help create authentic, impactful experiences with a sense of purpose," DeVine says. Back with us this year virtually again, she suggests that we need to create an environment that feels good for the particular activities it will serve.
"I'm excited to see manufacturers who have a focus on more diverse settings. I want to see less about product and space and more about experience," she says. Closely following the fast-growing trend of XR (extended reality), DeVine is interested in what she sees as a "deeper dive into creating experiences sans boundaries."


Kimberly Richter
(Branded Environments Practice Leader and Design Principal,  Perkins&Will,  Austin, TX)
"The most interesting trend I'm watching right now is the attention to bringing genuinely diverse voices to the design conversation table," Richter says. Her top trend: She's hoping that designers will showcase products that address ongoing and often not prioritized social paradigms, environmental sensitivities, and variety-driven lifestyles.
Richter's design philosophy is inspired by how multiple design disciplines can arrive at one unified story, and this year at the show, she's looking for critical design conversation that can feed and expand our local work and perspective. 
How to Follow ThinkLab Trendspotters at NeoCon 2022
Along with our fantastic team above, ThinkLab's Amanda Schneider, Erica Waayenberg, Olga Odeide and MaryKate McCarthy will also be live at the show. Meredith Campbell will be touring virtually. Make sure to watch, listen, and follow as we bring you what you need to know from NeoCon 2022.
Want to stay in the know during the know? Don't miss a thing!
For everything-you-need-to-know:

Follow us on Instagram and LinkedIn for the latest updates from the show (Hint: our Instagram stories are a must-watch during the show!)

For minute-by-minute updates:

Follow #thinklabtrendspotters on Instagram and LinkedIn.

For daily audio recaps:

Tune in to our live chats on Clubhouse, where we'll be gathering each afternoon during the show

Here's how to tune in to the daily audio recaps:

For more on what to expect at NeoCon 2022, listen to our Design Nerds Anonymous interview with theMart's Byron Morton as he shares details on the show and an inside look at MART 2.0 – a renewal and renovation project of theMART that will expand on its amenities and sense of community.
We look forward to connecting with you virtually and in person at NeoCon 2022!
Anna Lu is the project manager at ThinkLab, where we combine SANDOW Media's incredible reach to the architecture and design community through brands like Interior Design Media, Metropolis, Luxe, and Material Bank with proven market research techniques to uncover relevant trends and opportunities for the design industry. Join in to explore what's next at thinklab.design/join-in.