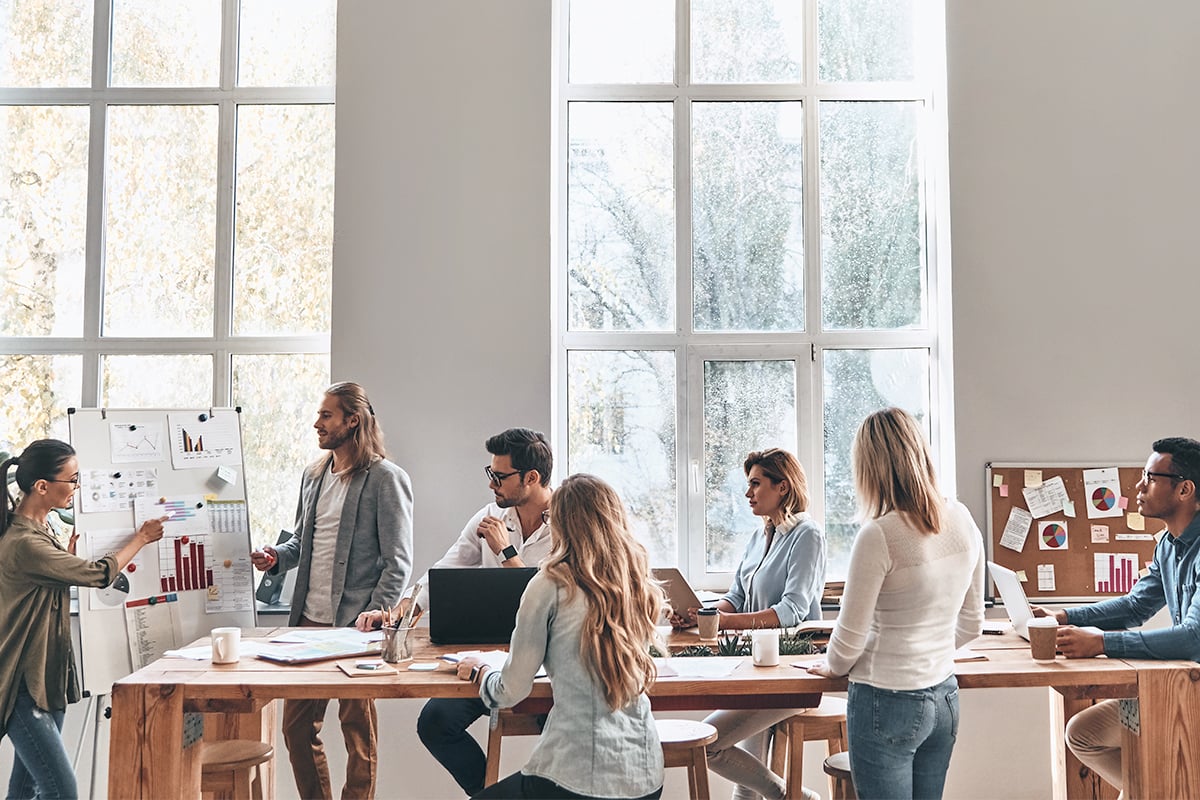 The professions of architecture and interior design are filled with passionate creatives who are striving daily to create environments that support and delight their occupants. Inspiration is at the very heart of that design process. It's what kindles the creative spark that Albert Einstein described as "seeing what others see and thinking what no one else ever thought."
But in order to pour such passion and innovation into their work, how are architects and interior designers finding their own inspiration? ThinkLab's annual benchmark survey of over 1,100 U.S.-based architects and designers highlights the seven sources that top the list.
If you are a brand trying to stay top of mind for this influential group of specifiers, why does understanding key platforms for inspiration matter?
3 Critical Reasons to Evaluate Your Platforms
1. To combat less face-to-face time
In an industry that has largely shifted to a hybrid format, brands are having less face-to-face time with A&D to showcase their newest, latest, and greatest products.
2. To connect via multiple paths to inspiration
Architects and designers desire a phygital (physical + digital) journey when discovering and considering products that may be the best fit for their clients. Brands that afford self-service digital inspiration are positioned to lead.

3. To expand reach through well-established platforms
And, as any good marketer would tell you, you need to position your product where your audience already is.
Now that we understand why A&D inspiration-seeking behaviors matter, let's briefly discuss what type of content will resonate before diving into the top 7 sources. Since the interiors industry is full of highly visual, creative personalities, inspiration for your product or service should be highly visual as well. This includes limiting text, blending a combination of installed lifestyle imagery with detailed product close-ups, sparking curiosity with unexpected applications or installation types, and always linking to where your audience can find any related product information. These visual elements create a recipe for success when vying for the attention of busy professionals already inundated with product marketing.
Now, let's dive in to our design industry market research to discover exactly where this audience is already looking to be inspired.
Survey Results: 7 Sources of Inspiration for A&D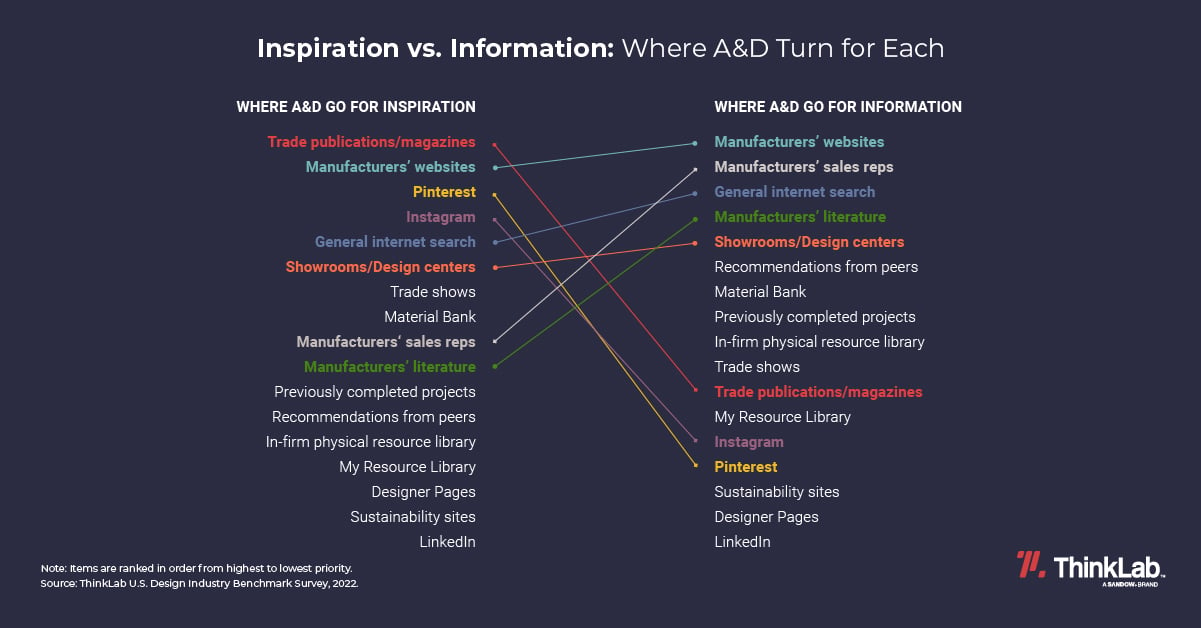 1. Trade publications and magazines
Why A&D love publications: Trade publications and magazines are seen as a go-to source for cutting-edge design philosophy, staying abreast of the latest innovations in design, and (as a bonus) discovering products from reputable brands that advertise within those pages.
Recipe for success: What kind of magazine content will make an architect or designer pause? Beautiful, full-bleed imagery and candid commentary from the creators, whether that be the architect or designer of an award-winning project or the industrial designer discussing the inspiration behind a new product launch.


2. Brand websites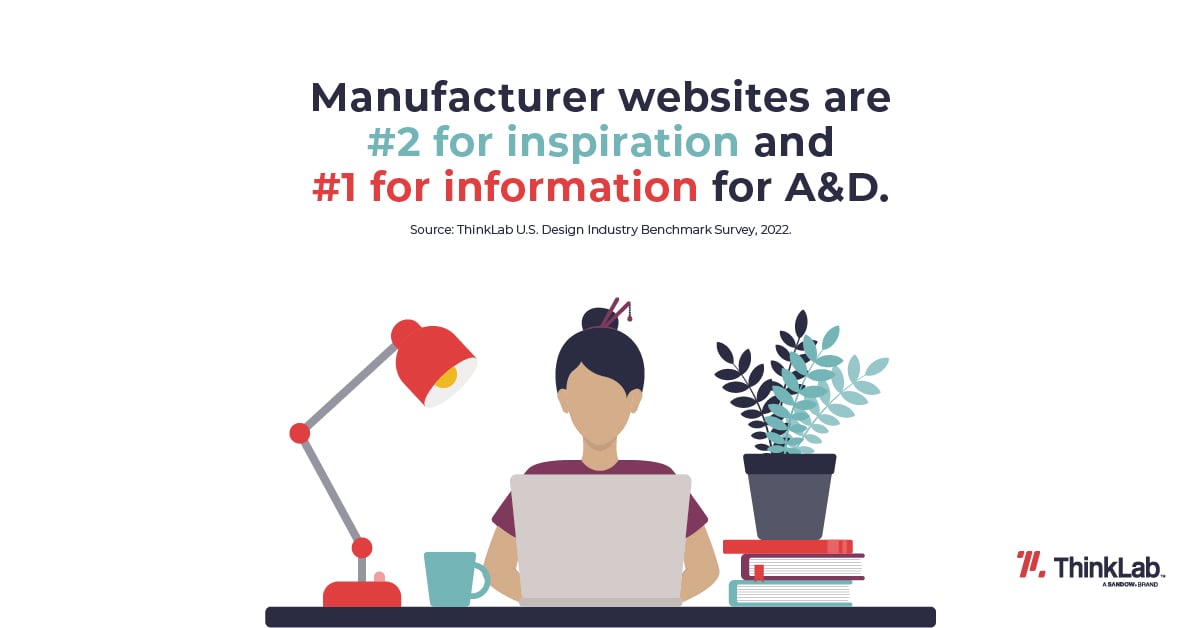 Why A&D love manufacturer websites: Architects and designers are a surprisingly loyal bunch. ThinkLab research shows that two-thirds of A&D feel loyalty to brands that they know and trust. Quality is a top concern for architects and designers, and once they've found a brand they know to deliver on their product promise, they are often filtering to that select group of go-to brands at the very beginning of their product discovery. They are looking to these brands to showcase their latest product launches with the support of lifestyle images, white sweep images, and robust product information all in the same place: on their website.
And bolstering your web presence can reap double the benefits as A&D come not only for inspiration but information as well. In fact, for the first time, ThinkLab survey results show a brand's website as A&D's number one go-to source for information, surpassing brand reps.
Recipe for success: In today's phygital journey, architects and designers desire a self-serve experience at multiple points along the design process. While they love reps bringing them new products, applications, and installations that will inspire them, they also need that information readily available, and at the forefront of your website experience.
3. Social media
Why A&D loves it (and which platforms they love most): Social media can at times provoke a visceral negative reaction, considering brands often have to pay to counter the influence of algorithms and personalized feeds on whether or not content is seen by a target audience. That being said, architects and designers are routinely going to Instagram and Pinterest both in their professional life and for leisure. As a result, social media can be a great platform for architects and designers to "online date" your brand before deciding to call a rep. When they can see a variety of products and scroll through a continuous feed of inspiring imagery, they can get a sense for whether or not the portfolio is the right fit for the client at hand. Having a robust social platform provides an unpressured opportunity for A&D to get to know you and your products.
Recipe for success: Leverage social media with more than just a static photo album. Stop your audience in their scrolling tracks with a mix of photos, videos, rave reviews, and (of course) beautiful installations. Want to go one step further? Empower brand reps with short-form, shareable video content that they can DM to their A&D audience with a personalized message.
4. Internet searches
Why A&D love to search broadly: While we wish that every design process started with a magical travel experience that engaged all five senses, truth be told sometimes it starts with a simple Google search. When faced with a special client desire or site limits — or perhaps when just looking to break out of the mold of products they have used in the past — architects and designers may turn to the internet in hopes of finding something new and inspiring or to solve a one-of-a-kind constraint.
Recipe for success: When it comes to an organic internet search, the most important thing is to make sure that your website is crystal clear about what you do, what you provide, and how you can help designers and architects in their work. Beyond that, take a good look at your SEO strategy to make sure that you are found by those that are looking for you.
5. Showrooms/Design centers
Why A&D love an engaging showroom: While the digital world can bring a plethora of product options and inspirational images to our fingertips in seconds, it can also be a flattener, making it hard to differentiate the quality, hand, finish, and other tactile qualities of products. Showrooms and design centers are also beloved by A&D when paired with concierge-like staff who are invested in knowing the latest products — and at the ready to help pull options that can complement a designer's creative vision.
Recipe for success: It's true that refreshes to showrooms and design centers can be disruptive to visitors for a short period. But the showrooms that can go beyond servicing A&D with samples — by putting forth fresh layouts and material displays — will be the ones that design professionals frequent during the early phases of a project, when they're looking for inspiration and potential concepts to present to clients. Remember, a great showroom doesn't remain static (like a museum), but rather invites interactivity and provides space for design ideation (as with a material lab) that can be activated either while browsing alone or nailing down selections with clients in tow.
6. Trade shows
Why A&D love an immersive experience: Touring a showroom or two is great on an ad hoc basis, but trade shows provide full immersion into design, new product launches, thought leadership presentations, awards, networking, and so on — making them a great place to spark inspiration. As one hospitality designer recently said on a ThinkLab roundtable discussion, "Salone had enough to keep me inspired for the next few years!"
Recipe for success: In a sea of sensory and information overload, sometimes it's simplicity that stands out. Creating a focused and immersive experience and delivering crystal-clear messaging about what your product or service is — and how it can solve the problems of A&D and their clients — will help to grab attention and leave a lasting impression.
7. Material Bank
Why A&D loves this "game-changer": Material Bank, an aggregate material sampling source that offers overnight sample delivery for design professionals, was a critical player in keeping projects moving forward during the early days of the pandemic. But its usefulness to designers has since expanded to earlier in the design process. A&D now cite Material Bank as a go-to source for inspiration, where they are exposed to products and brands that they may have never encountered on their own or in their firms' libraries.
Recipe for success: For brands who are partnered with Material Bank, expand awareness of your participation via social media, by sharing curated palettes of your latest and greatest offered on Material Bank.


Why invest in design inspiration?
As Scott Harrison, founder of Charity: Water, put it,
"Inspiration is difficult to measure, but the results driven by that inspiration are powerful."
If you put forth the effort and initiative to inspire architects and designers, you will see the effect ripple out as they share that inspiration with their clients, and inevitably, come back for more.
Feeling inspired yourself? Want to know more about your A&D audience and what is important to them?
Get more of the data you need to fuel your strategy for 2023 in the full (and complimentary) U.S. Design Industry Benchmark Report from ThinkLab.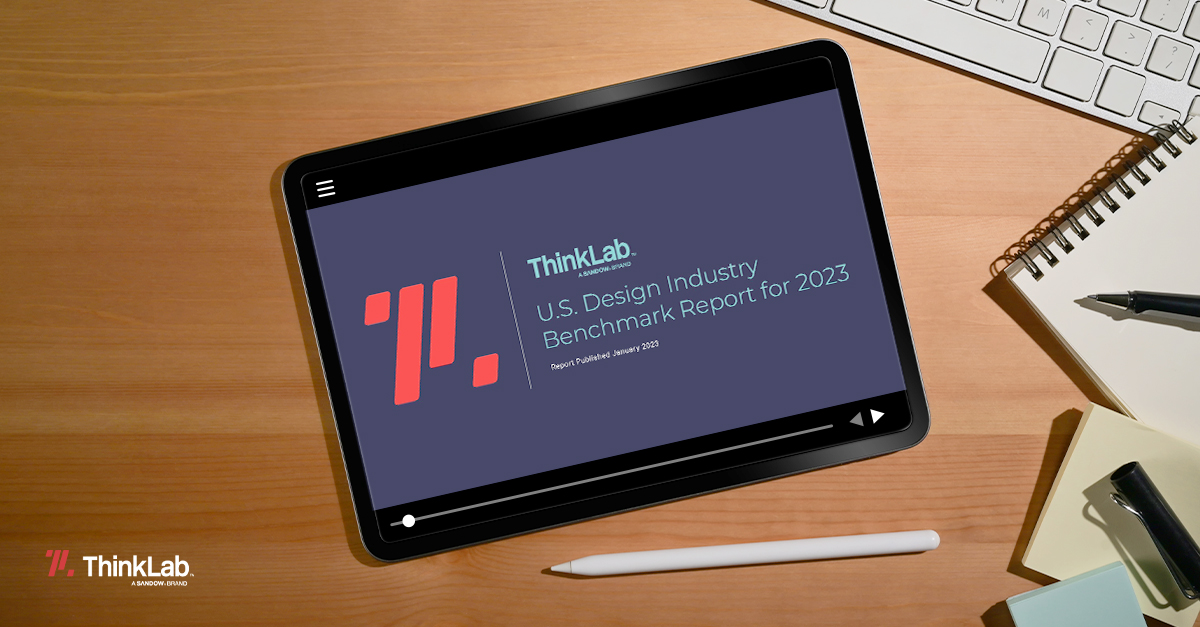 Erica Waayenberg is the head of Research & Content Development for ThinkLab, the research division of SANDOW Design Group. At ThinkLab, we combine SANDOW Media's incredible reach to the architecture and design community through brands like Interior Design Media, Metropolis, Luxe, and Material Bank with proven market research techniques to uncover relevant trends and opportunities for the design industry. Join in to explore what's next at thinklab.design/join-in.