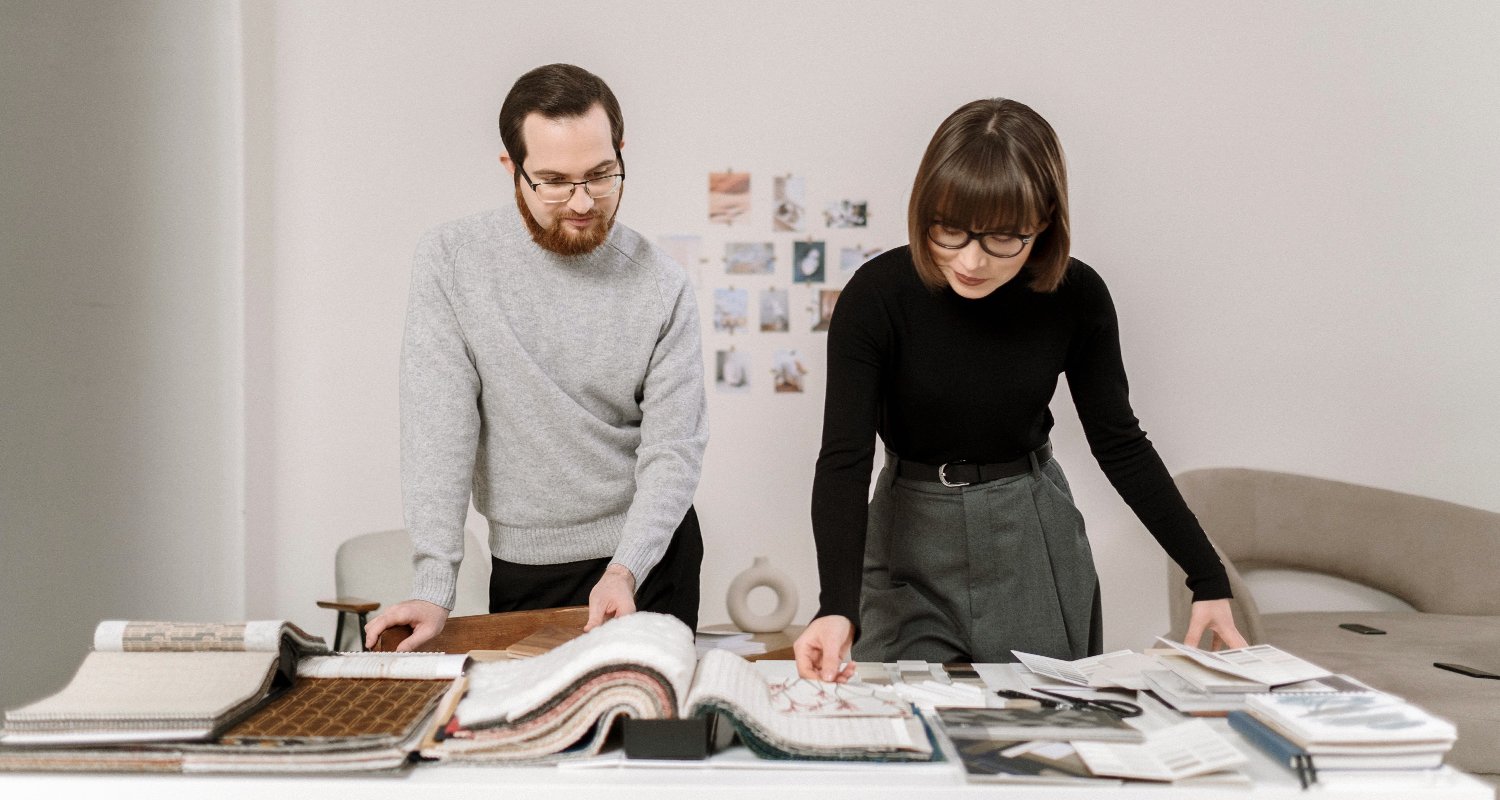 In our 2018 article, "The Rise of the Dealer Designer," ThinkLab explored the evolving role that the dealer designer plays in the project process. We reconnected with one of our interviewees, Alexandra Tseffos, founder of Silent T Consulting and The Design POP, to see what has changed since then. At the time, Tseffos identified four shifts in the traditional dealership:
Technology.




The focus shifting to service instead of just product.


The need to position designers who have a variety of skills (there are more production-style designers than presenting designers.)



Increased importance of the relationship between design and sales: Salespeople are responsible for relationship building, but they need the designer's knowledge of product, cost-saving measures, and the visual output to keep up with the growing expectations of today's customer.
Tseffos says that these four shifts still hold true. The biggest change? Acceleration.
"The technology shifts we were expecting to see in five to ten years ended up happening in three to five years," she explains. "The changes that were underway then are already happening now, only accelerated."
She noted that, when we spoke to her four years ago, there was not an expectation of the current landscape of mergers and acquisitions that has created "forced shifts" in certain categories. Tseffos cited technology as a great example of this in cases of dealer alignment changes: "Many need to learn one or more new software platforms and the intricacies of countless new product lines as fast as humanly possible."
Since that 2018 interview, ThinkLab has been researching the role of the dealer designer, digging into their preferences and pain points. What we know from recent ThinkLab research:
Where they are:

As of 2021, nearly half of dealer designers reported living outside of a commutable distance to the office.
Where it hurts:

In the chart below, the "heat map" indicates where and how much "pain" dealer designers experience in a typical furniture bid and purchase process. The deeper the red in the gradient, the more pain was reported. Compared to other members of the ecosystem (A&D, end users, and real estate), dealer designers experienced the most pain with the most frequency throughout the process. "Their pain is a lot about communication. They are trying to manage a lot of players with competing priorities: what the designer wants (look), what the client wants (price), and what the dealer salesperson wants (aligned product)," shared Erica Waayenberg, lead researcher at ThinkLab.

*In the chart above, the heat map indicates the amount of "pain" dealer designers experience throughout the project process.
In ThinkLab's latest design hackathon survey, we asked more than 850 designers from all corners of the design ecosystem about their preferred balance of digital and human during the product specification process. The respondents were a mix of architects and designers (A&D) at firms, end user designers, and dealer designers. While there were key similarities across the board, what's important to the dealer designer from a brand is markedly different.
Here are 3 key things dealer designers want from brands:

Dealer designers prefer brands that enable them to self-serve on demand with digital tools.
It's worth noting that this was twice as important to this audience than to any other category of specifier surveyed. Dealer designers are the most likely to identify as "fast followers" (not the first to try something new, but not the last either). Yet they are the most inclined to want to self-serve digitally, something you might assume was most important to an early adopter (the first to use a new way).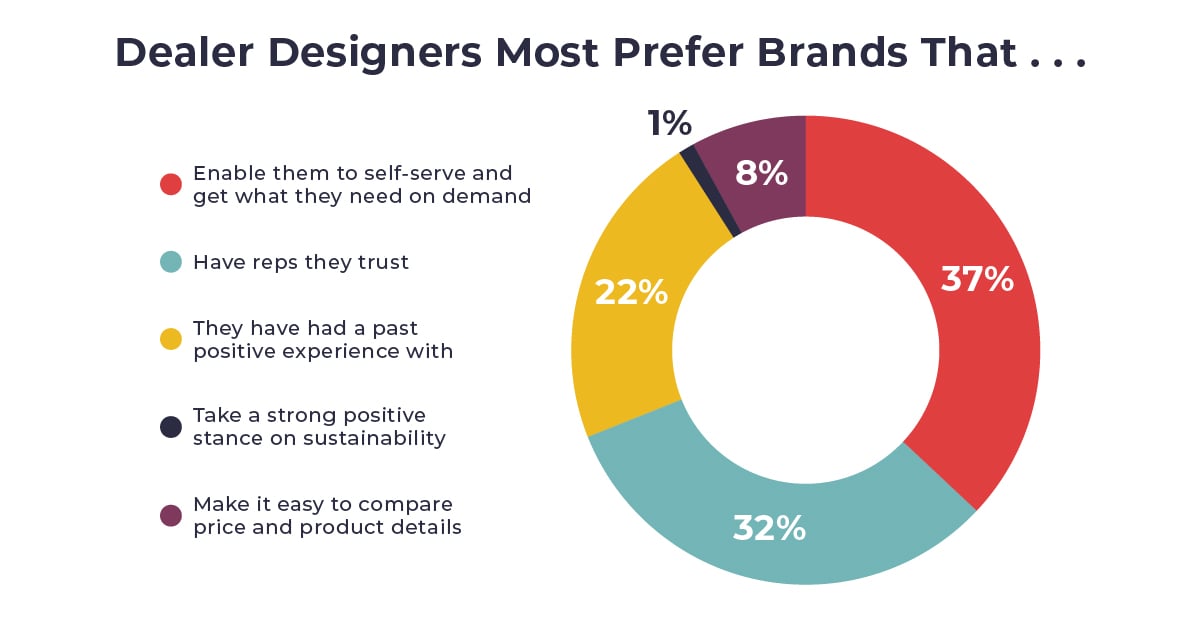 They are eager to learn new technologies that will make their job easier –
even if it initially takes more time to learn them.
They are the most likely to specify products from new brands that they discover on digital aggregators, such as Material Bank, My Resource Library, etc. When narrowing down product options, they were the most likely to say they prefer to self-serve digitally, while all other members of the ecosystem most preferred to talk to a specialist within the brand.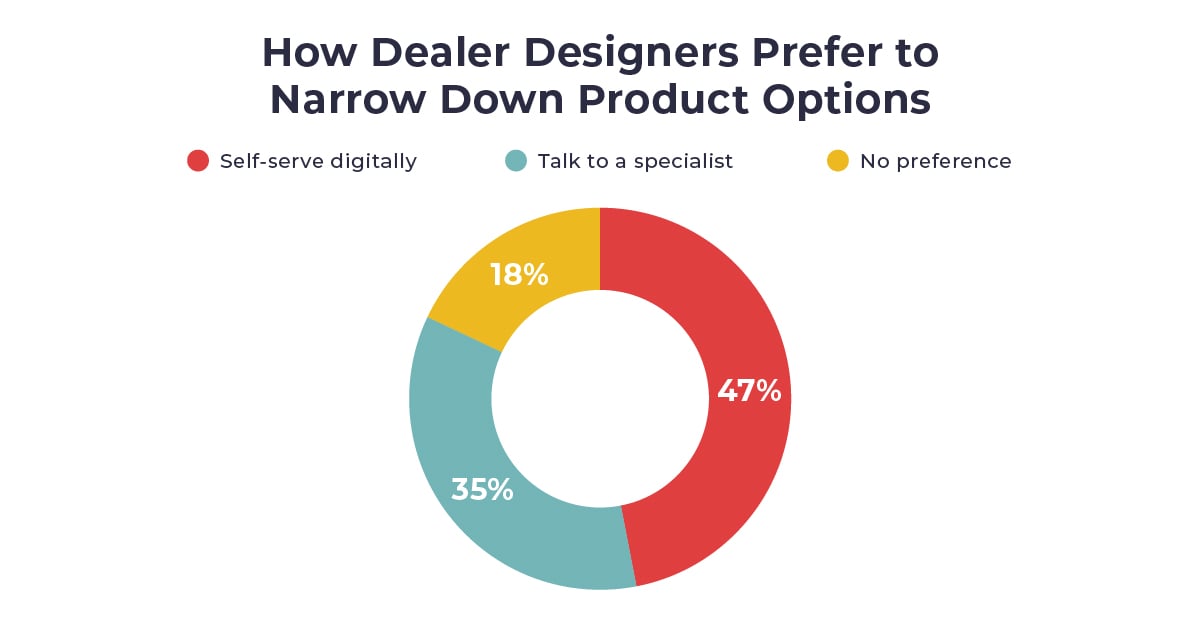 They believe they can be served by a remote team of people from a brand as well as they are by a local rep.
But when they do want to speak with a human, the dealer designer wants to interact with their rep early on, when they are gathering general knowledge to do their job, not information specific to the project.
When asked why they would rather work with a local rep, these were their four main reasons:
A single point of contact

Better service and response

Personal connection and trust

Deep knowledge of the nuances of my market
What this means for you as a brand connecting with a dealer designer audience:
Prioritize self-serve digital tools in these areas

especially

: pricing, lead times, and sample requests. Dealer designers wanted to self-serve these items more than any other segment. Make sure you are present on the aggregators they frequent most.





Equip them with a team of people from your brand.

Even though the digital tools and resources are most valued and embraced by this segment, when they do need help, they are comfortable being served by a team of experts — especially if it gets them a faster or more accurate response. As Tseffos says, "Digital access to the product information alone isn't enough. Cross-functional training on the sales and design process, product specification, and the technology involved is critical for success."



Upskill the local representatives to provide value up front

in the "general awareness to do my job" phase. This means leading them to the available digital resources and keeping them up to speed on industry trends and best practices. When it comes to product, focus on strategy, and not just features and benefits. Understand the nuances of their local market and share those back internally, so the team of people who are serving them remotely are also speaking the same language.
Are you interested in finding out more about the hackathon research results and how to apply them to your business? Get involved in our Design Hackathon!
Meredith Campbell is a member of the Research & Content Development team for ThinkLab, the research division of SANDOW Design Group. At ThinkLab, we combine SANDOW Media's incredible reach to the architecture and design community through brands like Interior Design Media, Metropolis, Luxe, and Material Bank with proven market research techniques to uncover relevant trends and opportunities for the design industry. Join in to explore what's next at thinklab.design/join-in.