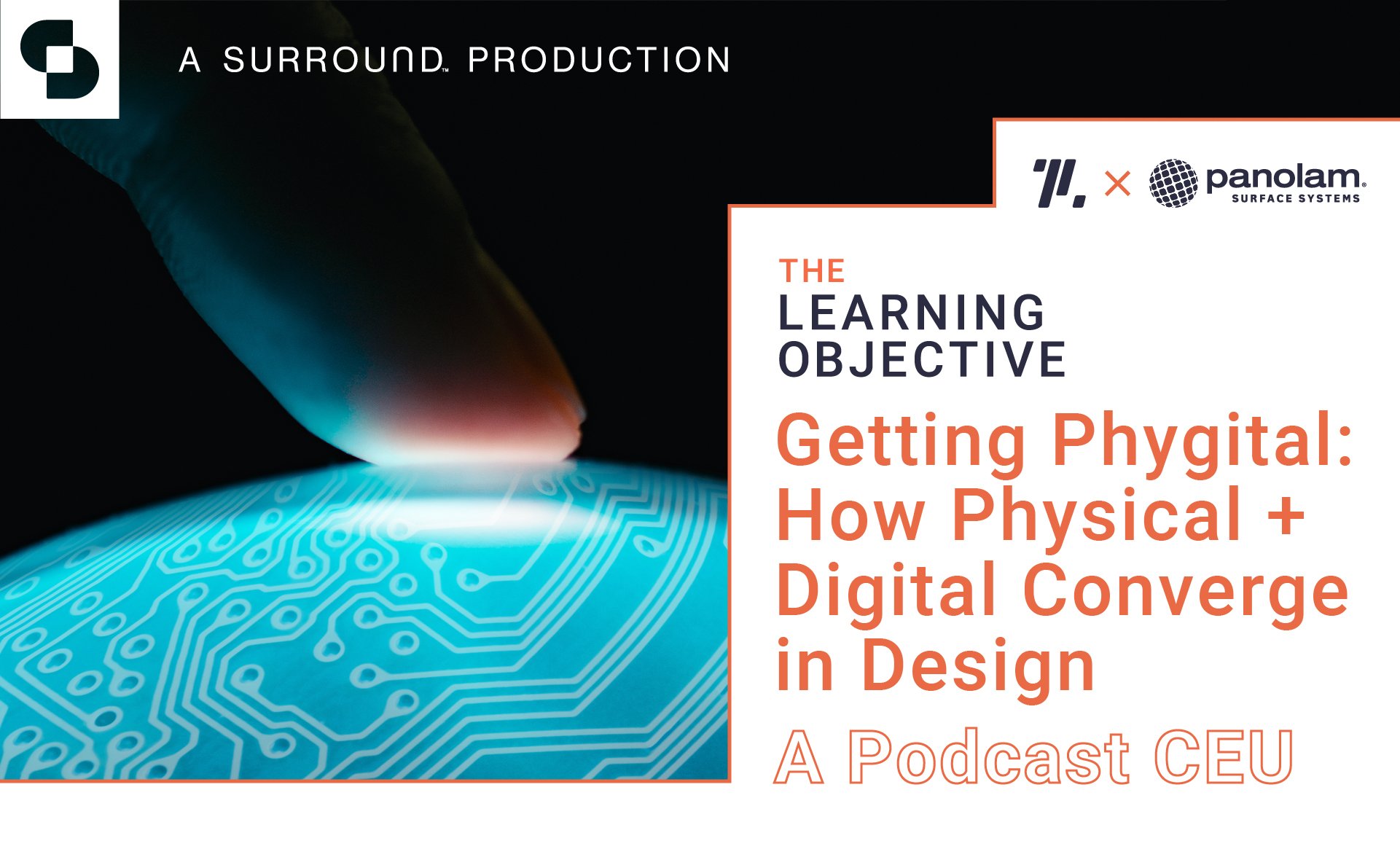 Getting Phygital: How Physical and Digital Converge in Design
Fueling Innovation and Client Connections
In this episode, presented by Panolam, ThinkLab interviews Amanda Schneider, president and founder of ThinkLab; Mardi Najafi, vice president of retail strategy and design at Figure3; and Kari Anderson, an interior designer–turned–UX designer. They discuss the blending of physical and digital and how to take the best of both worlds to supercharge projects, processes, and relationships with clients and customers.
Accredited for: IDCEC, AIA | 0.5 CEU/0.5 LU
Subscribe to view future episodes here:
The Learning Objective CEU Podcast
Season 2, Episode 01 Show Notes

Our first interviewee, Amanda Schneider, is president and founder of ThinkLab. She describes shifts in five key areas at the intersection of design and product: showrooms, libraries, events, product presentations and product discovery, and the role of the local rep.
Our second interviewee, Mardi Najafi, is vice president of retail strategy and design at Figure3. He discusses major changes to the B2B consumer experience from before, during, and after the pandemic and why interest in physical retail has bounced back. And he shares which B2B brands he considers cutting-edge in providing a harmonized buying experience.
Our third interviewee, Kari Anderson, is an interior designer–turned–UX designer. She shares three learnings from effective UX design that interior designers can use to optimize physical spaces, and she explains why AR and visualizers are the digital technologies most empowering designers today.
After listening, you will be able to:
Interpret what "phygital" means.
Analyze the shifts happening in the specification process.
Examine the customer journey in retail for inspiration.
Relate phygital thinking to interior design.
Take the Quiz
Want CEU credit for listening? Click here to take the quiz and earn your certificate of completion.
How it Works
If this is your first audio-CEU experience you might have some questions – like, "Can I really get CEU credit for listening to a podcast?" and "How exactly does this whole CEU podcast thing work?" And the answer is yes, you CAN earn CEU credits for tuning in and the process is quick and easy.
Here's how to complete your entire CEU podcast process in 4 simple steps:
Step 1: Listen to the episode.
Step 2: Visit this link to take a short, 5-question quiz.
*Scoring an 80% or above on the quiz will earn you 0.5 CEU/0.5 LU.
Step 3: Upon passing the quiz, receive your certificate of completion from CEU provider Panolam.
Connect with our expert guests on LinkedIn:
---

Special thanks to our CEU episode sponsor, Panolam, for partnering with us to provide valuable insights on compelling topics for the design industry.