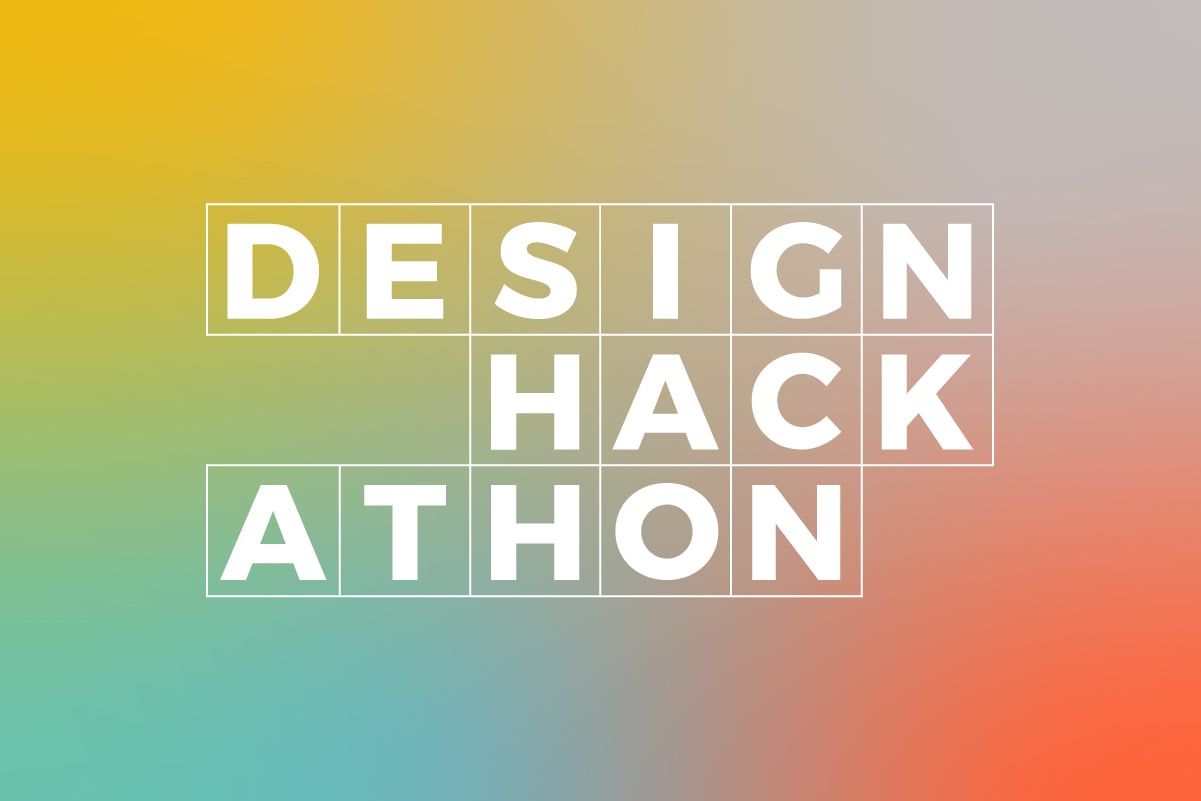 Our minds are blown (and we aren't surprised by data often).
We've assembled more than 60 of the industry's brightest minds from 10 of the top Interior Design Giants of Design, as well as 9 forward-thinking sponsors, to serve as our inaugural ThinkLab Design Hackathon Advisory Council. The typical process for our hackathon market research spans a period of roughly six months, during which we gather input from outside experts and then conduct quantitative and qualitative research specific to the interiors industry. Our goal for this year's hackathon was to study Gen Z, as a way to tackle the challenges our firms are having to recruit, retain, and connect their teams in an increasingly hybrid era.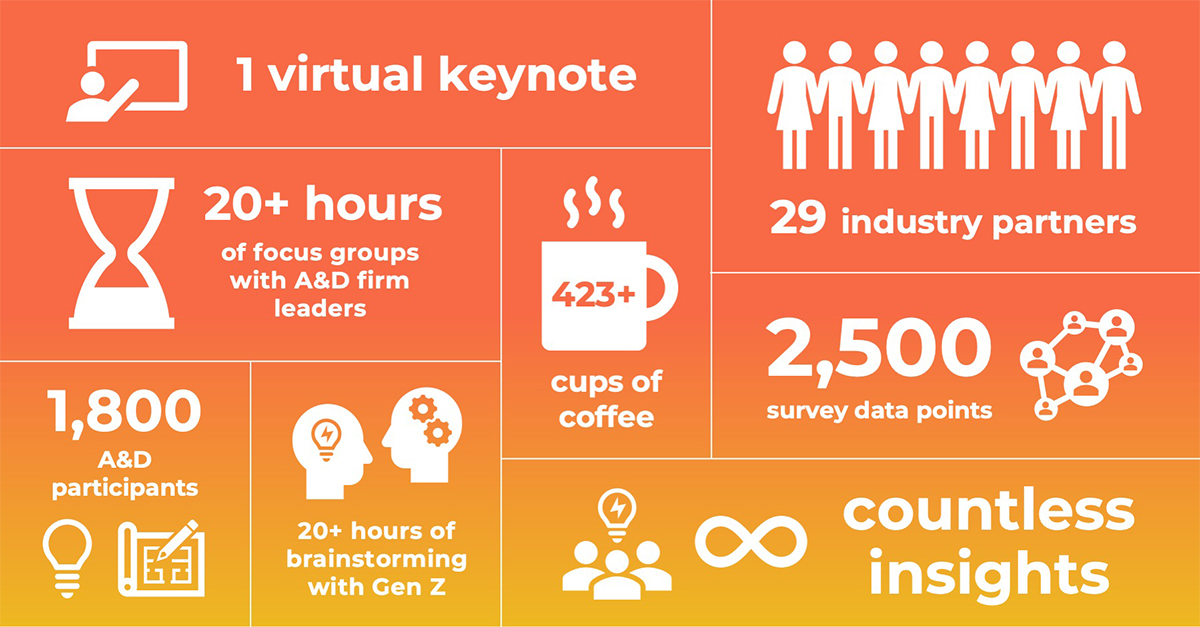 The catalyst that sparked this year's focus on Gen Z was found in data from our 2022 hackathon, when we created the interiors industry's first persona study. This particular body of research mapped out digital vs. analog preferences along the continuum of the design process. In that data, we saw some quite defined trend lines by age grouping, chiefly that the younger the survey taker, the more "digital-forward" they were likely to be.
One of our passions at ThinkLab is taking a consumer research approach and applying it to our B2B world. Sometimes, our research reflects what many non-industry-specific studies see. But some of our favorite discoveries lie in uncovering nuances unique to the interiors industry. This prompted us to explore Gen Z as prototypes (not stereotypes). We believe that by studying the newest entrants to our industry, we can uncover "arrows to our future" in the data, helping us understand this generation whose behavior in the workplace will bring about a ripple-up effect on how all of us work.
Understanding Gen Z is especially significant when viewed through the lens of the A&D firm.
Here's why: Data from our Interior Design Giants of Design research found that from 2019 to 2021, the top 100 firms on the list laid off nearly 50 percent of their staff. While they showed full recovery in 2022, most firms are still struggling to recruit and retain the right levels of talent. They risk losing talent not only to other firms, but also to other industries. And to make matters worse, architects and designers are trying to help clients shift to hybrid work while trying to figure it out themselves (#noteasy).
So how do we start to unpack this? After all, Gen Zers will make up 27 percent of the workforce by 2025, which makes understanding them all the more crucial. By looking to Gen Zers as prototypes, not stereotypes, and studying data trends across all generations, we can find clues as to:
How to recruit them

How to retain them in our firms and our industry, and

How to connect our multigenerational teams amid hybrid workflows


The Biggest Surprise in the Data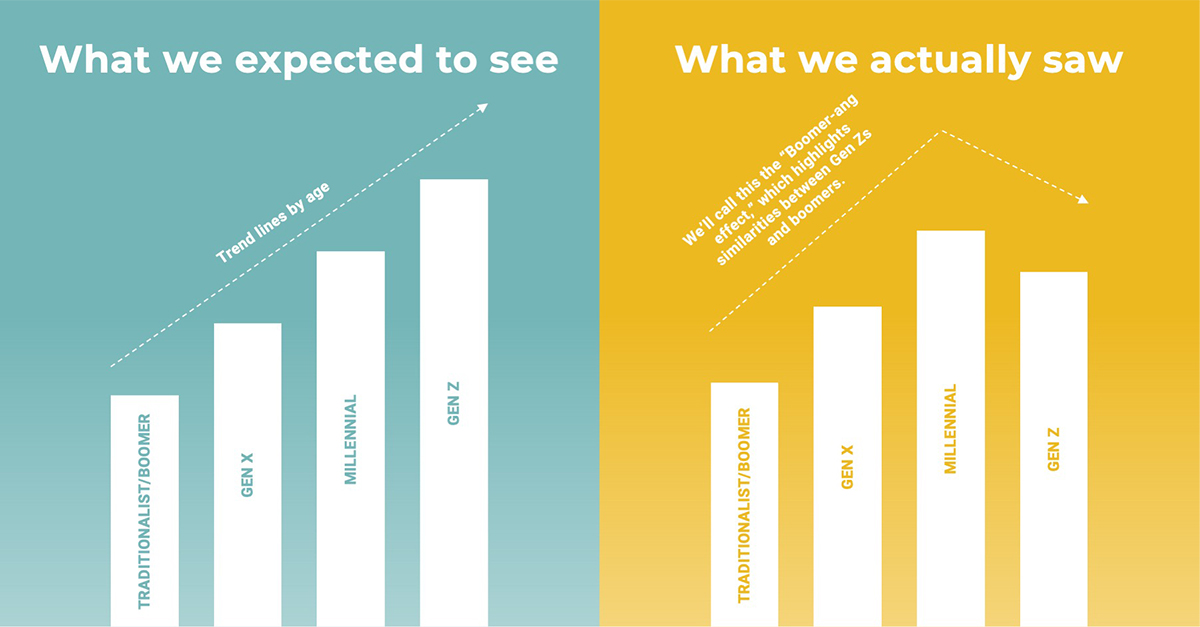 The pendulum always swings back — that's what you'll see in much of our data, which frequently follows a trajectory that some call "the boomerfication of Gen Z." While there are definitely trend lines to our future, our data suggests that Gen Zers are not as different from other generations as we thought and often land somewhere closer to boomers in many (but not all) of their preferences.

For example:
Assumption: As the most digital-first generation, Gen Z doesn't value face time like other generations do.
What ThinkLab's data said: In many cases, Millennials showed up in our data as the most digital-forward. In many cases Gen Z's preferences aligned more with views of Boomers or Gen X. In fact, Gen Z values prefers in person networking events more than any other generation.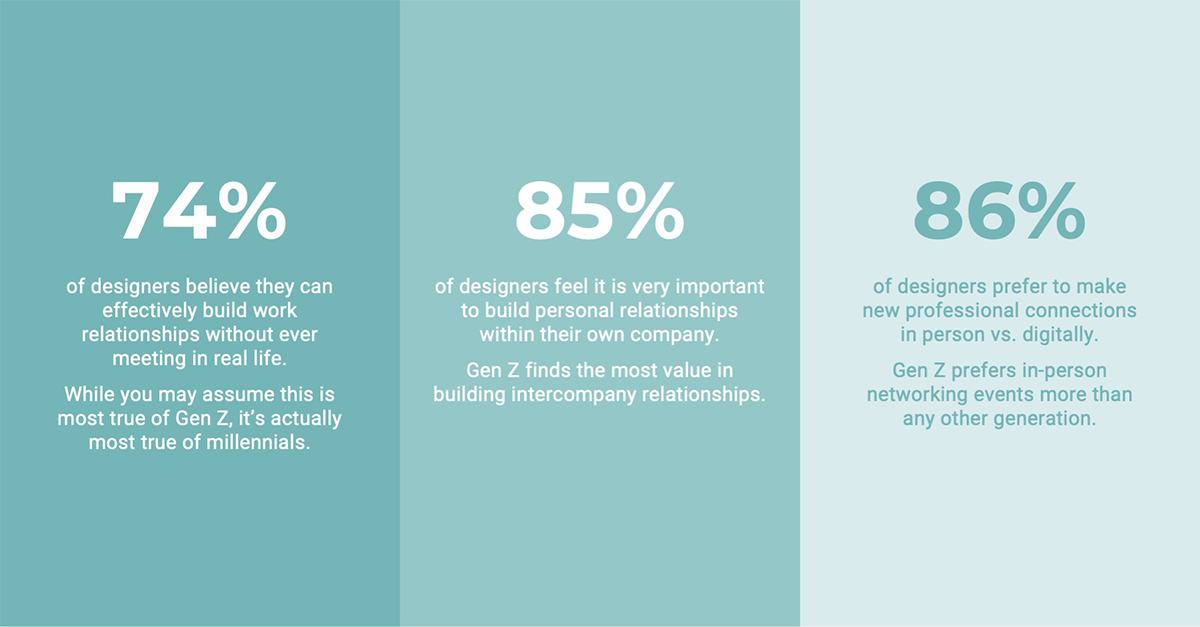 While it's interesting to see where ThinkLab's industry-specific insights overlap with other studies, let's explore a few areas where our data differed.
How the Interiors Industry Differs From the U.S. Workforce Overall
#1: Strength of Culture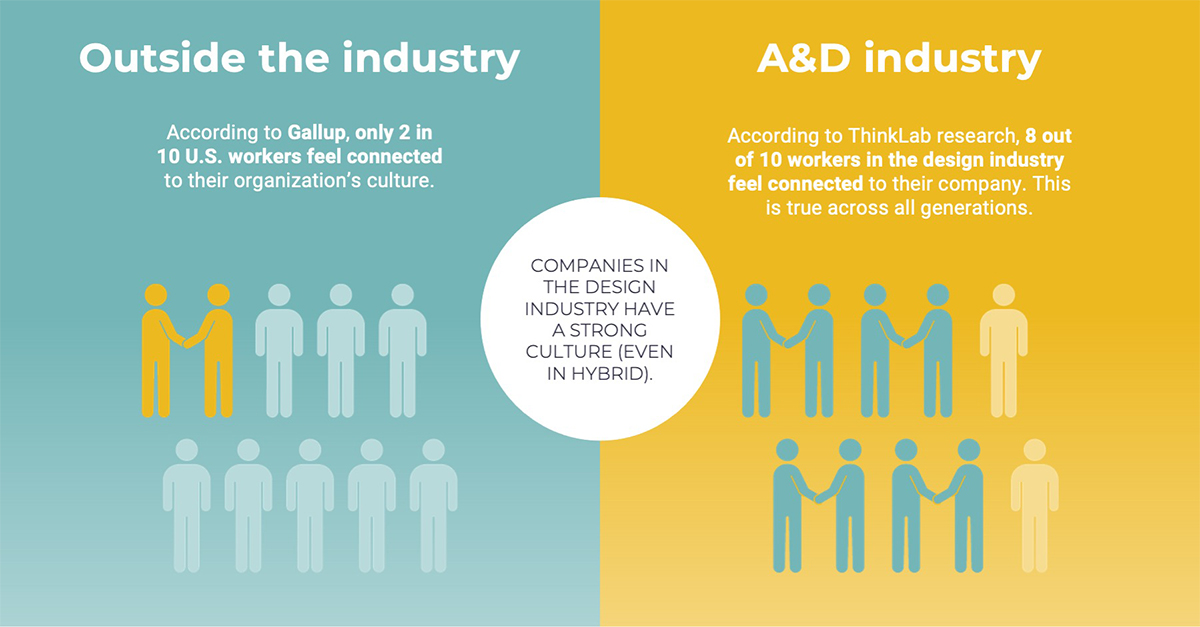 #2: Less Use of YouTube
What generational expert Ryan Jenkins told us on a DNA podcast episode: In general, when it comes to researching a position they're interested in, Gen Zers first approach family, friends, and then folks they might know who work at that organization. The second step catches everyone by surprise: They go to YouTube. Most people will assume Gen Zers primarily consult Glassdoor or Indeed or Google — and maybe even Twitter, Instagram, or TikTok — but the real answer is YouTube.
What ThinkLab data said: Gen Z designers in the interiors industry are definitely leveraging their human connections whenever possible, but our industry is not leveraging YouTube at all. We did see increased usage with each successive generation, whereby each generation was more likely than the previous one to turn to YouTube, but usually more for exploring new skills than for job hunting. We believe with a generation that grew up learning to tie their shoes from a YouTube video over asking their dad, YouTube is a crucial opportunity for companies to explore — both to showcase their culture in a transparent way and to help make upgrading technical skills more self-serve.
#3: Less Interest in the Gig Economy
What McKinsey research says: "A little more than half of Gen Zers are likely to be gig or independent workers, compared with 36 percent of the American workforce overall."
What ThinkLab data said: Roughly 10 percent of Gen Z designers in the interiors industry find the gig economy "extremely" or "very" appealing. They are more likely than any other generation to find it "somewhat" appealing, but that still doesn't make us ready to sound the trumpets.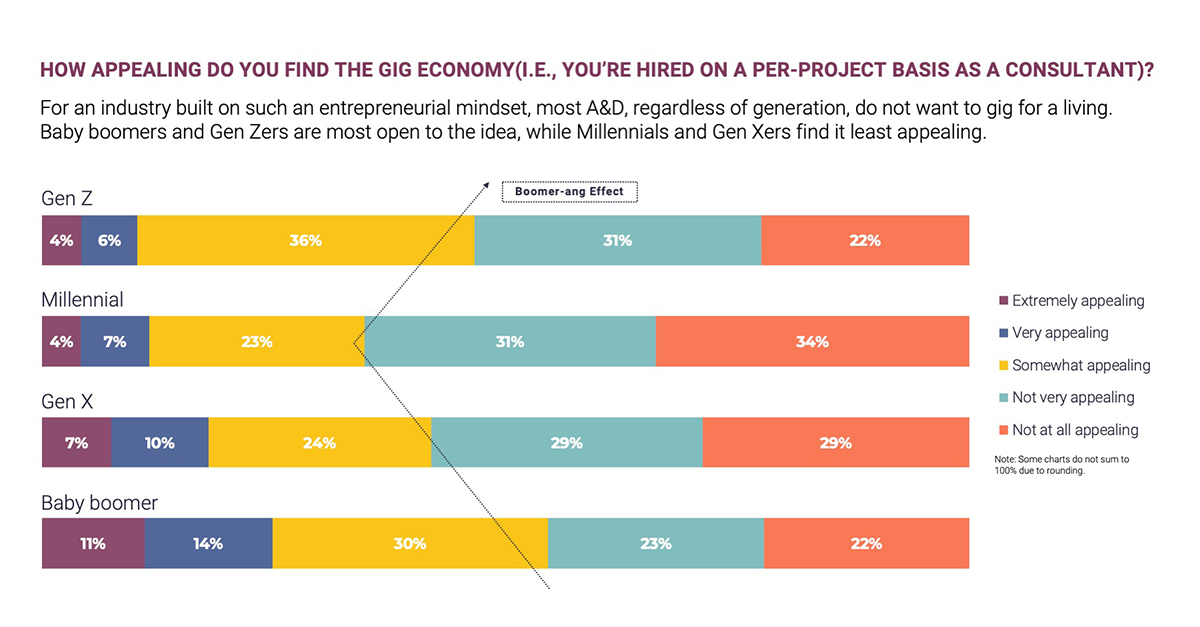 Want More?
Practicing what we preach, ThinkLab is creating multiple ways for you to take in this research, digest it, and apply it to your business. We will be sharing the full set of results beginning June 2023. (For an early look, we invite you to check out the Gen Z miniseries on our Design Nerds Anonymous podcast.) Participating CEU sponsors — including 3form, Allsteel, Mannington Commercial, Material Bank, and Milliken — will also be helping our industry apply these insights through a series of CEUs beginning August 2023. Check our Hackathon Advisory Council page for the latest as it unfolds.
You can also register now for our first public release of these insights via a CEU-accredited panel discussion at NeoCon 2023, titled "How to Connect with the Next Generation of Designer: Helping You Stay Ahead as Gen Z Influences Change in the Interiors Industry." (Or watch on demand after June 19, 2023.) You'll hear what top firms learned and how they are applying it, direct from research participants and multigenerational panelists, including:
Jeanette Kim

, senior associate and senior interior designer, Perkins&Will

Audrey Koehn

, global interiors leader and principal, DLR Group

Isabel Das, technical designer, Gensler
Special thanks to our forward-thinking research sponsors who made this research possible, including 3form, Allsteel, KI, Mannington Commercial, Material Bank, Milliken, Shaw, Teknion, and Wolf-Gordon. Also, thanks to the top Interior Design Giants of Design firms that volunteered their time to make this research come to life, including AECOM, CannonDesign, DLR, Gensler, HKS, IA, Nelson, Perkins&Will, Stantec, and ZGF. And honorable mention to our survey partners who helped us collect these insights, including BIFMA, CIDA, IDC, IDS, IIDA, Luxe, and NEWH.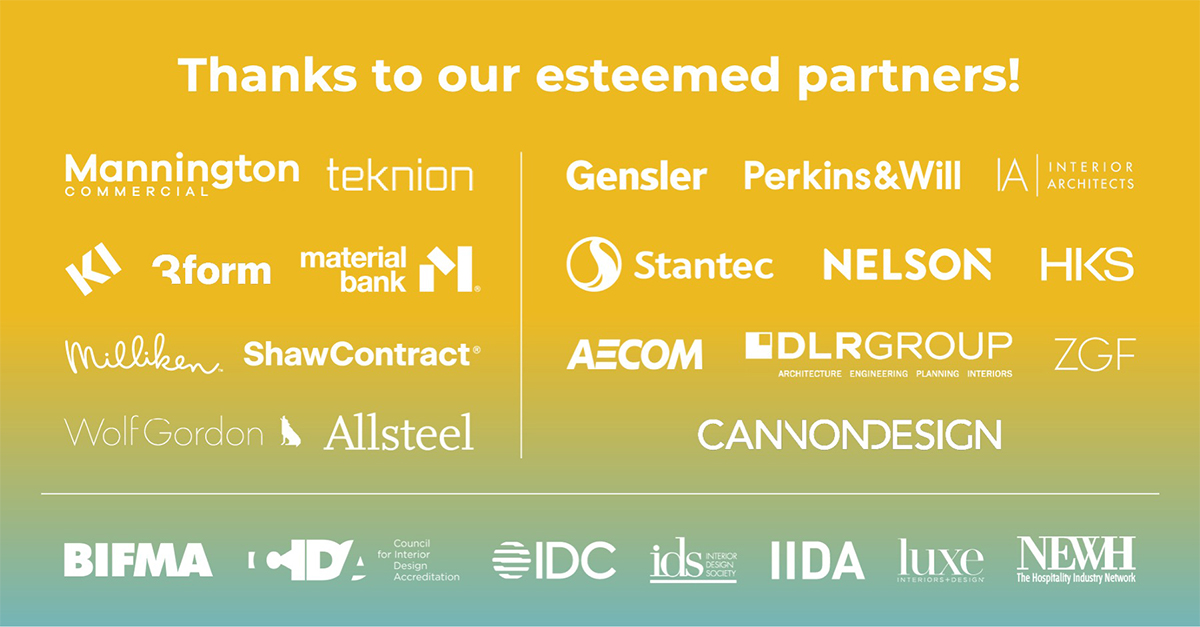 Amanda Schneider is President of ThinkLab, the research division of SANDOW Design Group. At ThinkLab, we combine SANDOW Media's incredible reach to the architecture and design community through brands like Interior Design Media, Metropolis, Luxe, and Material Bank with proven market research techniques to uncover relevant trends and opportunities for the design industry. Join in to explore what's next at thinklab.design/join-in.