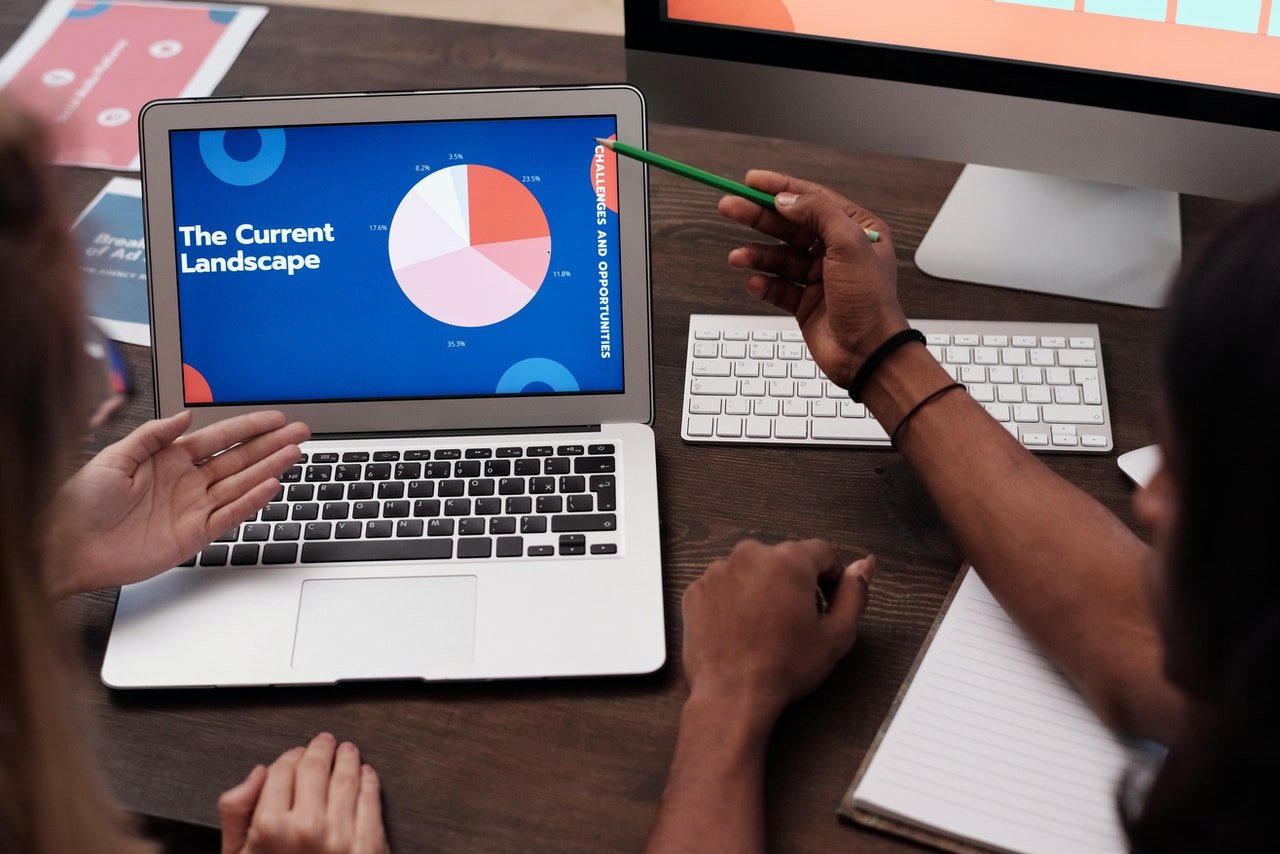 Want data about how the pandemic has impacted the design industry? Looking to clarify differences between commercial and residential projects?
Look no further.
Introducing the 2021 U.S Design Industry Benchmark Report.
This annual study by ThinkLab provides the interior design industry a benchmark of health and changes. This year, however, ThinkLab provided fresh clarity around the commercial and residential sectors through a survey to more than 900 U.S.-based architects and designers.
What did we learn? We'll share a few things that surprised us in this article, but we invite you to download the complimentary report for an in-depth look at design industry shifts, trends and insights on areas of opportunity.
Let's start with what hasn't changed: Architects and designers have immense specification power.
In fact, ThinkLab data suggests architects and designers have 26 times the specification power as the average American consumer has buying power. And, when you get into the Interior Design Giants of Design, that number can be as high as 111 times.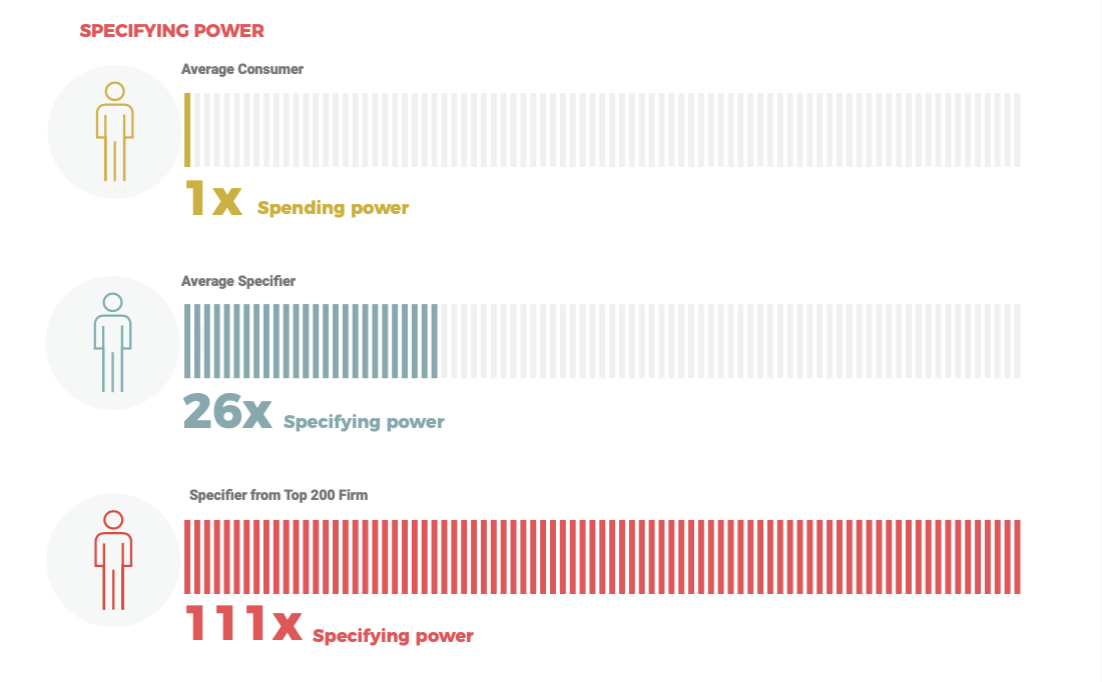 That statistic should be empowering for architects and designers to consider their sheer power in how their decisions will shape the future. Recent Metropolis insights estimate that by 2050, the interior design industry will have influence over almost one-tenth of the world's carbon emissions.
If you are a product manufacturer or distributor, we've also gathered the most comprehensive source of total available global market by product category in this report, representing 1.98T in revenue of both commercial and residential interiors products. While architects and designers represent a portion of this, you'll learn what they struggle to find and clues as to how to harness their immense specification power.s
First, let's look at what changed in the design industry from 2020–2021:


1. Specifiers show a surprising shift in the residential sector.
While the overall number of interior design firms decreased, the number of designers increased. This increase was likely due to a jump in the number of sole proprietors in response to the residential boom. The number of architects, however, decreased.


2. Remote work is affecting where designers live and work.
ThinkLab data leading up to this survey suggests that only 25 percent of firms expect to go back to in-office work five days per week. The rest expect to remain on the hybrid spectrum. This is affecting where designers live and is even affecting the top 10 cities that employ designers in the U.S., with large growth in Houston and declines in N.Y.C. and Chicago. It remains to be seen if these declines are temporary.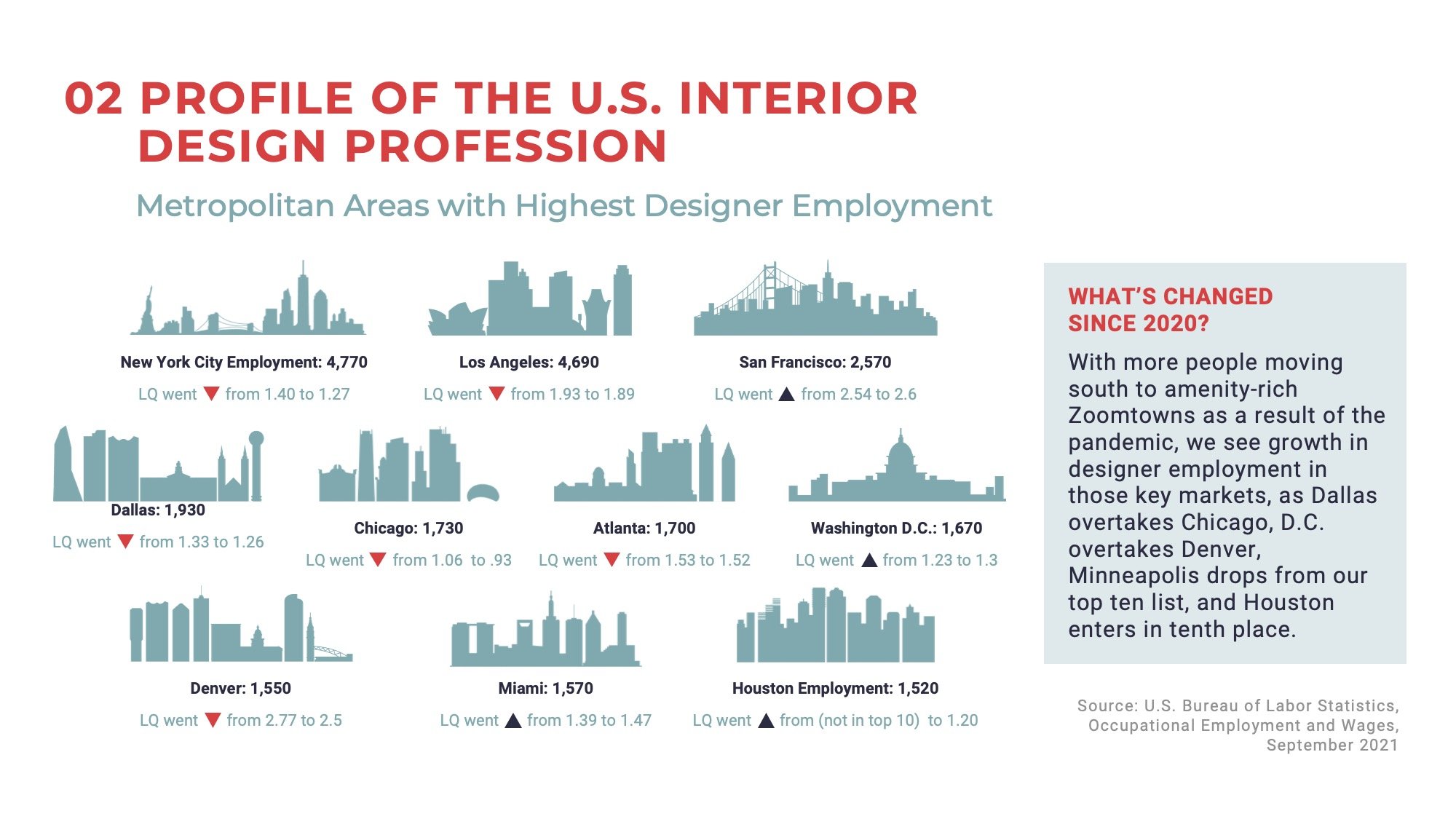 So what's changed since 2020?
With more people moving south to amenity-rich Zoomtowns as a result of the pandemic, we see growth in designer employment in those key markets. Dallas overtakes Chicago, D.C. overtakes Denver, Minneapolis drops from our top ten list and Houston enters in tenth place.


3. Shifts in interior designer demographics entering the profession.
A mix of female to male designers skyrocketed, while only slight changes in ethnicity have been measured. While 2021 BLS numbers suggest a large (30 percent!) jump in female designers, from a race and ethnicity perspective, 2021 shows only slight changes.
In addition to benchmarking designer demographics, the report also profiles interior designers and their firms, giving us insights and clarity between the commercial and residential sectors.
What does the newfound clarity between the commercial and residential sector tell us?
4. Non-residential firms do more projects at larger budgets.
While this is not shocking, for the first time, we can see aggregated data measuring scope. However, proportion of projects budgeted for construction, design fees, and projects remain the same between commercial and residential.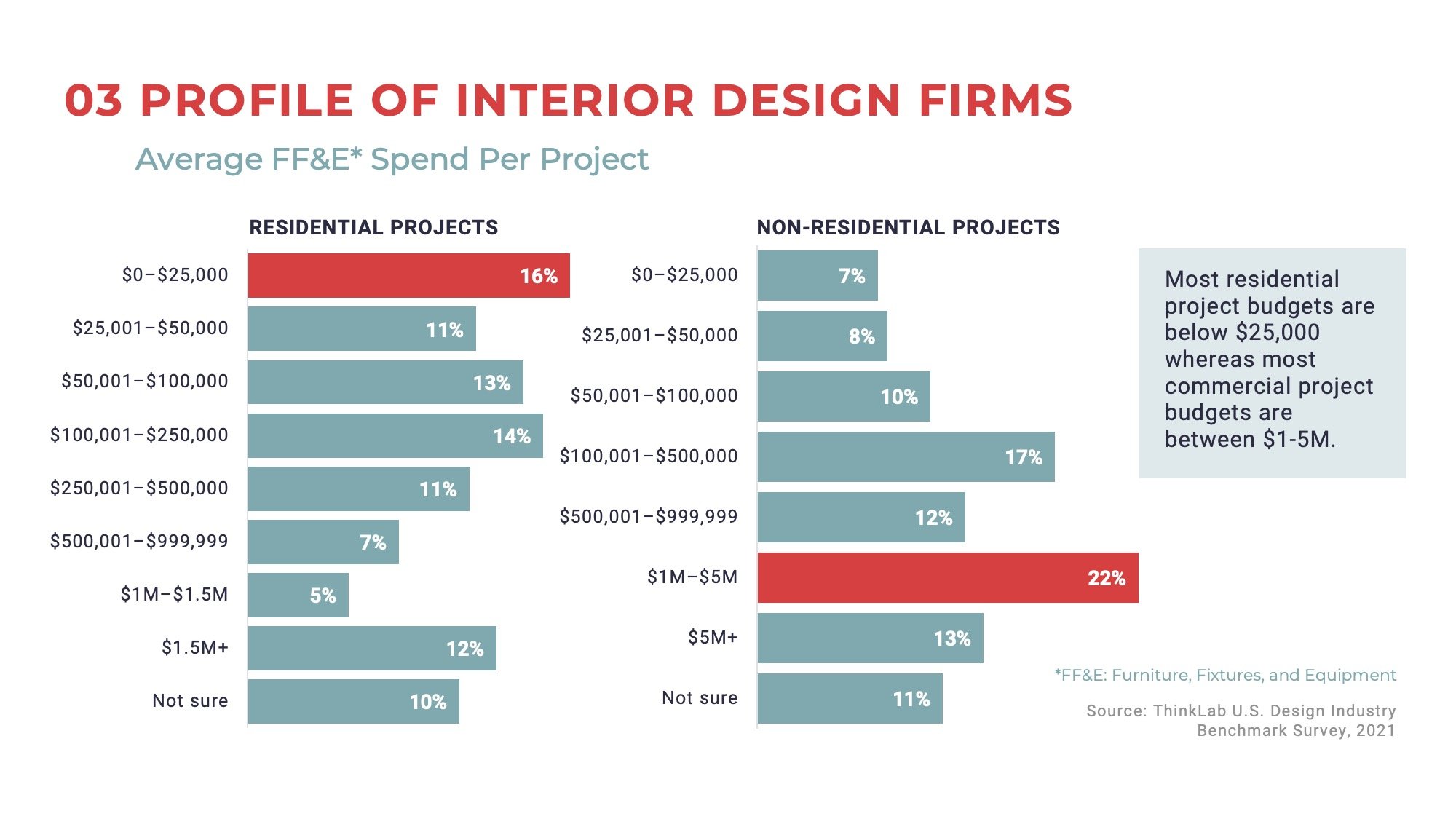 5. Non-residential designers are more likely to hold degrees and be members of associations.
Non-residential architects and designers hold more credentials than their residential counterparts, who are also almost twice as likely not to hold any credentials at all.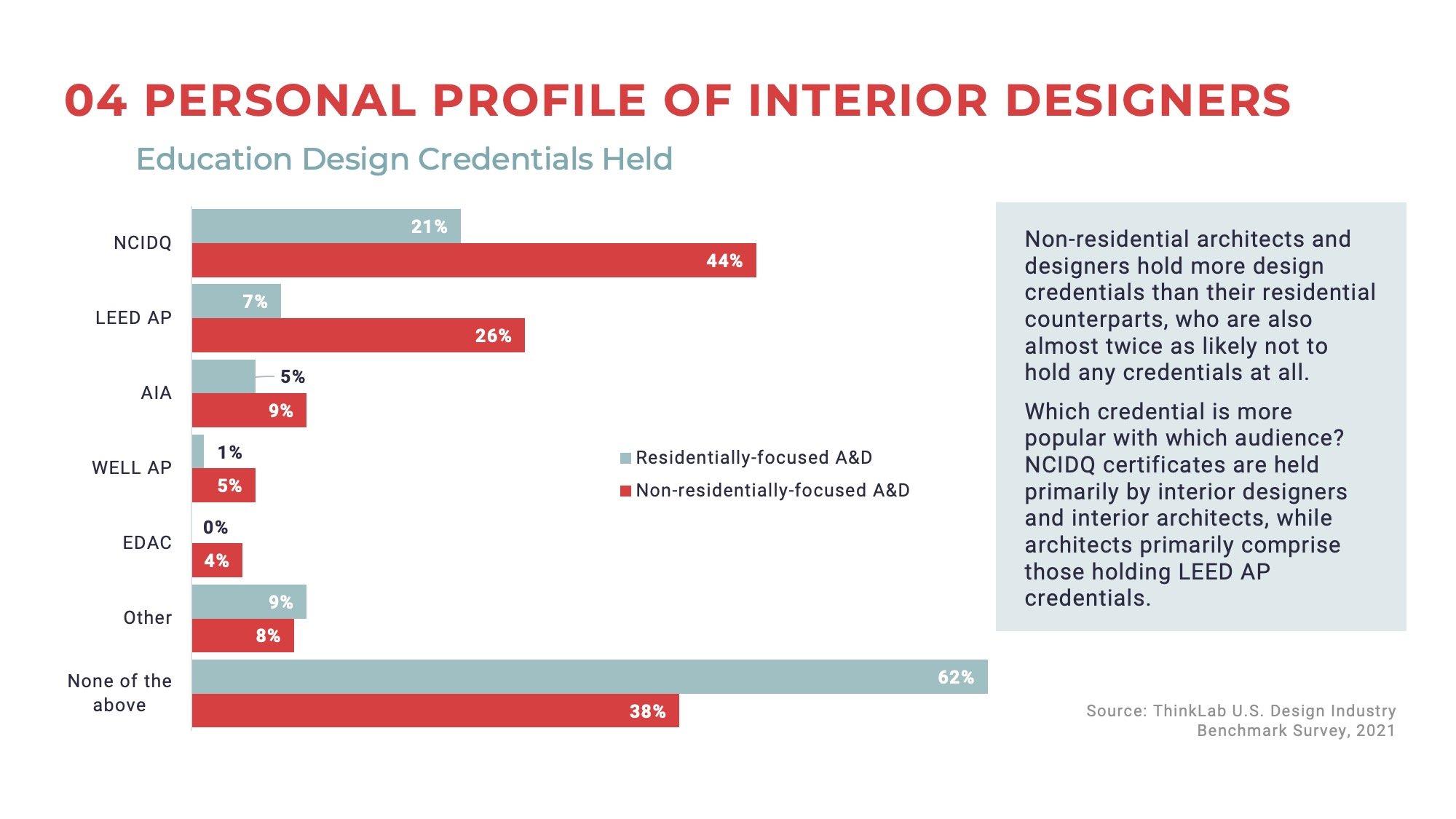 Non-residential architects and designers hold more credentials than their residential counterparts, who are also almost twice as likely not to hold any credentials at all.
Which credential is more popular with which audience? NCIDQ certificates are held primarily by interior designers and interior architects, while architects primarily comprise those holding LEED AP credentials.


6. How interior designers like to work with manufacturer reps.
How residential versus non-residential designers spend their time is different, however their sentiment to how they like to work is not. Both feel they can find most of what they need without contacting a rep, however residentially focused A&D has become much more open to new brands over the past year.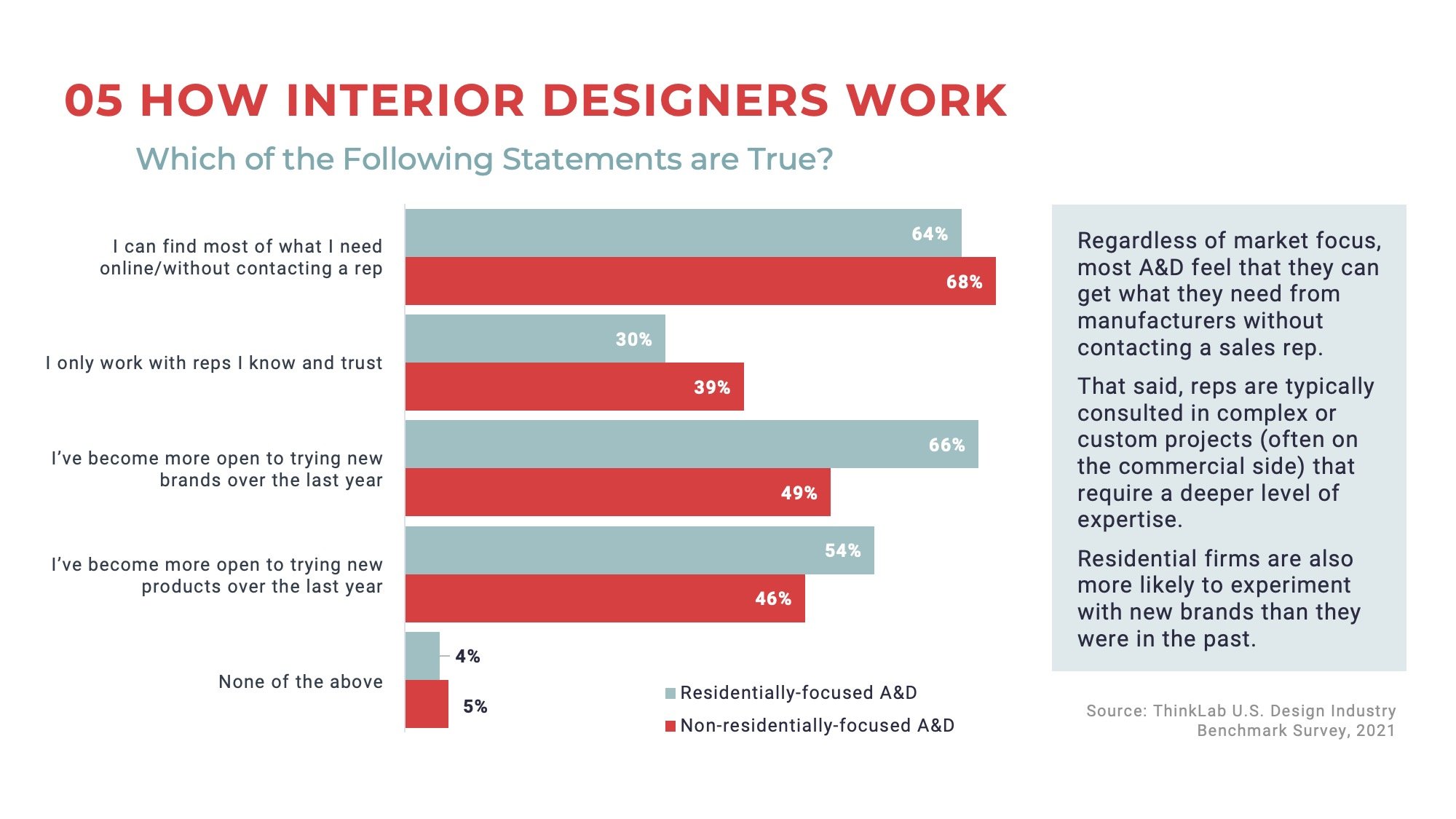 There are many more great insights into where architects and designers struggle that can create opportunity for innovators to respond.
Overall, there's good news if you are an architect or designer. 82 percent of companies are planning to hire in 2022, so be sure to check out the section about top skills architects and designers will need to be successful in 2022 and beyond.
As Adam I Sandow, Founder and CEO Material Technologies Corporation—Material Bank® and Chairman SANDOW® Companies shares: "The post-pandemic world is being reinvented, and there's never been a better time for disruption. Success is not about incremental improvement, but about challenging the way things have always been done to make way for innovation that will transform the design industry."
Amidst change, design has a tremendous ability to shape the future.


ThinkLab's 2021 U.S. Design Industry Benchmark Report
Get key industry insights, market data and more.
Download your complimentary copy of the 2021 U.S. Design Industry Benchmark Report.
This survey was conducted in partnership with IDS, ASID, Luxe, Wallcoverings Association, ACT, Material Bank, Business of Homes, IIDA, BIFMA, and NeoCon.

Amanda Schneider is President of ThinkLab, the research division
of SANDOW. At ThinkLab, we combine SANDOW Media's incredible reach to the architecture and design community through brands like Interior Design Media, Metropolis, Luxe, and Material Bank with proven market research techniques to uncover relevant trends and opportunities for the design industry. Join in to explore what's next at thinklab.design/join-in.