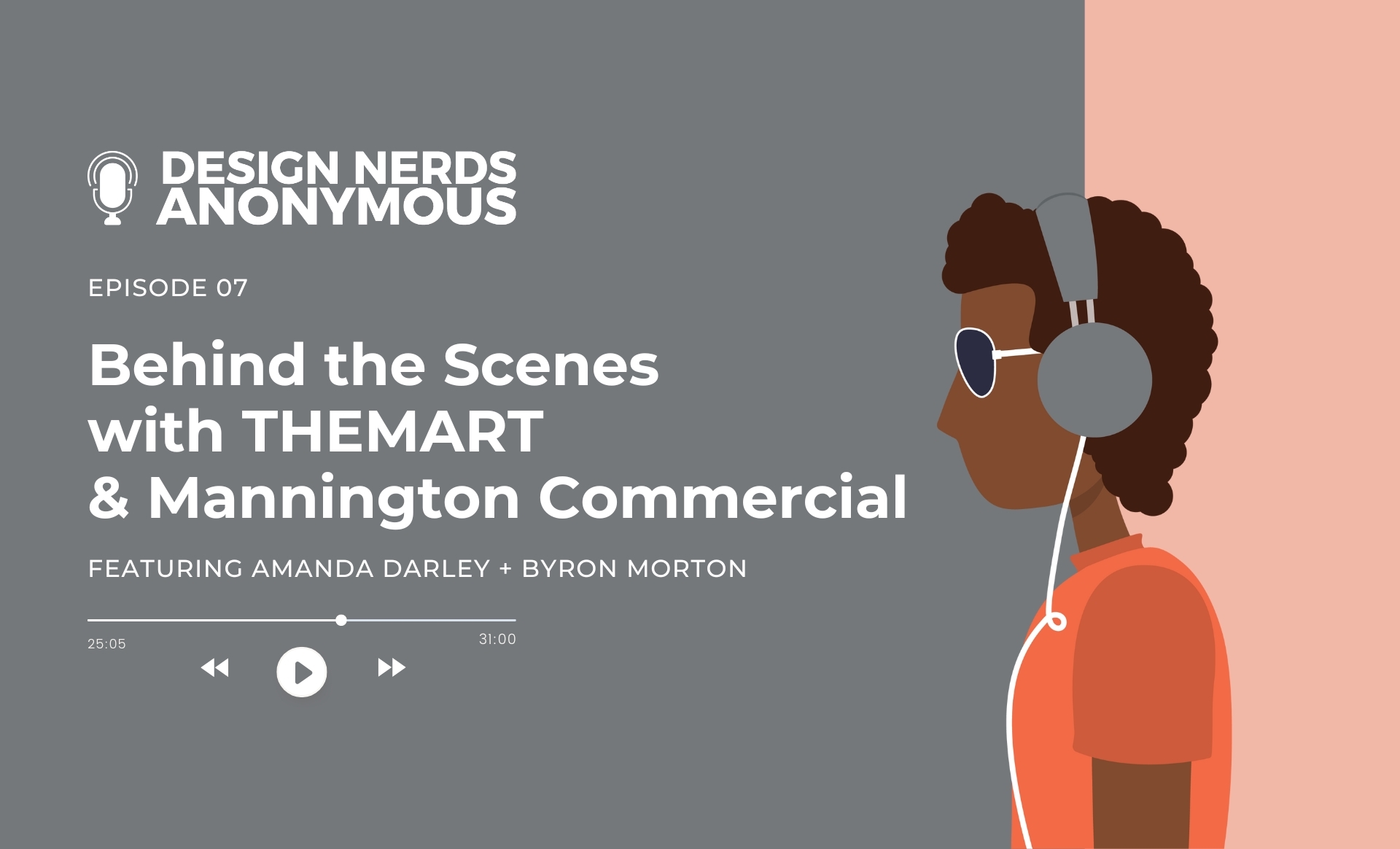 Behind The Scenes With THEMART And Mannington Commercial
Leveraging Resources To Improve Designer Experience

In this episode, ThinkLab holds a roundtable discussion with Byron Morton, VP and co-head of leasing for THEMART in Chicago, and Amanda Darley, VP of marketing for Mannington Commercial. Both bring their perspectives on how brands, events, and even buildings can be leveraged to create and customize experiences—and why creating these experiences matters more than ever for our industry as we move into 2023.
Subscribe to view future episodes here:
Design Nerds Anonymous Podcast
Season 4, Episode 07 Show Notes

In this roundtable, Byron Morton and Amanda Darley discuss the current state of affairs for the industry and what lies ahead. Byron describes the new programs and enhancements being put into place at THEMART to create experiences for clients in the building, such as expanding access to the members-only club and focusing on events. Amanda explains how Mannington Commercial has been finding new ways to interact digitally with specifiers, by creating content via the firm's blog as well as through one-on-one videos and other online elements. These efforts are intended to position the brand as a knowledgeable resource for any questions.
Highlights from this episode:
[0:23] Amanda references a new blog post about ThinkLab's Five Buyer Personas. You can read it in full here.

[6:28] Amanda explains Mannington Commercial's Samplify program, which provided digital printed samples to showroom visitors.

[13:34] Byron discusses the ways that THEMART has expanded its digital presence.

[25:27] "With all of the social complexities that we have been facing, having some remote options has been a leveling of a playing field in some ways."
Connect with our expert guests on LinkedIn:
Take Action on this Episode
Be the first in line to get our cutting-edge research on specifier personas: Specifer Personas for the Design Industry
This season of Design Nerds Anonymous is brought to you by Mannington Commercial, THEMART, and NeoCon, companies doing big things to move the design industry forward.
Download our leading-edge playbook: 5 Personas and 50 Ways to Design Their Phygital Journey.

Design Nerds Anonymous is a proud member of the SURROUND Podcast Network. Discover more shows from SURROUND at surroundpodcasts.com. This episode of Design Nerds Anonymous was produced and edited by SANDOW Design Group, with music from Blue Dot Sessions. Special thanks to the podcast production team: Hannah Viti, Wize Grazette, and Samantha Sager.
---
Special thanks to our podcast season sponsors,  Mannington Commercial, theMART, and NeoCon – companies doing big things to move the design industry forward.