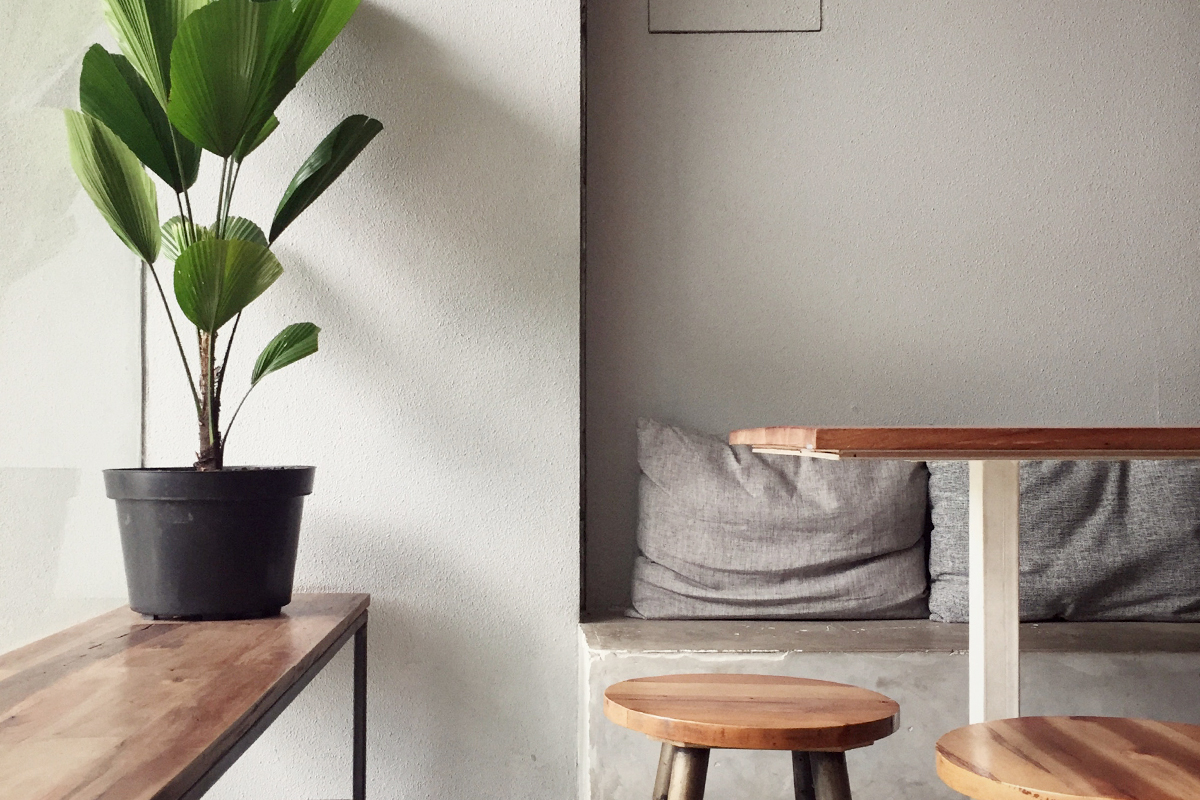 As part of the Thinklab Trendspotters program, our team is joined by experienced and admired designers from across the country whose goal is to research and discover new design innovations — from product and materiality to the process of how we design for space today. While the push for more sustainability has been a long, hard uphill climb, this year brought newfound hope. Trendspotters encountered a larger number of smaller brands taking it upon themselves to move the needle past just "green labels" — to products with sustainable and unexpected beginnings, and biodegradable future happy endings.
Let's look at three approaches to sustainability and how some companies are going "all in" to tackle as many angles of the sustainability equation as possible.
1. Create products from what historically would have been considered waste.
A Midwestern brand with a wood-veneer wall cladding is doing just that, and you would never guess the product's humble beginnings. Not only is it eye-catching, thanks to the beauty of the wood, but also — after we researched a bit deeper and spoke with someone from the company — a story emerges around repurposed waste.
The company, Restoration Theory, gathers discarded snow fencing from the western United States as the raw material for its Stikwood products. For a decade, the fencing protected those driving down the interstate from windblown snowdrifts, and over that time, it earned a patina that only be created by Mother Nature. The now-discarded fencing is planed into several layers of veneer, with unique distressing and wear to each board. From there, the veneers are treated with only Red List–compliant finishes, and then made to order in one of the multiple surface cladding applications offered.
But the sustainable equation doesn't stop at material sourcing or finishes for Restoration Theory. The company has designed a wall cladding system with built-in flexibility, so that even if you would like to change out the veneers, you don't have to damage the wall behind it, or ruin the existing product. Designing products that plan for and accommodate future renovation without contributing to a landfill is an important next step as we think about circular use of interiors products and lowering the embodied carbon in our buildings.
2. Design

and

engineer

for

the

end-of-product life cycle.
Andreu World is another company deeply committed to sustainability. In launching the Nuez Lounge BIO chair, it pushed the perception of biodegradable products to a whole new realm. According to Andreu World, the shell of the chair "is created from a thermopolymer ECO of natural origin, 100 percent biodegradable and compostable" and designed "so that the materials that make it up can be easily separated." And Andreu World's commitment to this level of sustainable design doesn't stop at an eye-grabbing lounge chair: The company has set a goal to achieve 100 percent of materials and processes in the circular economy by 2025.
3. Find a new way to performance without chemicals.
Designing for contract spaces requires a degree of durability from the materials specified to ensure that they not only look nice for the foreseeable future, but also stand up to the use and abuse of a variety of users. In upholstered goods, the use of textiles with synthetic yarns and chemical coatings has been somewhat hard to avoid when given the performance demands for a piece.
Nassimi, however, launched Supreen to counter that narrative. Supreen boasts contract-grade performance that "combines woven and coated technologies to create a unique liquid-barrier textile," hence avoiding the need for caustic and otherwise dangerous chemicals. Nassimi reports that the Supreen composite material is "virtually impermeable to any liquid and also protects against food, microbes, and mildew," which is exciting for designers creating a variety of contract spaces. From hospitality to healthcare, the industry is hungry for high-performance material options without the downsides of performance-enhancing yet harsh chemicals. And this launch to the market brings new excitement for feasibly reducing those kinds of chemicals from the built environment.
So, what do these sustainable developments add up to? Hope, and pressure for more progress.
The push towards sustainability has been a long, slow, and often invisible process. In "How to Amplify Your Impact: Demystifying Sustainability," a recent episode of Design Nerds Anonymous, Rebecca Best, head of sustainability at Material Bank, describes some of the foundational challenges of getting momentum in sustainable design: "Here's the irony about the built environment. Even the most energy-efficient buildings, be they energy neutral or carbon neutral, for the layperson, the built environment just looks like the built environment. So, all this investment and cost in engineering and complexity to solve this sustainability problem is hidden from our eye."
But this is also now shifting, with new efforts to make the invisible visible and to get real buy-in and ownership of the sustainability of a building from every person who engages with it: The architect or engineer planning the materiality or optimal energy use for the building. The designer who is filtering for products built to last and designed for reuse or decomposition. The companies investing collectively over $1 trillion in environmental, social, and governance (ESG) areas. Even down to the occupant level, where data shows that 74 percent of employees said their job is more fulfilling when they're given the chance to make a positive impact on social and environmental issues, according to a recent employee engagement survey.
While the challenge of designing sustainably has never been as imperative as it is today, seeing brands, design professionals, and their clients come together to make sustainable solutions a priority gives us reason for hope.
Erica Waayenberg is the head of Research & Content Development for ThinkLab, the research division of SANDOW Design Group. At ThinkLab, we combine SANDOW Media's incredible reach to the architecture and design community through brands like Interior Design Media, Metropolis, Luxe, and Material Bank with proven market research techniques to uncover relevant trends and opportunities for the design industry. Join in to explore what's next at thinklab.design/join-in.