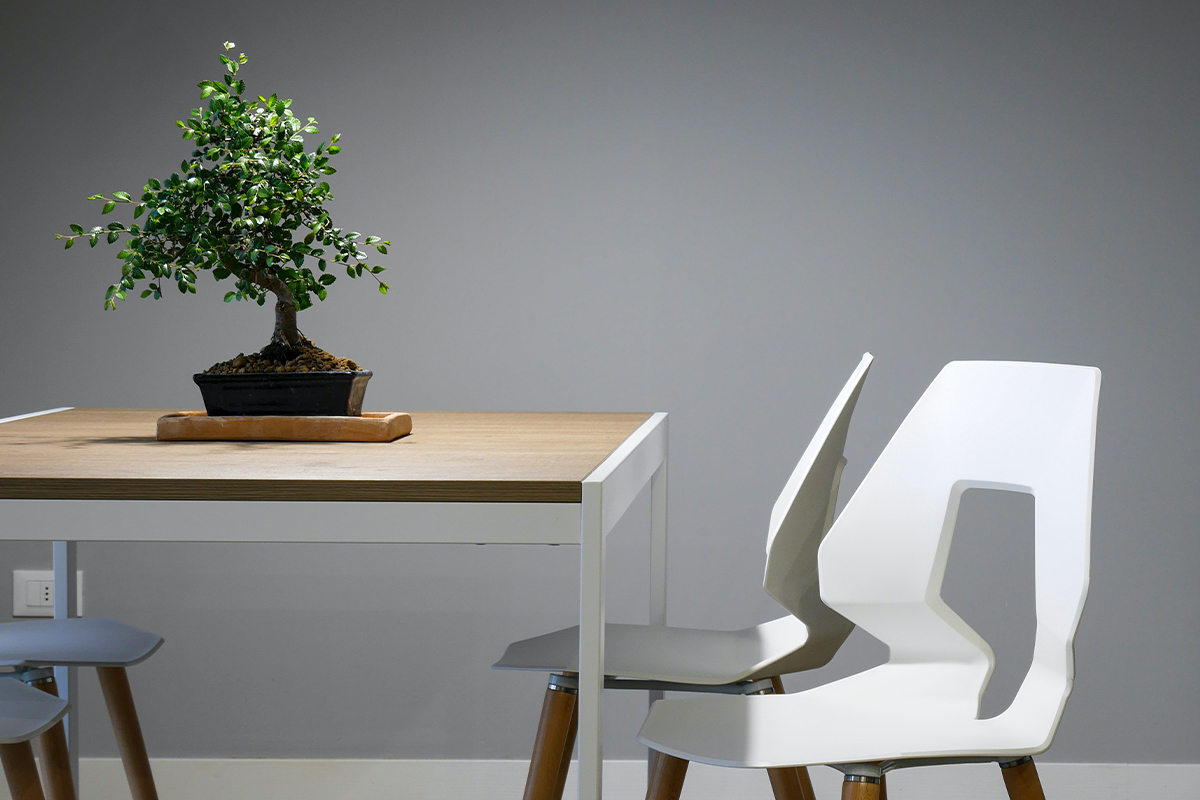 Sustainability is not a new topic in our industry, but its importance certainly seems to have skyrocketed in the last few years. The ThinkLab Trendspotters identified "sustainability and social equity" as a top 10 trend at NeoCon 2022. And when the Trendspotters were asked what they would like to see more of at next year's NeoCon, their answer was unanimous: more progress in the sustainability and equity category.
In fact, when we surveyed specifiers from across the ecosystem, two out of three considered it their duty to suggest sustainable products and solutions, even if those options cost more.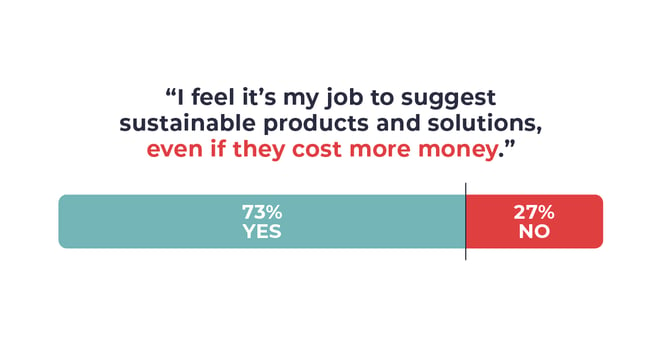 And while that applies to the majority of specifiers, we pinpointed a particularly voracious group who view sustainability as their number one criteria for specification: the "sustainability-first" persona. This persona currently accounts for the smallest percentage of specifiers identified in our research. But they are a powerful few, typically working on the largest, most high-profile projects in our industry. And we found that what they need from manufacturers is perhaps the most unique blend out of any other persona in our research:
The sustainability-first rep is the most likely to be an early adopter, open to trying new things and paving the way forward.
They are the most open to learning new digital tools and crave the simplicity and transparency that those tools provide.
They value a company's mission and want to know how it aligns with their own values.
Brand transparency and ease of comparison are how they measure success with a brand
While the majority of designers consider sustainable specifications to be their duty, we can look to this "sustainability first" persona as the leader in specification behavior shifts in this category. In an industry built around designing new spaces and using new products to thrive, how is the interiors industry responding? Currently, there are three paradigm shifts impacting sustainable specification.
1. Sustainability is becoming a movement towards regenerative design.
Daniel Christian Wahl has written about how the economy itself is a barrier to fostering greater sustainability: "Structurally we designed an economic system that needs economic growth in order for this economic system to continue. The structure is designed as a zero-sum game that needs losers in order for there to be any winners." Wahl considers regenerative design a crucial antidote.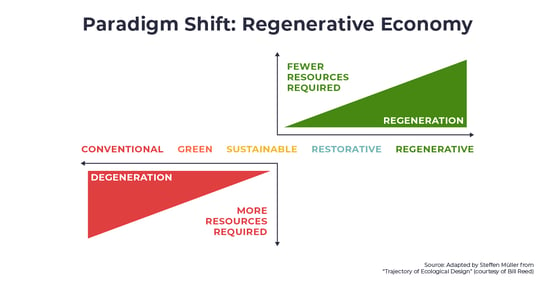 Here's why: If sustainability is about neutral impact, then regenerative design is about transitioning to a system that repairs the damage that's been done. By adopting regenerative design, designers will increasingly shift their mindsets about their design decisions from "neutral" to "positive."
In describing the firm's philosophy on regenerative design, HDR also refers to this process of repair and renewal: "Our projects need to actively regenerate or contribute positive impacts to the people who use them and the local ecology that surrounds them. The term 'regenerate' describes a process that mimics nature itself by restoring or renewing its own sources of energy and materials."
How might we also shift our mindsets to incorporate regenerative design in the products, services, and planning approaches we take for interior spaces?
2. Circularity is behind the new ways of planning space and selecting product.
The environmental impact of interiors on the overall footprint of a building has come more into focus in the last couple of years. While core and shell and operational carbon used to dominate the conversation, Metropolis estimates that by 2050, the interior design industry will have influence over almost one-tenth of the world's carbon emissions. As a recent article from RESET explains, embodied carbon from the construction of core and shell "barely changes over the life of a building," while embodied carbon from the construction of interiors "accumulates, much like operational carbon." As the life span of an interior fit-out is much shorter than that of a base building, some spaces are being renovated as quickly as every three years, depending on the sector. Enter the concept of circularity.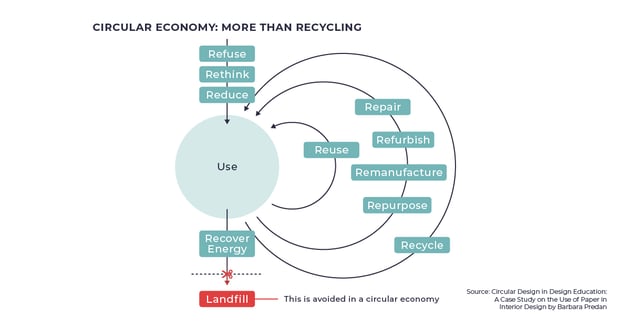 For designers, applying circularity to interiors may mean a completely different way of planning space and specifying products. Circularity is a difficult thing for most manufacturers to achieve, because it requires that product be disassembled and reused. Reuse is perhaps easiest to achieve for the furniture sector, because of the nature of the products that they create. But it's much more difficult to achieve for products, such as flooring, where the durability of components often depends on the materials being fused together.
IA Interior Architects breaks down the core principles of the circular economy and how they relate to the design and construction industry in this article. And the Climate Toolkit for Interior Design by Metropolis provides designers with practical steps on how to select for reuse on the front end and plan for it on the back end. Some manufacturers — for example, Reseat and Heirloom in the contract furniture space —are already driving new models for reuse of existing product to keep it out of the landfill. These companies are providing an alternative for designers who want to source reused product, but their success, and that of similar brands, will depend on adoption from clients, dealers, and designers.
Beyond circular manufacturing, how might we consider innovations that support circularity in service models and reuse as well?
3. Designers will flock toward transparency and product attributes.
As we anticipated in our 10 bold predictions for 2022, what was once incredibly complicated to execute — greater sustainability — will finally be made possible because of a convergence of two forces: One, designers and clients are demanding it, and two, we've finally reached the moment where technology can enable the platforms necessary. We're seeing a slew of new business models emerge to support specifying from circular sources, transparency around lead times, and the ability to validate and measure product choices through carbon footprint calculations.
In a recent podcast interview, Jennifer Gumpert, EVP of business operations at material insights company Material ConneXion, identified transparency as a key theme for the future. She explained that transparency can be measured throughout the entire design process: "through the materials you are using, the way you are obtaining those materials, the labor you are using to manufacture." Gumpert also noted that tolerance for greenwashing has dropped significantly: "There was a period of time where there was a lack of knowledge and understanding, an ignorance, around what green and sustainability really meant . . . and that pendulum has swung dramatically the other way."
Looking forward, how might we further leverage our industry's sustainability influence to simplify decision-making and empower one another and our clients to fight climate change?
Meredith Campbell is a member of the Research & Content Development team for ThinkLab, the research division of SANDOW Design Group. At ThinkLab, we combine SANDOW Media's incredible reach to the architecture and design community through brands like Interior Design Media, Metropolis, Luxe, and Material Bank with proven market research techniques to uncover relevant trends and opportunities for the design industry. Join in to explore what's next at thinklab.design/join-in.