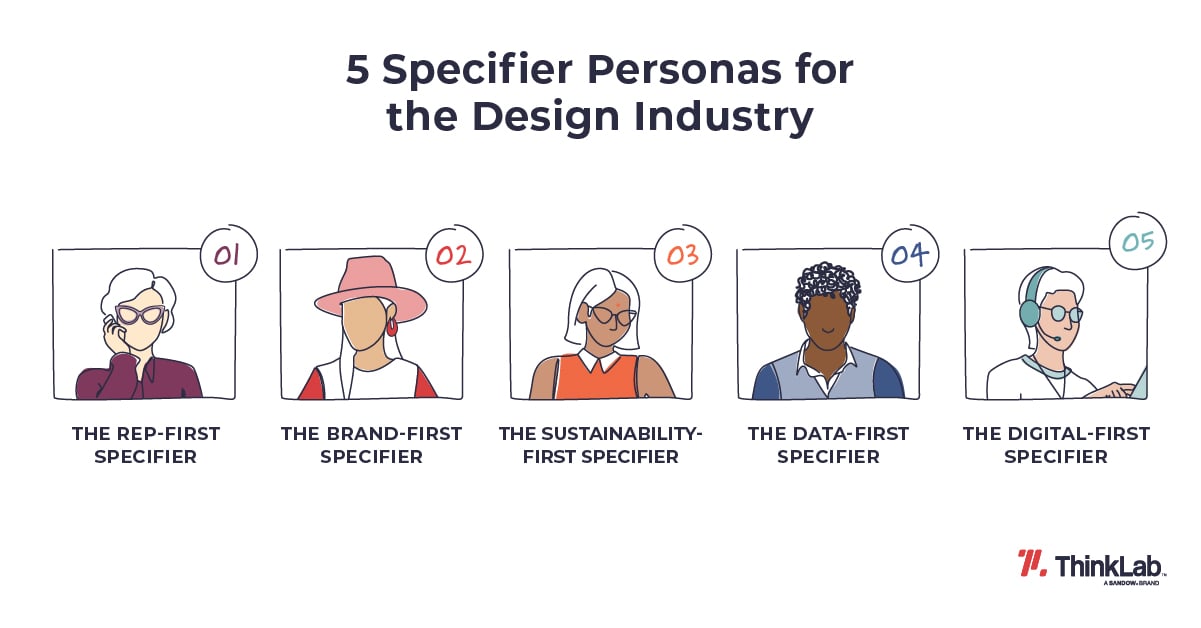 What do you do when your industry undergoes a massive shift? You come to ThinkLab for data-driven insights on how to navigate what's next.
If you are in sales, consider that, according to ThinkLab data, face time with your clients dropped from 80% pre-pandemic to less than 40% at the time this article was written. Which means you're trying to find new ways to scale your time and reach your clients. If you are in marketing, consider that specifiers are relying more heavily on digital tools. As a result, you are probably feeling the heat to create "all of the things." This could leave you feeling overwhelmed and unsure as to what to prioritize first and whether what you're creating will even be used.
If these challenges sound all too familiar to you, at least be comforted by the fact that you aren't alone! If we've learned anything throughout this process, it's that a one-size-fits-all approach no longer works. But how do you reach your clients in a personalized way when everything feels important?
Cue the findings of our latest design hackathon research: specifier personas.
What is a design hackathon?
A design hackathon is a research project where multiple members of the design ecosystem come together to solve a big, hairy problem affecting the interior design industry. This year we hosted the fourth design hackathon from ThinkLab, and we set out to answer this question: What is the desired blend of human and digital interaction with your brand today?
After six months of generative research — including data from more than twenty hours of focus groups and over 850 survey respondents — we're pleased to introduce the product of this year's design hackathon: the interior design industry's first wide-scale persona study.
What is a buyer persona?
A buyer persona is an archetype that helps you appeal more authentically and personally to your customers. They are used quite often in the consumer marketing space and include customer characteristics beyond just the generation customers belong to — things like demographics, behavior patterns, motivations, and goals. Beyond simply categorizing your clients by their role or generation, personas take you through the buyer's journey and help you understand new mindsets to know where to invest.
Who are the personas, and why are they important for the design industry?
We uncovered five unique specifier personas in our research, yet we discovered that they all share a core value: ease of doing business. The key difference for each persona is in how you deliver that ease of doing business and how they each measure success.
Therefore, the phygital journey (the combination of human attention + digital self-serve) with you and your brand varies for each persona. The power comes in understanding and curating these moments along the buying journey through the lens of persona preferences.
5 specifier personas for the design industry: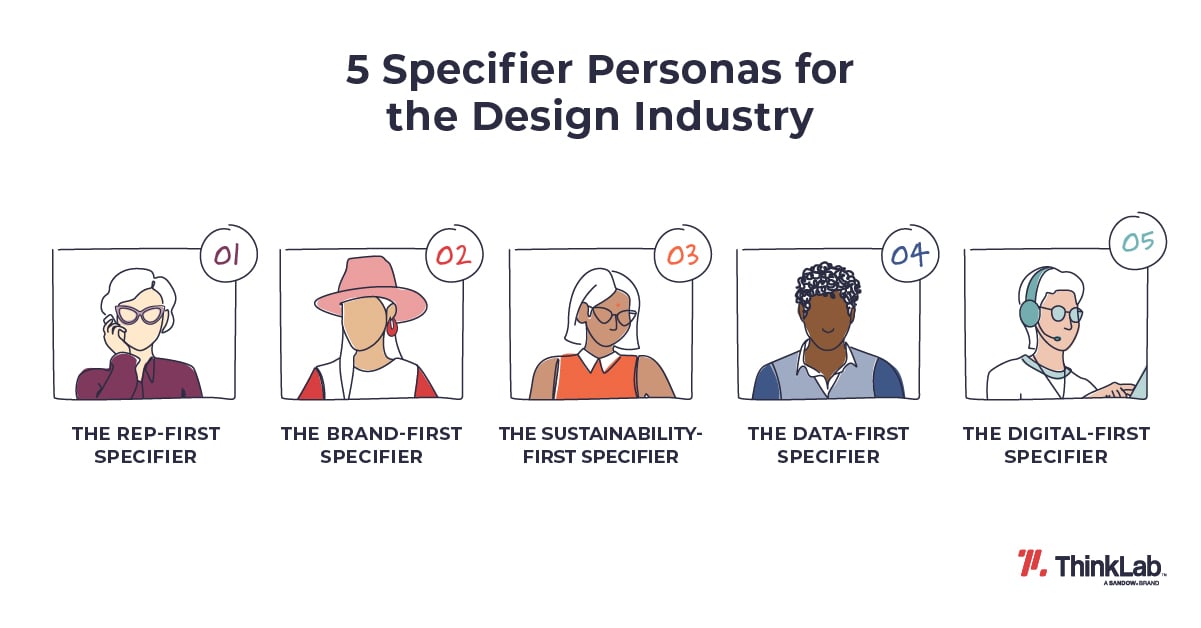 1. The rep-first specifier
Currently the most-represented persona in our sample set, it is likely the most familiar to you. In fact, if you are in sales, you may have thought this was the only specifier persona, before you even knew these specifier personas existed.

You may hear something like this from a rep-first specifier: "I believe in personal relationships and value companies that have a local rep. Frankly, I want the local rep to know I'm considering their product."
2. The brand-first specifier
Comprising the second-largest share of our sample set, this persona may have been front and center for you if you are in marketing.

You might hear something like this from a brand-first specifier: "I have a small collection of brands that are my go-tos. I'm extremely loyal and evangelistic about these brands and will only deviate if the client requires it."

3. The sustainability-first specifier
Though this persona currently takes up the smallest percentage, don't be fooled by its size. This persona is probably working on some of the highest-profile, largest projects in our industry, and we believe they are a rapidly-emerging persona segment.

You may hear something like this from a sustainability-first specifier: "I put sustainability choices first and foremost. If I don't advocate for the environment, who will? My joy is helping clients discover they don't have to sacrifice other things to reach sustainability goals."



4. The data-first specifier
We found that this persona was most likely working as an end user in purchasing or a member of the commercial real estate community. They are also the most likely to be working on large campus projects with annuity business and extensive RFPs.

Here's what you might hear from a data-first specifier: "I have a specific set of criteria I am trying to meet, and I need clear information given to me by the manufacturer so that I can form my own comparisons."
5. The digital-first specifier
While this persona is certainly digital-first, it's important to note that they are not digital only. In fact, when they want to speak to a human, they require the quickest response of all the personas.

You might hear something like this from a digital-first specifier: "I should be able to self-serve for all the easy stuff online without assistance. But when I need assistance, I need it now."
How can you apply our specifier persona research to your business?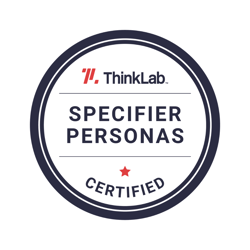 Our team at ThinkLab took the data and insights from our research on each of these five specifiers and developed a guided persona course to orient you to the unique preferences of each — along with applicable tactics to help you craft persona-specific experiences.
Visit Specifier Personas for the Design Industry, and learn more about their unique preferences, demographics, digital vs. human needs, journey timelines and how to maximize your reach to each of these five personas. Plus, when you complete all of the modules in the course, you'll receive a certificate of completion with a credential ID that you can use to showcase your expertise.
Meredith Campbell is a member of the Research & Content Development team for ThinkLab, the research division of SANDOW. At ThinkLab, we combine SANDOW Media's incredible reach to the architecture and design community through brands like Interior Design Media, Metropolis, Luxe, and Material Bank with proven market research techniques to uncover relevant trends and opportunities for the design industry. Join in to explore what's
next at thinklab.design/join-in.