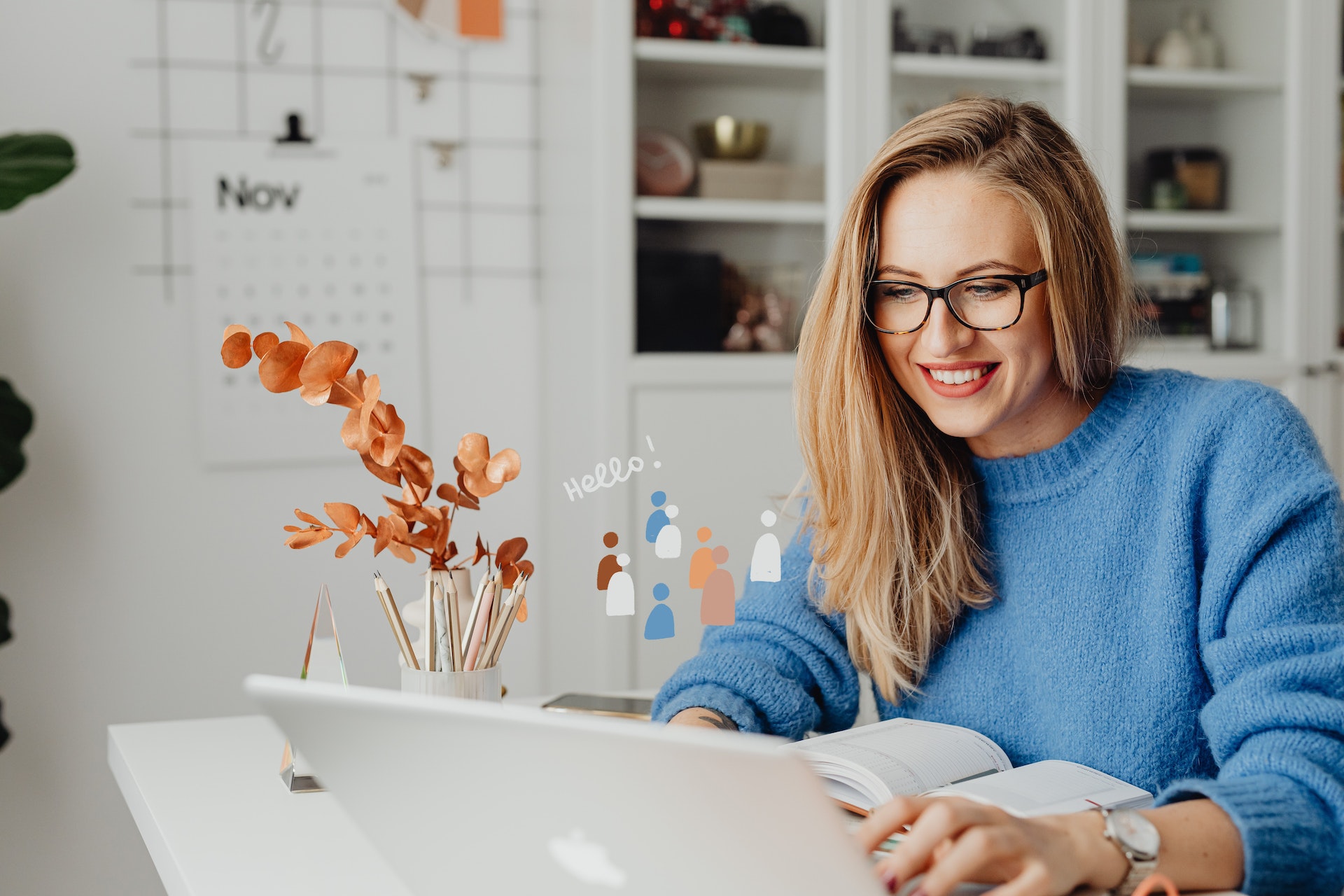 When it comes to remote work, there are plenty of tips on how to create an effective work from home space to maximize productivity. But what if you want to tip the scales of work-life balance to maximize your success – in your role, on your team, and as a whole?
Not only has the ThinkLab team been researching the future of work in all of its iterations (in-office, hybrid, and remote), but we also have a unique vantage point on the topic as a fully distributed remote team working across multiple time zones. We've been operating as a remote team for over a decade so we have some insight on what works – and what doesn't.
With the current shift in the workplace landscape, we're fielding more questions than ever on the topic, such as "is remote work going to be permanent?" (very likely), "is remote work effective?" (absolutely), and "what are some tips for working from home successfully?"
To answer the latter, we compiled some of the best tips on working remotely from our research – along with some of our team's tried-and-true tactics – to help you create effective strategies and practices for success.
1. Create a New Commute
One of the perks of remote work is the lack of commute. However, people often use their commute time to shift into "work mode." Creating a rhythm before starting your workday helps replicate that transition – whether that means a quick stroll around the block or steeping a cup of tea.
Erica Waayenberg, head of research & content development: "Having a set schedule to start your day is a great way to separate your mental space from other things that could be a distraction in your home office."
2. A+ Your Asynchronous Communication
There is a way to stay well-connected remotely – without exhausting your calendars with Zoom meetings. Asynchronous communication is simply creating a time-lag for conversations around collaborative work, allowing more time for individual contributions.
Leverage video.

Need to give feedback or present an idea in more than a few bullet points? We love tools like Loom for creating short, engaging videos to share important information with co-workers and clients. (For more tips on creating excellent videos, see tip #6 in our

Business Development playbook

)




Free up the feedback.

Want to work collaboratively on a project? Invite your team members to react and make notes in an interactive format within a shared timeline. A dedicated Slack channel or shared Google Doc are great ways to elicit creative conversations that aren't constrained to the time limitations of a one-hour meeting. Listen to our podcast on

The Future of Communication

for more ideas on asynchronous communication.
Learning to leverage asynchronous communication is the best way to prevent people from saying, "that meeting could have been an email."
Amanda Schneider, founder and president of ThinkLab: "Consider asynchronous work and synchronous work complimentary tools. If everything is synchronous it is exhausting (it probably was IRL as well!) Studies show that you'll get more out of your people if you encourage them to think things through on their own before coming together."
3. Infuse Movement into Your Mindset
According to our whitepaper on movement in the workplace, nearly 70% of full-time American workers hate sitting, yet 86% do it all day, every day. But there are important health benefits to making a change of position – here's how to infuse movement into your work from home agenda:
Schedule moving meetings.

Move away from your workspace for meetings. At ThinkLab, we call these "Walk & Talks" – meetings where we don't need to share our screens. So, we go retro and talk through the day's topic on the phone, giving each team member the option to incorporate movement according to their ability – whether that's simple stretching or speed walking on an under-desk treadmill.




Stand up for yourself.

Dr. Joan Vernikos, author of

Sitting Kills, Moving Heals

, shares that "standing is often what matters, not necessarily how long you remain standing." Set yourself calendar reminders to stand up or stretch throughout your day.
It looks like experts and the band R.E.M. agree: Stand in the place where you work.
Olga Odeide, head of business strategy and partnerships: "Start with small practices. Even just stretching your hands is a good way to break up long stretches of computer work. And if I forget, my kittens Marshall and Tucker always help me remember to take screen breaks!"


4. Set the Tone of Your Work from Home Space
Having a dedicated space for work is essential for separating work and home life, but working from home means that when it comes to your individual workspace, you get to set the vibes.
Bring in Biophilic Design.

The concept of bringing the outdoors in is a staple in the interior design industry for a good reason – being surrounded by patterns and colors found in nature can improve well-being and concentration. Desk plants have even been shown to aid in reducing stress (unless, like this author, you have cats.)




Tune in.

Listening to music has been proven to improve productivity

and cognitive performance, according to the National Library of Medicine (NLM). Try curating playlists by project for extra musical motivation.

Need some inspiration? Start with our focus work playlist!


Kayla Aimee Terrell, senior content marketing manager: "Like music, there is a powerful connection between scents and memory. Because my role tends to involve a lot of task-switching during the day, in addition to curating project playlists I love a seasonal candle to help me quickly transition to a work mindset (shout out to my sister who hand-dips soy candles in my favorite scents.)"


5. Curate Your Calendar for Collaboration & Concentration
Avoid remote work calendar creep – that unfortunate scenario when you realize that your entire agenda is filled with back-to-back meetings – by setting a few simple boundaries.

Don't be afraid to DND.

Need some uninterrupted time for focus work? Use "do not disturb" blocks on your calendar to communicate your availability for collaboration versus concentration.





Build in the buffer.

Make meetings shy of 30 minutes or an hour. Try scheduling meetings for 25 or 50 minutes instead. That way you have buffer time between meetings – your coworkers and clients will appreciate the built-in breaks!





Cultivate collaboration.

As the saying goes, "teamwork makes the dream work!"
Meredith Campbell, research and content development lead: "Try to group meetings together so that you have blocks of time open to get focus work done."
6. Clarify Expectations for Communication
We're big proponents of transparent communication. Consistency in communication and overcommunication creates a culture of trust and success.

Create a communication hierarchy.

Use your tech toolkit to help prioritize your communications and socialize your system to your team. If they can't pop into your office, should they call, text, Slack, email? For example, at ThinkLab we tend to use email for conversations that don't need immediate responses and Slack for ongoing conversations or quick questions.





Embrace the face-to-face.

Don't let digital work impede the agile availability needed for certain issues. If you'd walk over to a co-worker's desk to get a quick answer to an urgent question in an office, do the remote equivalent – pick up the phone for a chat (or our team's favorite, a quick video call.)
Anna Lu, senior project manager: "Don't go it alone. Initiating conversations leads to faster solutions – problem solving doesn't have to happen in a silo just because you're not in the same space, your team members are your support!"


7. Recreate the Watercooler for Work from Home Connections
The face-to-face drop-ins and watercooler conversations that happen in a physical workplace don't have to disappear just because you're not in an office.

Create a channel for connection.

At ThinkLab, we like using a dedicated "watercooler" channel on Slack, our in-office messenger tool, to cultivate connection. It acts as a catch-all for non-work-related discussions – and pictures of our pets.





Interaction > Isolation.

Yes, even for the introverts among us. Be intentional about creating opportunities for interaction to avoid feeling disconnected. One of our team members leads what we call "Together Time," an optional standing calendar invitation for virtual co-working where team members can pop-in and work together without a set agenda.
Allison Roon, research and content: "Find a way to keep the office personality alive. It keeps the serendipitous moments of fun alive and gives people a platform for sharing the personally important stuff."


8. Build Your Work Around Your Life
In this interview with Gitlab's remote work evangelist, Betsy Bula, we examined the benefits associated with the autonomy of a non-linear workday.
Change your scenery.

Find a favorite co-working space, café or even a quiet room at your local library to serve as your extended office on occasion. Plus, Wi-Fi is essential when working from home, so you'll want to have a go-to backup spot in case your neighbor's new tractor goes rogue and accidentally knocks out your at-home internet (speaking from experience.)





Don't shy away from self-care.

Remote work often means long hours in front a screen. Take your lunch away from your desk or practice "resting" your eyes at certain intervals during the day.
Tana Gam-Ad, graphic designer: "Download your work apps on your phone so you can check in even if you're working on the go! To keep work-life boundaries in place, mute your notifications when you're done with work for the day so you can disconnect and relax."
One of the best benefits of working from home is the ability to tailor your workday to your preferences and productivity. Adopting intentional practices allows you craft a work-life balance suited for optimal output and optimal happiness.
Want to learn more on how to structure your days to work in harmony with your creativity? Listen to our AIA & IDCEC accredited CEU podcast on how to avoid burnout.
Kayla Aimee Terrell leads content marketing for ThinkLab, the research division of SANDOW Design Group. At ThinkLab, we combine SANDOW Media's incredible reach to the architecture and design community through brands like Interior Design Media, Metropolis, and Material Bank with proven market research techniques to uncover relevant trends and opportunities for the design industry.