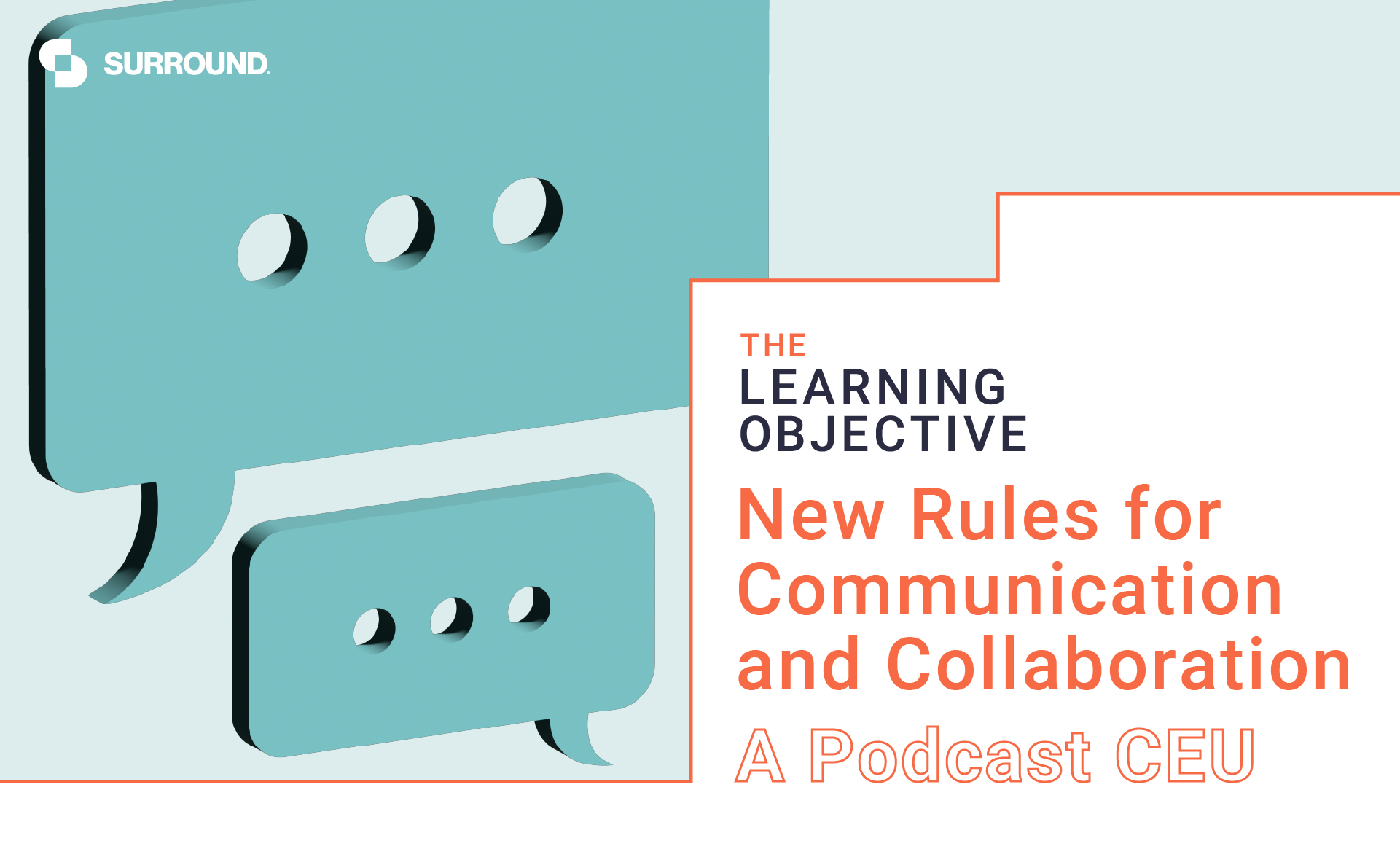 New Rules for Communication & Collaboration
Cognitive Bias and How to Guide Clients
In this episode, presented by Mannington Commercial, ThinkLab interviews author Gleb Tsipursky on best practices for adopting a hybrid-first model and how to guide clients no matter where they fall on the physical/virtual spectrum. We also share advice from two leaders from top design firms: David Galullo, CEO of Rapt Studio, and Brett Shwery, senior vice president at AECOM as they discuss how their teams are staying connected regardless of distance.

Accredited for: IDCEC, AIA | 0.5 CEU/0.5 LU
Subscribe to view future episodes here:
The Learning Objective CEU Podcast
Season 1, Episode 06 Show Notes

"Why Zoom happy hours don't always help your people bond — and what does."
Gleb Tsipursky is the author of Leading Hybrid and Remote Teams and an expert at guiding large organizations on how to implement hybrid work. He describes four mental blind spots that are hindering firms from realizing the full potential of a hybrid work model. He also explains the advantages of virtual "asynchronous" brainstorming, a process in which participants come up with ideas at their own pace, rather than at the same time.

This episode also includes thoughts from two leaders at Interior Design Giants of Design firms on how their teams are staying connected, regardless of distance. David Galullo, CEO and chief creative director of Rapt Studio, stresses that organizations will need to experiment with new hybrid policies, such as virtual "office hours." Brett Shwery, senior vice president and director of interiors at AECOM, mentions how his firm tested out taking a walk during a weekly hybrid call; instead of a PowerPoint presentation, participants shared photos of their walks as a way to introduce an interactive element.
After listening, you will be able to:
Point out the four cognitive biases that exist around hybrid work.

Identify how virtual brainstorming can enhance innovation.

Examine methods for successful mentoring in a hybrid or remote environment.

Evaluate how to enhance communication with internal teams and with clients.
Take the Quiz
Want CEU credit for listening? Click here to take the quiz and earn your certificate of completion.
How it Works
If this is your first audio-CEU experience you might have some questions – like, "Can I really get CEU credit for listening to a podcast?" and "How exactly does this whole CEU podcast thing work?" And the answer is yes, you CAN earn CEU credits for tuning in and the process is quick and easy.
Here's how to complete your entire CEU podcast process in 4 simple steps:
Listen to the episode





Visit

this link

to take a short, 5 question quiz




* Scoring an 80% or above on the quiz will earn you 0.5 CEU/0.5 LU





Upon passing the quiz, receive your certificate of completion via email from CEU sponsor
That's it! An entire CEU done in less than half an hour.
Connect with our expert guests on LinkedIn:
---

Special thanks to our CEU episode sponsor, Mannington Commerical, for partnering with us to provide valuable insights on compelling topics for the design industry.