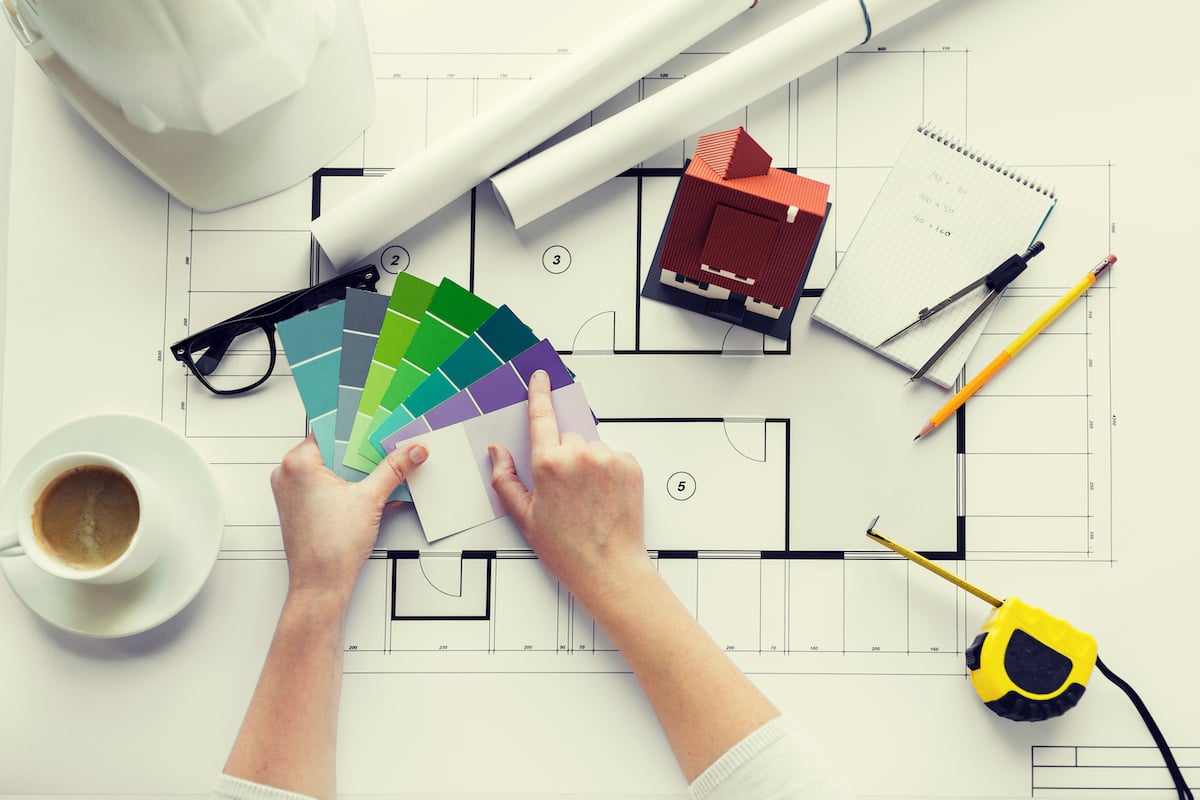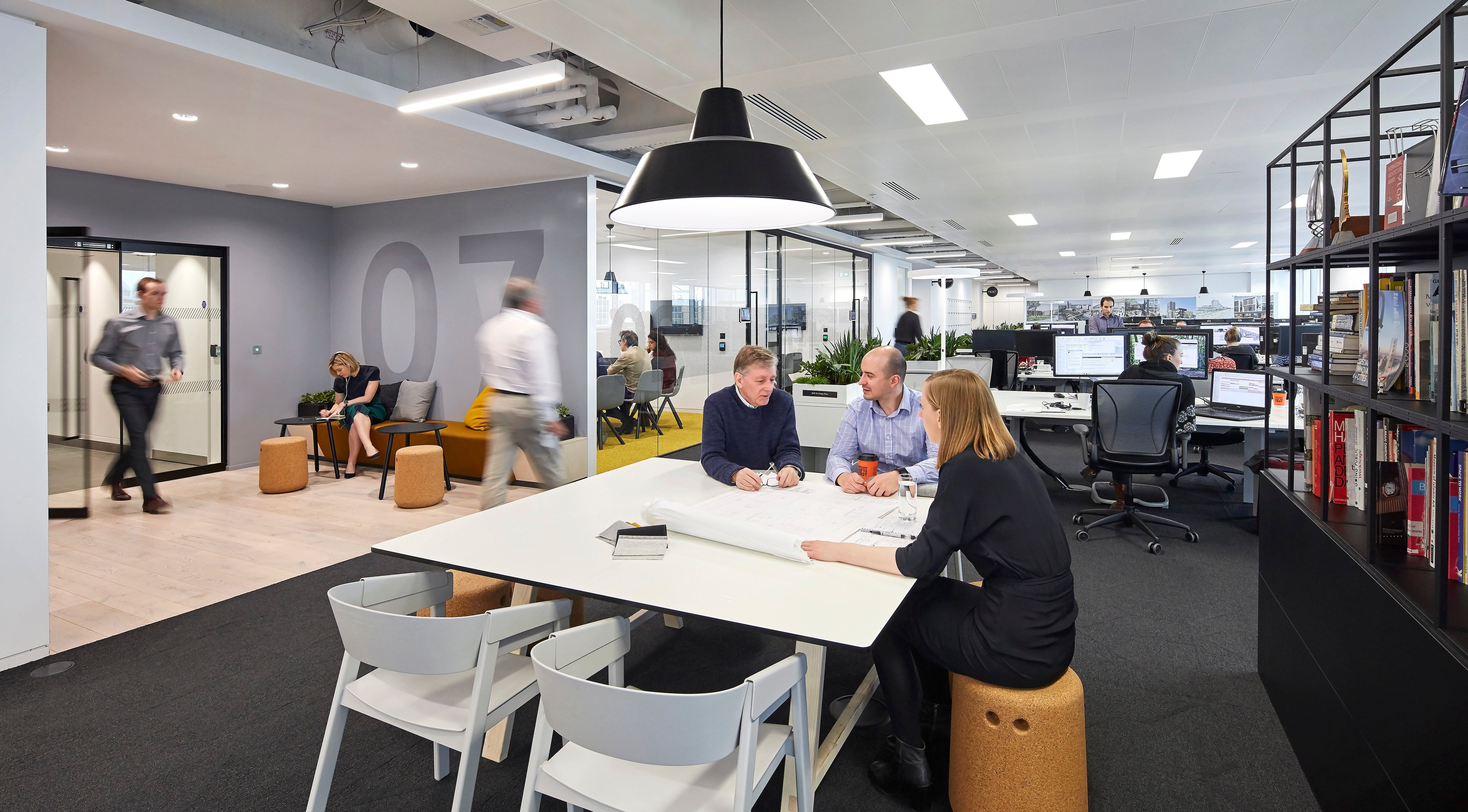 Across the interiors industry, workplace planners are trying to make sense of pandemic-related shifts. And while there are multiple surveys designed to gauge the impact on the industry, their intent is to provide data trends. No single survey can define the future of design. The responsibility lies with designers and strategists to determine how to interpret the data and adequately plan for the future. Needless to say, there's no consensus on how to do so.
On one hand, we hear that remote work is faring well — many companies are even announcing a fully remote future for their employees. But we know that nothing can truly replace face-to-face interaction, and in a niche industry like design, in-person collaboration is vital to success.

On the other hand, we hear that in-person work will return but look different than before — perhaps with more of an emphasis on collaboration. In this scenario, the office remains the place to connect with colleagues, since heads-down work can be done remotely.
But what does that collaboration look like? We sat down with Kelly Bacon, Principal and Americas National Strategy Lead at AECOM, to discuss why developing the future of workplace design first requires a more in-depth understanding of how people may need to collaborate moving forward.
Collaboration cannot be the only purpose of the office.
Bacon shares that while collaboration will be a core focal point for workplace design in a COVID-19 and post-COVID-19 world, it cannot be the only reason people come to work. Or, perhaps more realistically, it cannot be the only design focus for the workforce, especially considering employees do not always have ideal work-from-home arrangements.
She explains, "There is a built-in assumption that everyone has the proper accommodations to continue to work from home. But where I am worried is for folks who are in urban centers and who intentionally traded space at home to experience the culture of a city. So, if you are early in your career and haven't reached a high-enough earning potential to afford a home with a private office — or if you have a larger family that shares your space — you may not have a proper workspace. There are ongoing conversations about subsidies for home office furniture and technology, but the dialogue on how we accommodate employees who simply don't have the space is still evolving."
Because of this, Bacon suggests that workplace planning must accommodate individuals who want to return to the office when it's physically safe — even if it's just for heads-down work in an environment designed for that purpose.
"Collaboration" has more than one definition.
Of equal importance, Bacon reminds us that planning for collaboration does not have a one-size-fits-all solution. Collaboration has become a generic term, though it takes many forms. She suggests that there are three types of collaboration to consider:
Co-creation collaboration: This type of collaboration involves a room where people come together to work through a set problem for hours, days, sometimes even weeks. They usually start with a task, hypothesis, or goal, and work together to ideate and build solutions, together. Scrum, workshops, charrettes are all examples.
Sequential collaboration: In sequential collaboration, teams come together to determine the tasks that need to be accomplished to reach the end goal, and then divide and conquer. Traditionally, individual task work is then complete separately, or in smaller sub-groups. This is characterized by coming together and breaking apart periodically throughout.
Community collaboration: This collaboration involves group problem solving on unrelated task. Bacon uses law firms as an example, where say, partners at a law firm may not be on a case together, but come together to discuss their individual cases, and knowledge share best practices and past success/failures. They use experiences from their peers as steppingstones toward their own discoveries, but rarely work on a specific case or project together.
Even more interesting is the idea that within a specific firm, there can be elements of each form of collaboration — which makes planning for all elements crucial for every type of design.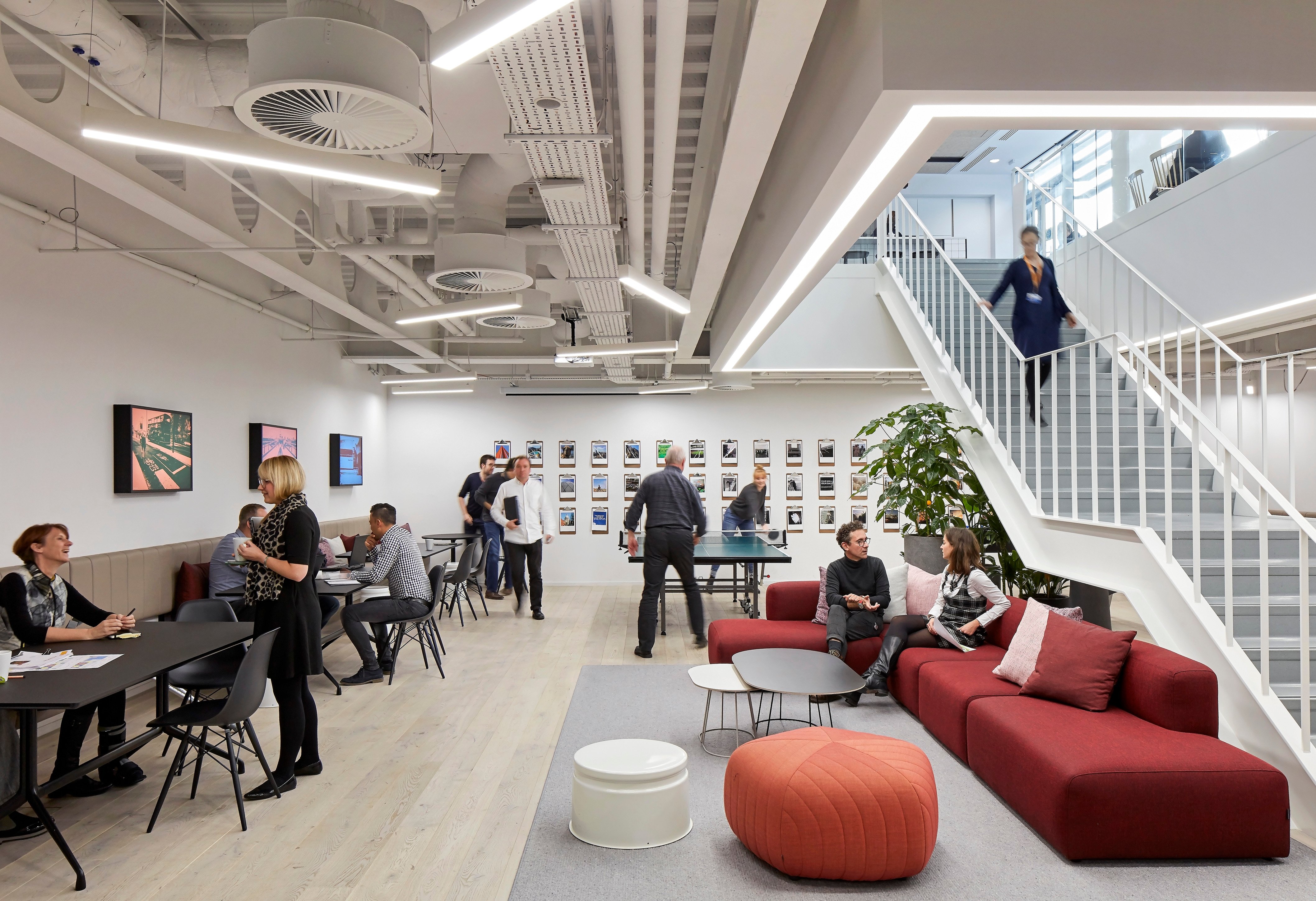 Workplace design that plans for the three types of collaboration provides for the best opportunity for in-person work. Image credit: Hufton + Crow.
The future demands flexibility.
With so many unknowns, Bacon believes that any future designs must incorporate modular aspects to remain timeless. To explain her vision, she reflects back on a video she saw several years ago about a makerspace.
The clip featured a makerspace with mobile furniture and showed a user group transitioning from their ideation space. She explains, "The video was a time lapse and showed the users breaking apart and moving to their nooks. There were so many projects and clients that sent me that link and wanted me to create that exact space. At the time, there were so many code compliancy issues that it made replicating the video darn near impossible, but today, advancements in modularity are making it a more realistic possibility."
When asked which type of modularity she feels would most benefit plans for all types of collaboration, Bacon suggested that this, too, is not a one-size-fits-all solution. "We need more flexible case goods," she adds. "But we also need really good training products that have storage. And we need modular wall systems that are more acoustically sound. There also are opportunities in seating, especially options that have a smaller footprint but still allow for heads-down work. Or even club chairs that have tablet arms and are ergonomically adjustable."
She also suggests we are accommodating for different types of focus work in different environments. For example, think of solutions like double screens and full accessories, such as keyboards with height-adjustable functions — these options tend to be in open workstations, but "focus rooms" aren't equipped with this technology. Bacon thinks this needs to change.
So, while we don't yet have a crystal ball to predict the future of design, we can rest assured that planning for all the elements of collaboration, while building in a little room for heads-down work, will be key. To that note, Bacon leaves us with this: "In every market sector, there are people questioning the need for physical space. We could put it on a scale. Some are on the extreme end: 'Remote work is working so we just need to get rid of physical space.' The other end of the spectrum is people waiting it out and expecting things to go back to pre-COVID arrangements. But as we start to think about what intentional long-term strategy looks like, we recognize that geographic boundaries will mean less, and workplace plans for function, not location, will be central to our decision-making process."
Amanda Schneider is President of ThinkLab, the research division of SANDOW. At ThinkLab, we combine SANDOW Media's incredible reach to the architecture and design community through brands like Interior Design Media, Metropolis, and Material Bank with proven market research techniques to uncover relevant trends and opportunities for the design industry. Join in to explore what's next at
thinklab.design/join-in
.