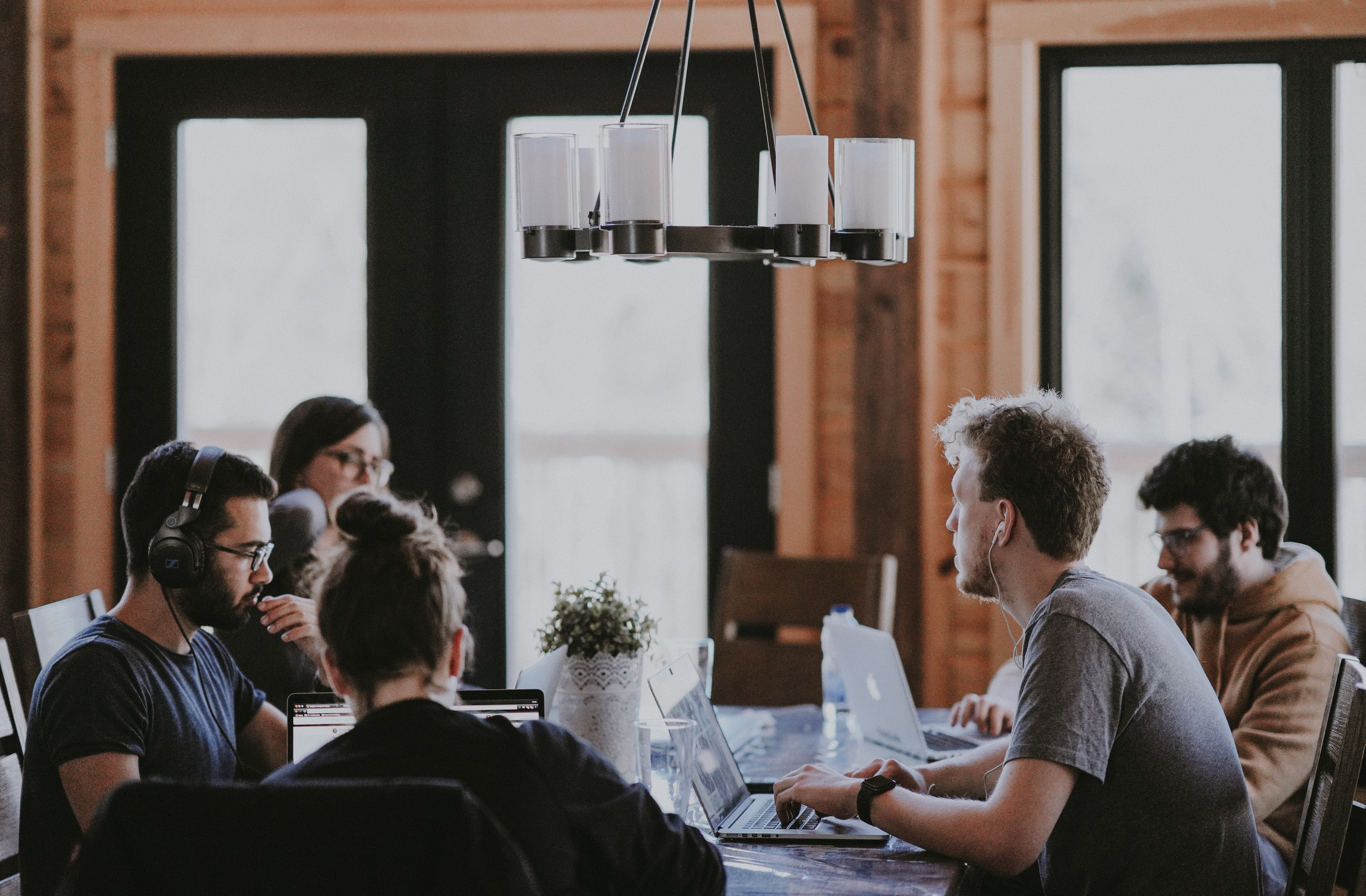 Have you ever found yourself thinking, "I'm so tired of the Future of Workplace post-COVID-19 conversation?" Gasp. As a member in the interiors industry, we imagine you've spent most of your career geeking out over the workplace, so perhaps it even feels blasphemous to admit. But in the same breath, you get why we're talking about it. Never before has there been a force that ushered in change at this velocity in the built environment, and many are left wondering, what will stick? These "period events" are the stuff that define generational boundaries. Some experts have already coined Gen C - or Generation Covid-19 - for children living through this time.
"What will the future of the workplace look like?" At ThinkLab, we can't help but wonder…are we, as an industry, asking the right question? Future of workplace makes it sound like we are all passengers on this proverbial bus, driving down the road to a fixed destination: future. Faces pressed up against the glass, peering out of the windows to catch a glimpse of what's down the road. The person with the best vision will see it first! There in the distance, "THE WORKPLACE OF THE FUTURE!!" sign is visible.
But in reality, aren't we all kind of on the metaphorical jobsite together? Hammers in hand? The manufacturer with the saw, the design firm with the level, the commercial real estate agent with the drill. We're all building and defining this thing together in real time. From a cultural sense, for some companies it's a light renovation. For others it's a gut job. And for many, it will involve building from the ground up. Which leads us to the core of why our team is challenging the thinking around the concept of "the next normal." But probably not in the way you might think. Here's how... and why.
The "future of the workplace" is already the "present workplace" for many.
People are back in the office…domestic and abroad. Now, certainly this is regional and largely dependent on the size of your office. We recently spoke with a designer who shared that their entire office got vaccinated together over lunch. We know architects and designers who have been back in their workplaces since the summer of 2020. Whatever your opinion on that subject might be, the future of work is already the present of work for many.
In fact, we are warming up to the phrase "post-vaccine office," as it feels more accurate than the post-COVID-19 office. In fact, a recent study by Arizona State University's College of Health Solutions found that 90 percent of employers surveyed will require or encourage vaccination. 60 percent of those say they will require proof of vaccination.
On CBRE's Weekly Take podcast, Amanda Steele with CBRE in Australia – where they have largely returned to the office - shared her insights. The three components that have been successful for them include: building confidence in the cleanliness of the space, encouraging adaptability as shutdowns may happen again in the future, and fostering positive experiences beyond just the first day back. Steele observed that the 'first day back' can last as long as a year, as employees are actually trickling in rather than turning on the tap. Their tenants are asking for small meeting areas and collaborative spaces; not an office for answering emails.
We've invited new expertise to the jobsite.
Social scientist. Digital anthropologist. Remote work evangelist. These are just a few of the titles we've heard mixed into the workplace conversation, and we are HERE FOR IT.
As AJ Paron, Executive Vice President, Design Futurist, SANDOW, says, "As designers, we have to step out of the echo chamber to find new ideas."
We sat in on a discussion on Twitter Spaces between Darren Murph, Head of Remote at GitLab, and Jennifer Christie, Chief HR Officer at Twitter, about Building our Future of Work. Murph had an interesting take on titles and suggested that they should be more representative of the end goal. For instance, if the metric of a remote manager is how well they clear the way for employee success, he suggested the title become Director of Unblocking. Christie also stressed the importance of language. Twitter is not using the popular "work from anywhere" tagline, as that wasn't actually true for its policy. Instead, it is focusing on being crystal clear with its employees on what is expected. If you aren't convinced that language matters, just listen to this TED talk.
And the title, digital anthropologist – someone who helps navigate the relationship between humans and the digital era, makes sense when you consider that we've had all of humanity to establish in-person social norms. In a virtual space, we interpret body language differently, we have different expectations, and every digital platform has slightly different "rules." You can easily think of that coworker who breaks said rules. For those who work in a hybrid workplace, there's the task of rethinking meeting etiquette for the blend of in-person and virtual participants.
Historical data doesn't help us right now.
As the Executive Vice President and CEO of IIDA, Cheryl Durst, so astutely observed, "Have you noticed a trend toward nostalgia?" It's scary to be an early adopter. This is uncharted territory, and we can't look to past benchmarking or best practices to inform us.
In a recent Clubhouse discussion about Rehumanizing the Workplace, Kelly Bacon, Global Practice Lead at AECOM, and Doug Shapiro, Vice President of Research and Insights at OFS, took the stage with ThinkLab president, Amanda Schneider. Shapiro said it eloquently, "People are begging for answers, but perhaps we should focus on what the right questions are." A takeaway from our 2020 Hackathon supports this sentiment with the metaphor of a restaurant. In the past, your project team was a sommelier: "I'm an expert who can tell you what to order." In the present, the project team is a waiter: "Here is a menu of options. I can make recommendations, but what would you like?" In the future, perhaps it looks more like a concierge: "Let's look at all of the variables together and plan this experience in tandem."
When it comes to rehumanizing the workplace, it has become clear that simply designing for people isn't enough. We have to design for the individual. Bacon summarized it well, "To get the best out of people, you need to enable their options for different work preferences. We must stop lumping everybody together. We have to design and plan for a broader set of work modes to suit the individual." Rehumanizing the workplace is really about making the cultural pieces match.
Our hope for the future of work rests in our ability to interrupt the here and now.
What if we were more nuanced in our thinking? The 2000's were largely an open versus enclosed conversation. Now we're talking about home versus workplace. Let's reframe home as part of the ecosystem of spaces. As Shapiro beautifully puts it, "The workplace is just one of the tools in the toolkit."

How can we bring the best of our learnings? As Bacon says, "Hopefully the stigma of remote work has been lifted, forcing us to manage to results and be intentional in our communication and expectations.

We may not have the data yet, but we have the intention to move forward with the best of what's working now

."
As for the future, maybe we should all get on board with a modified version of these enlightened words by French philosopher, mystic, and political activist, Simone Weil, ""The future is made of the same stuff as the present." By adapting as we go, the future becomes an expanded reality of the present. And to us, that sounds like a pretty exciting journey to be a part of.
Meredith Campbell is a member of the Research & Content Development team for ThinkLab, the research division of SANDOW. At ThinkLab, we combine SANDOW Media's incredible reach to the architecture and design community through brands like Interior Design Media, Metropolis, Luxe, and Material Bank with proven market research techniques to uncover relevant trends and opportunities for the design industry. Join in to explore what's next at thinklab.design/join-in.
Image credit: Annie Spratt on Unsplash