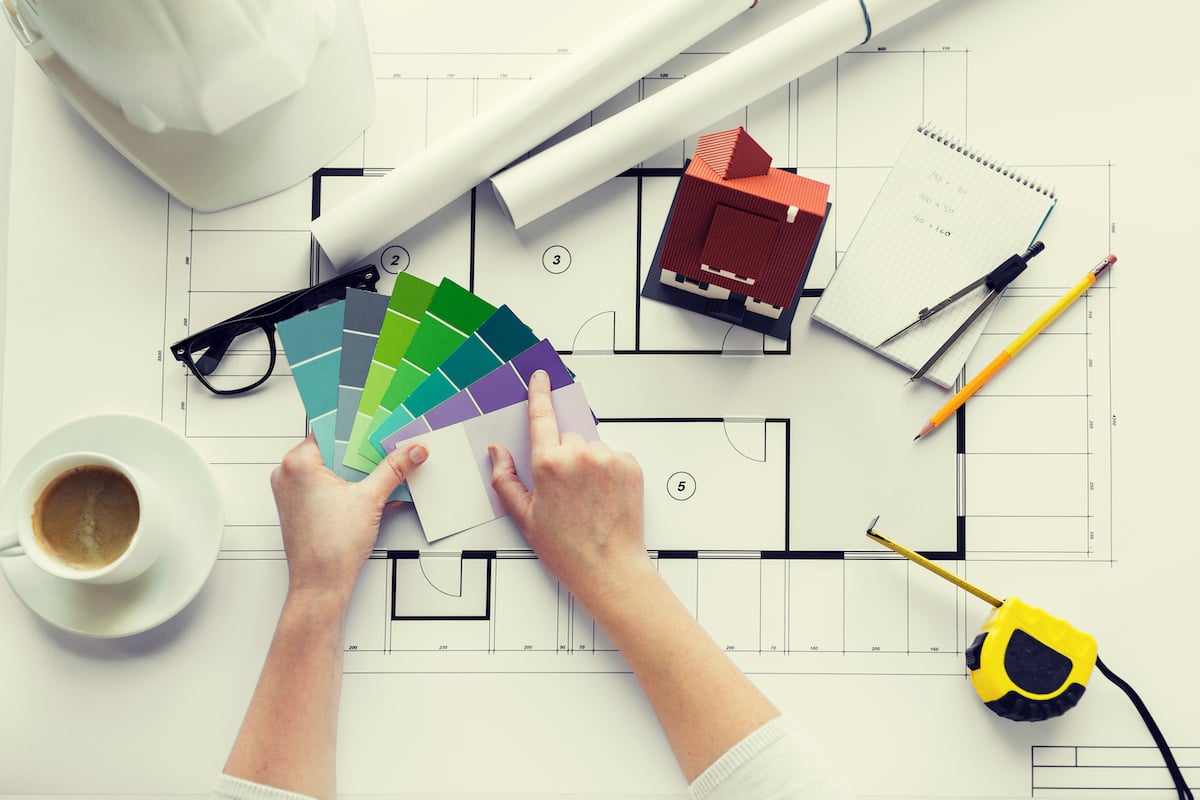 Nearly a year ago, ThinkLab wrote an article on the "Four Takeaways from the Residential Furniture Rent Model," highlighting lessons the interiors industry could learn from the residential furniture model demonstrated through Fernish. Flash-forward to current times, and the same company, which originally set out to fuse the service component with flexible home furnishings, now reports a 300 percent increase in home office orders since the start of COVID-19-related quarantines.

When asked what this metric says about the future of the home office, Michael Barlow, cofounder and CEO of Fernish, puts it best: "In terms of long-term implications, not only will the handshake go away, but we're looking at a new definition of the word office. How will it be defined? Will we see an 'office' model that consists of a fully furnished home and corporate office where employees spend two days in the office and three days at home?"
His statement comes at a time when companies like Accenture, Facebook, Twitter, and Shopify all recently announced that they will transition large portions of their workforce to permanent remote work facilities. So the question remains, how do these changes impact the future of the definition of office? More specifically, what are must-consider factors for building furniture that could fit in both the home office and the commercial space, and how do we make sure that there's equal opportunity for productivity in both places?

The home office becomes a necessity, not a nicety.
Today, many people consider a separate home office to be a real luxury. In lieu of a true dedicated space, individuals choose to convert an extra bedroom or perhaps an unused corner in the living room into a semifunctional home office. But as our business circles now get a front-row seat to our living rooms via videoconferencing platforms, professionals are starting to recognize the value of a personalized home office.

As Dwayne MacEwen, DMAC Architecture principal and creative director explains, "As the tools to work from home get better, the next generation of buyers may start to look for homes where living spaces and working spaces are more defined or adaptable. Home office will no longer be thought of as an occasional-use space. These spaces are now being broadcast to the world. How do I look at the Zoom meeting? What does the background look like? How do the room acoustics make me sound? Is the lighting flattering? You might not need to wear pants to a meeting any more, but you will need to 'dress' the room for prime-time viewing. First impressions still matter!"

This sentiment is reiterated by Fernish metrics that reported a 90 percent increase in accessories/decor and a 40 percent increase in lamps used to create mood lighting since COVID quarantines were implemented.

Design for the home office cannot be inferior to the corporate space.
As major corporations make the decision to transition their workforce to remote offices, it goes without saying that productivity levels are expected to stay the same, if not rise, as employees work at home. But in terms of design, this also means offering a home office setup that mirrors the ergonomic and environmental benefits of the corporate space. And while many residential furnishing companies, including Fernish, admit to not having the same testing standards as commercial furniture dealers, this will be a core focus as buyers and designers look to merge the flexibility of a rental service from a company like Fernish, with the rugged durability of commercial-grade furniture.


After all, many commercial-grade furniture companies are recognizing that this new home office market will be a huge growth opportunity and are diving in to the market, with independent research quoted by Sylvain Garneau, chairman and CEO of Lacasse Group, suggesting that 25–30 percent of the workforce will work from home multiple days a week in 2021. To Garneau, while commercial-grade standards set his company apart from the Fernish model, the Lacasse Group sentiment toward service aligns well with Fernish's.

He explains, "Service is a unique differentiator that commercial dealers deliver every single day. This includes delivery and installation service, always in a challenging delivery environment, leaving you with a complete and efficient workspace free from the clutter of wires that plague so many home offices. Commercial dealer sales and design professionals can help you choose the correct ergonomic tools and accessories to ensure a healthy and safe workspace. Many also have an AV integration service that can create a digital meeting space for you, easily connecting your computer and webcam software for a high-quality virtual collaboration environment—a must in today's remote work requirements."

Circling back to the rental model, this month, Fernish announced that it raised $15 million for its Series A round of funding, which, according to Barlow, will be used to expand the company's staff and marketing efforts. But Barlow also shares that in addition to physical growth, the company is looking to expand its skew offering to include products that conform to current ergonomic and commercial-grade standards as his company becomes a go-to for home office furnishings.

He explains, "Our current business model is built around the concept of modularity. We simply cannot be profitable if we buy a piece that needs to be replaced after each circulation. So, while we have always purchased high-quality residential pieces that include sturdy legs and bases with refurbishable surfaces, we now will be expanding our skew offerings to include seat backs that meet office ergonomic requirements and an assortment of home office pieces that enable productivity."

What this means for the future of the corporate office
Many believe that this transition to remote work will place an even higher priority on the functionality of the corporate office space. At the same time, Barlow predicts that there may be a generational gap in the adaptation to remote work. As he explains from a personal perspective, "I'm a millennial, so for me, remote work is a simple way of life. But I look at my 63-year-old father and he cannot wait to get back to the office. For him, remote work is foreign and he feels most productive in the office."

As a balance to this statement, according to a Cushman Wakefield study on the future of work, "Millennials and gen Z have the strongest desire for flexible working options.… [Yet] overall, younger generations have lower experience scores—70 percent of gen Z and 69 percent of millennials report challenges in working from home compared to 55 percent of baby boomers. While subpar connectivity is a gripe for most, there are clear life stage challenges also at play. Gen Z are the most likely to encounter inadequate home workspace. Given these workers are under 24 years of age, they are likely living in shared accommodation or perhaps still living with their baby boomer parents. So it is unlikely that they will have access to a dedicated work environment."

In keeping with that sentiment, Barlow suggests that time spent in corporate offices needs to be more productive than ever. More specifically, corporate offices will need to function based on the people who feel most productive there. And while it's too soon to predict whether that indicator will be defined by generation, as seen in his example, or by function or even learning style, his way of thinking shines light on the fact that corporate offices, in addition to adhering to new antimicrobial standards, will now need to offer collaboration and functionality differentiators that simply cannot be experienced in a home office.

For those concerned about the future of the physical office, the Cushman Wakefield report raises a valid point, "If companies make no change in enabling flexible working, they could see footprint size increase by 15–20 percent as a result of social distancing measures and new types of collaborative environments. However, this is easily offset with increased flexible working practices. If 50 percent of respondents who indicated they would increase their flexible working followed through on this, there would be no net change in footprint." So perhaps it's safe to suggest that the balancing of the home office and the corporate office is the very key to a successful future? It won't be an either/or scenario.

So, as we look to the home office for the balancing act of future productivity, we realize the necessity of quality pieces and design. In keeping with that notion, Garneau leaves us with this: "We can't recognize enough the importance of a dedicated and well-designed home office space, complete with work tools (including furniture) that promotes healthy working habits. Leave it to office design experts to help you with that. That is the best way to make sure people working from home will be productive, efficient, and happy on a long-term basis."
This article originally was published in Bellow Press and was reposted here with permissions.

Amanda Schneider is President of ThinkLab, the research division of SANDOW. At ThinkLab, we combine SANDOW Media's incredible reach to the architecture and design community through brands like Interior Design Media, Metropolis, and Material Bank with proven market research techniques to uncover relevant trends and opportunities that connect back to brand and business goals in a thought-provoking, creative, and actionable way. Join in to know what's next at thinklab.design/join-in.