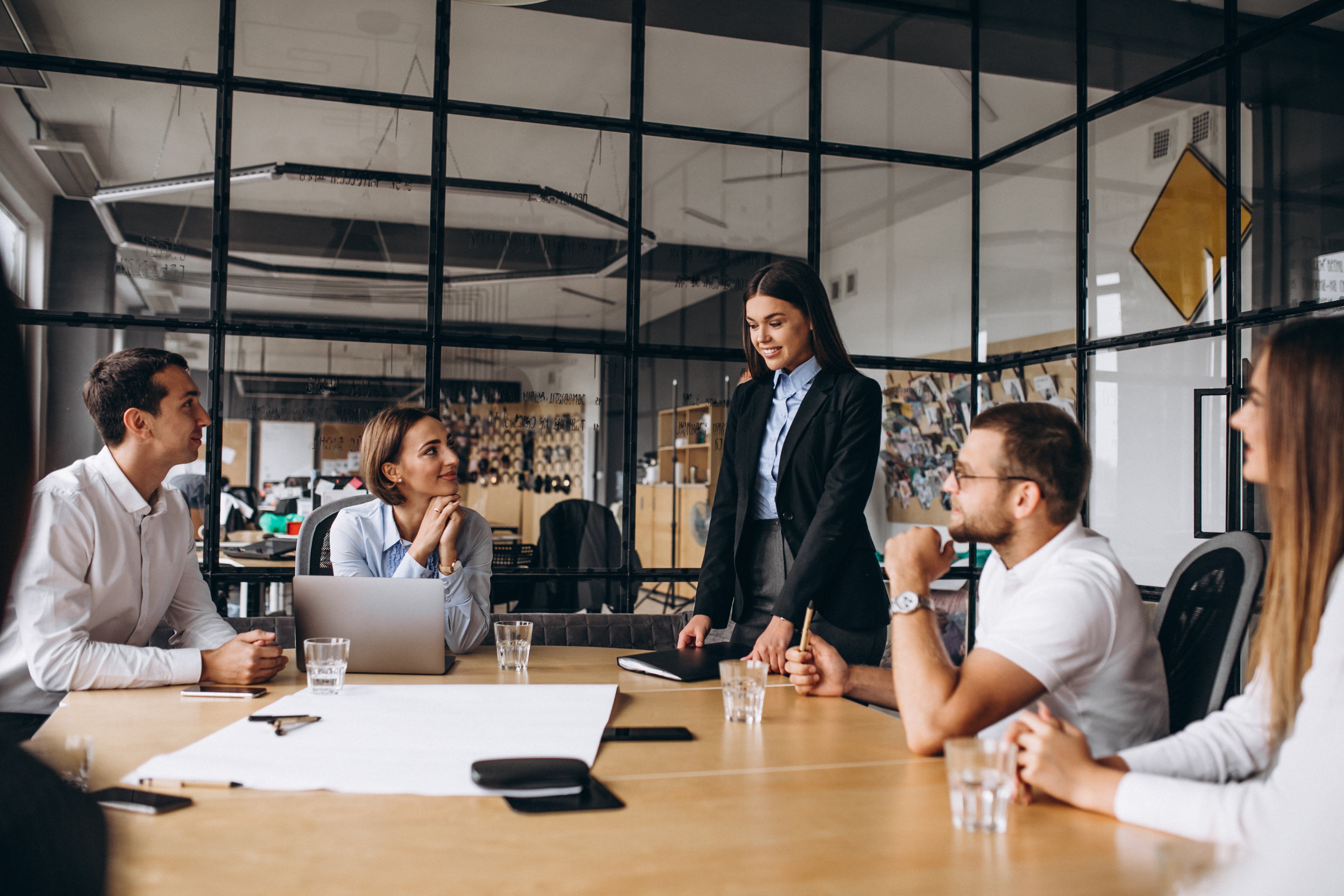 "Millennials just want to work from home."
"Boomers aren't technologically savvy."
"Gen Z only wants to text."
We've all heard the generational stereotypes and have likely been on the giving or receiving end of one. As return-to-office plans heat up (it's June 2021 at time of publishing), surveys keep rolling out about what employees want. Many of these surveys break down preference by generation to help answer the question: do generations matter in workplace strategy?
Generations in the workforce
There are five generations in the workforce today. And while there are several schools of thought on what defines a generational "cohort," major world events and technology are the most obvious influences. These outside forces tend to shape expectations, or so the theory goes. Categorizing individuals by generation informs trends and preferences among age groups; these personas enable marketers and political strategists to home in on the needs of their broad audiences.
We sat down with Kate Bachelder, Katie Dasgupta, and Rachel Uhelski from tvsdesign's workplace studio to discuss what their data revealed about different return-to-office preferences among the generations.
We wanted to know: What role, if any, do generational preferences play in workplace strategy today? Here's what we learned:
When tvsdesign began examining the data from multiple return-to-workplace surveys, the big question was: Is there a divide between the generations or any truth to the stereotypes in how they want to work?
What they discovered, according to Bachelder, was that "the biggest indicator of your work preference is actually based on your learning style, rather than your generation."
In addition to learning styles, the educational system is an often-overlooked influence on preference. As Dasgupta explained: "The pedagogy shift of the mid-'80s from an educator professing to an emphasis on critical thinking influenced expectations. It's the why, and not just the what. Millennials ask a lot of why and how questions not just to get to the answer but to process information."
The reason? They were educated to think that way.
"Gen Z may have already been engaging in online learning in college," added Bachelder, "so there could already be a comfort level in learning and collaborating that way."
It's not just about age: Experience level and tenure shape expectations
Less-experienced employees especially need teaching moments and mentorship. And that might not necessarily be linked to age. A ThinkLab study on interior designers' preferences echoes this sentiment. Interior design has one of the largest percentages of second careerists: age does not always equal seniority (a junior designer could be a Gen Xer, for example). However, when surveyed on where they look for inspiration or about the most frustrating parts of the specification process, different generations of designers are notably split on their responses.
"It's not just about age. It's about experience level and tenure within an organization. If you are newer to a company, you want to be engaged in the culture and meet people, because you don't have those established relationships," notes Dasgupta. And it's not just employees who are concerned about learning the social norms and culture of a new workplace. Deloitte's April 2021 Return to Workplace survey revealed employers' biggest concern with their future workplace was maintaining culture (32%).
The workplace is a social institution
"When you move to a new city, how do you make friends?" asked Uhelski. "For many, the workplace is the primary place where you meet people and develop relationships. And when you move to a new city or start a new job, you may be fairly lonely. We think about work as our professional life, but I think this time has revealed just how much work coincides with our personal life."
The statistics back this up. Cigna's latest Loneliness and the Workplace report reveals that of those who have been in their current position for less than six months, 64% reported a "lack of companionship." Of those who had been in their position for less than a year, 62% reported that they sometimes or always feel alone.
If the workplace has historically been a social institution, where are you finding social ties in this hybrid or remote world? A recent roundtable discussion with Interior Design Rising Giants of Design touched on this very subject as a trend in multi-family design. "We're creating places designed to bring people together. If you aren't working in an office every day, maybe your community becomes your new coworkers?" said Alanna Call, associate creative director and storyteller at CID Design Group.
So, what role should generations play in workplace strategy?
While generational preferences have a strong place in marketing, advertising, and politics, in workplace strategy, tvsdesign suggests they should be taken with a grain of salt. This sentiment is supported by a recent article about generational differences at work.
Harvard Business Review phrased it well: "So what might really matter at work are not actual differences between generations, but people's beliefs that these differences exist. These beliefs can get in the way of how people collaborate with their colleagues and have troubling implications for how well people are managed and trained."
Workplace Strategy Implementations to Consider
With all of this in mind, consider the following ways to implement workplace strategies:
Leverage individual preferences for learning. They appear to have a stronger correlation to work preferences than belonging to a certain generation does.


Use custom data to evaluate your organization's unique criteria and manage stereotypes and expectations. While large-scale studies and trends may hold weight, tvsdesign recommends evaluating your organization's unique metadata to tell the full story of your population's preferences. You may be surprised by the findings.


Mentoring and knowledge-sharing must be intentional. "There has to be an intentional effort to share knowledge down the chain of tenure. We need to have more training on how to be a mentor in either in-person, hybrid, or digital settings," said Dasgupta.
At this time in history, when we are closely evaluating our own biases in regard to DE&I, perhaps it's the perfect time to look critically at where our biases may be disguised as generational differences in the workplace. As Dasgupta observed, "where the generational preferences overlap is where the power lies. The consensus is greater than the differences."


Meredith Campbell is a member of the Research & Content Development team for ThinkLab, the research division of SANDOW. At ThinkLab, we combine SANDOW Media's incredible reach to the architecture and design community through brands like Interior Design Media, Metropolis, Luxe, and Material Bank with proven market research techniques to uncover relevant trends and opportunities for the design industry. Join into explore what's next at thinklab.design/join-in.


---
ThinkLab Inform + Empower
In looking at the influence of generational data, you may be wondering – where does it meaningfully benefit an organization? And how can the commercial interior design industry use that generational data to better understand key decision makers?
We surveyed hundreds of members of the architect and design community to create a comprehensive report on how to further the investment of your marketing strategy using generational data. Put simply, we'll show you how market to a 25-year-old vs. a 50-year-old specifier, where a one-size-fits-all approach works best, and when specifier needs are nuanced, so you can generate more impact with less lift.
Equip your inner marketing ninja – see our 25|50 report here.