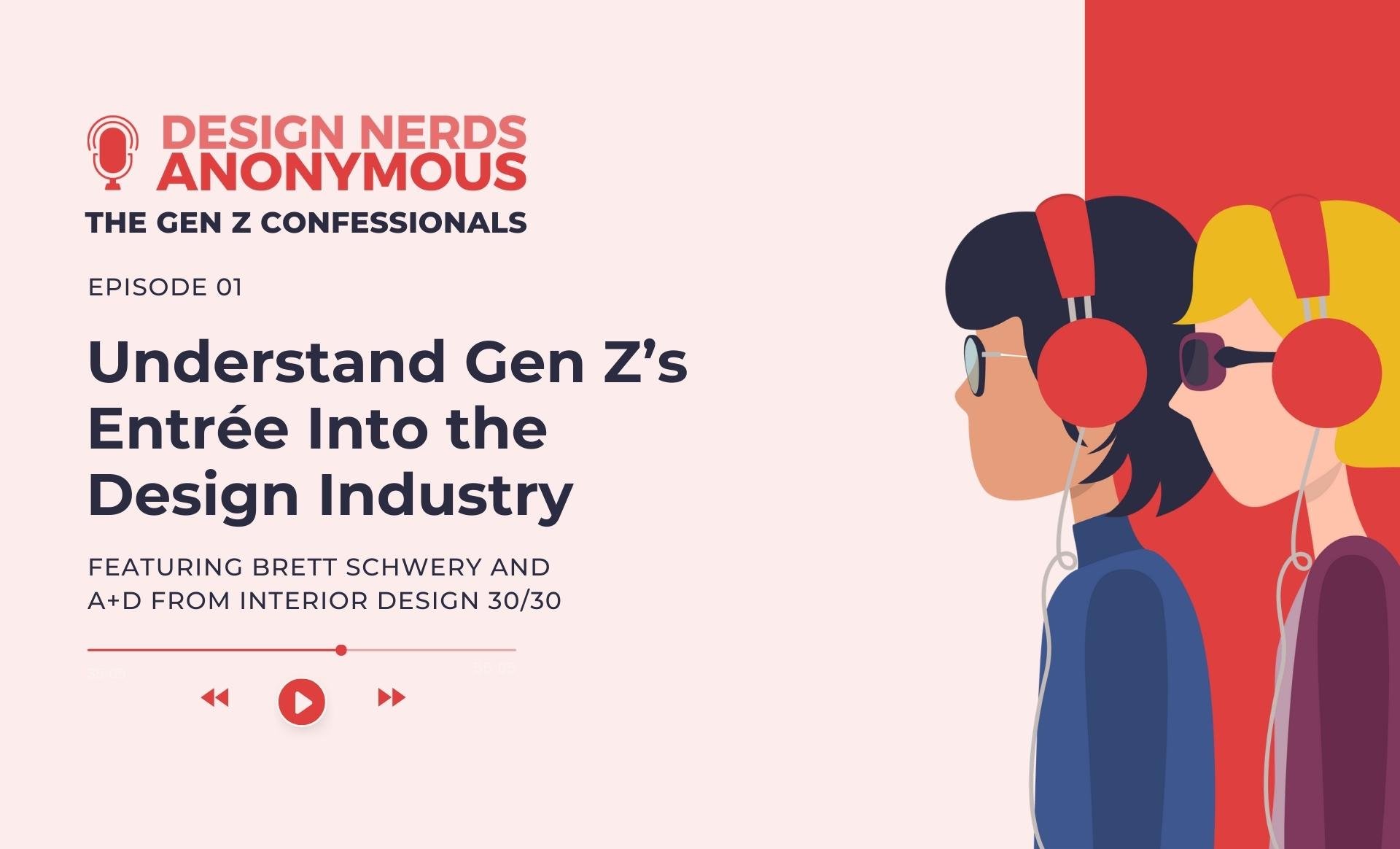 Understand Gen Z's E

ntrée

Into the Design Industry
New shifts influencing the future of work
Welcome to Design Nerds Anonymous: "The Gen Z Confessionals," a miniseries dedicated to exploring the impact of Gen Z's entrance to the workforce and the ways they are making waves in the design industry. Each episode includes unfiltered, anonymous insights from top Gen Z talent who participated in a "design confessional" hosted by ThinkLab at Interior Design's 30 Under 30 networking events for 2022.
Subscribe to view future episodes here:
Episodes in this Series
Design Nerds Anonymous Podcast
The Gen Z Season, Episode 01 Show Notes
In this episode, we discuss how Gen Z designers are changing the way we communicate and collaborate in the workplace, the biggest shifts shaping the future of work for the good (and bad), and what post-pandemic grads are overcoming to learn the ropes in a hybrid setting.
We'll also hear from Brett Shwery, director of interiors for AECOM, on his research about college graduates transitioning into the corporate world (see white paper here). He shares the latest findings, explains how corporations can take cues from collegiate design to ease that transition into workspace, and shares what firms like AECOM are looking for in the next generation of talent.
Highlights from this Episode
Discover the ways Gen Z designers are using technology to collaborate with colleagues and clients.
Hear why the physical work environment is still important — but may not be the most important factor for recent graduates entering the workforce.
Find out how why Gen Z designers have a more inclusive and collaborative approach to work, and how this is reflected in the way they design and work with others.
Learn what our experts think is the key to navigating career shifts in the future.
Discover the one thing and designers should focus on when building their career paths — and why it's NOT future-proofing their work.
Connect with our expert guests on LinkedIn:
Take Action on this Episode
Be the first in line to get our cutting-edge research on specifier personas: Specifer Personas for the Design Industry
Design Nerds Anonymous is a proud member of the SURROUND Podcast Network. Discover more shows from SURROUND at surroundpodcasts.com. This episode of Design Nerds Anonymous was produced and edited by SANDOW Design Group, with music from Blue Dot Sessions. Special thanks to the podcast production team: Hannah Viti, Wize Grazette, and Samantha Sager.  
---

Special thanks to our podcast sponsor for this episode,  KI.