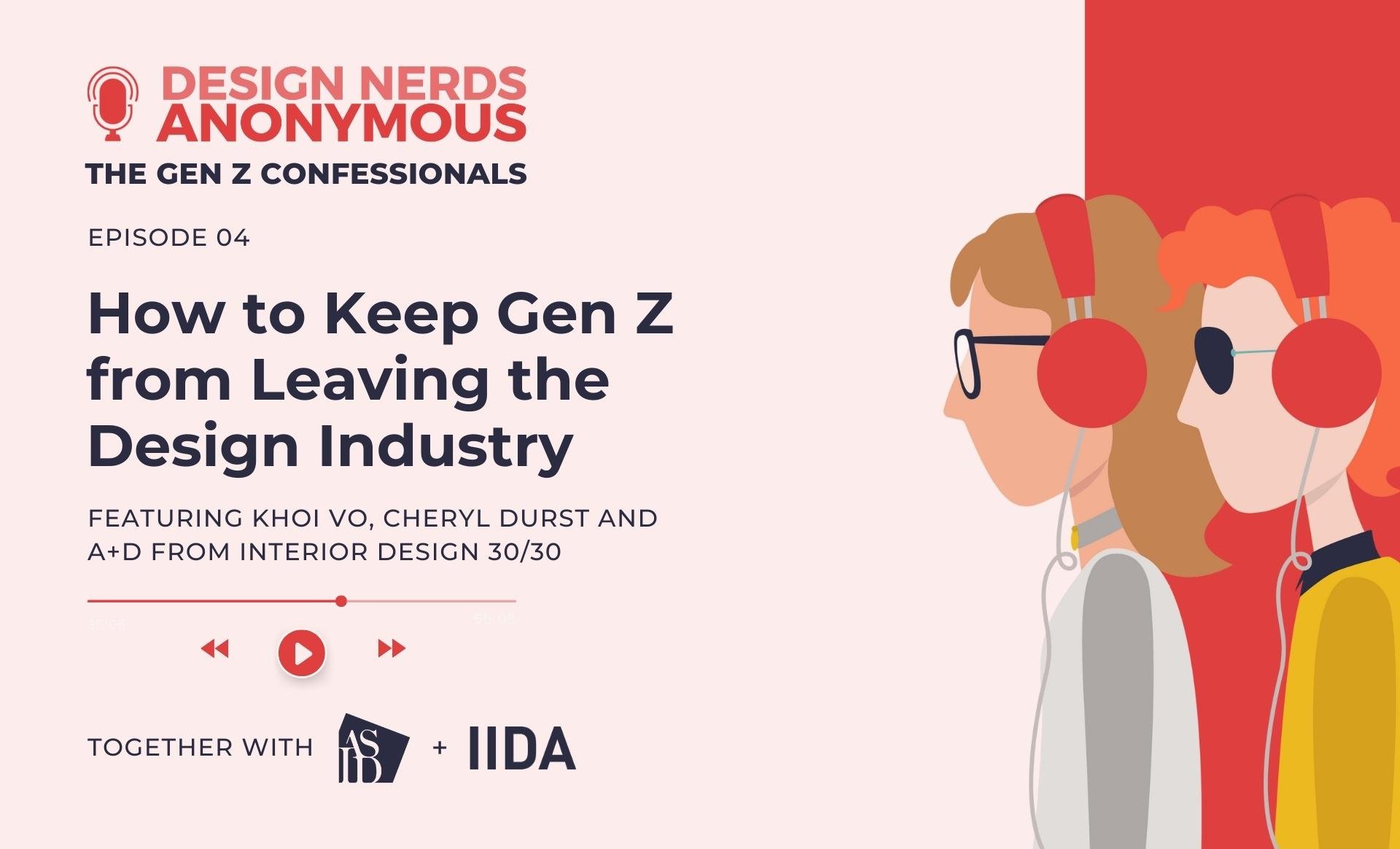 How to Keep Gen Z From Leaving The Design Industry
Revolutionizing Talent Retention In The Design Industry
Welcome to Design Nerds Anonymous: "The Gen Z Confessionals," a miniseries dedicated to exploring the impact of Gen Z's entrance to the workforce and the ways they are making waves in the design industry. Each episode includes unfiltered, anonymous insights from top Gen Z talent who participated in a "design confessional" hosted by ThinkLab at Interior Design's 30 Under 30 networking events for 2022.
Subscribe to view future episodes here:
Episodes in this Series
How to Keep Gen Z From Leaving The Design Industry (you are here)



Design Nerds Anonymous Podcast
The Gen Z Season, Episode 04 Show Notes
In this episode of Design Nerds Anonymous, we ask the question "How to keep Gen Z from leaving the design industry?" In the past two years, the interior design industry has faced significant changes, with firms struggling to retain and attract next-gen talent. But what are the reasons behind this trend, and how can we address them?
Today, we have the pleasure of speaking with two industry leaders, Cheryl Durst, CEO of IIDA, and Khoi Vo, CEO of ASID. Together, we'll explore the calls to action for the industry on not only attracting but retaining talent. These organizations have had a somewhat tumultuous history, but today they're coming together to explore the calls to action for the industry on not only attracting but retaining talent.
Highlights from this Episode
Discover why the interior design industry is struggling to retain and attract talent despite firms reporting record-breaking backlogs and new project workloads.

Learn how lack of work-life balance and communication challenges are the two main reasons that prompt young talent to leave the industry, and what firms can do to address these challenges.

Find out why today's students believe that three years or less is an appropriate amount of time to spend on their first job, and how this trend is impacting the industry.

Explore how firms can invest in their employees and prioritize their well-being by offering flexible working arrangements and clear communication channels.

Learn why promoting diversity, equity, and inclusion is crucial to retaining and attracting talent in the industry and providing opportunities for young talent to grow and develop their skills.

Discover how collaboration between industry organizations, educators, and practitioners is essential to address the talent challenge and ensure the industry's long-term success.
Connect with our interviewees on LinkedIn
Did you know?
ThinkLab research shows that in general, individual workers still have about a 12 percent higher preference for hybrid work, while companies have about a 15 percent higher preference for more time in office.
Take Action on this Episode


Be the first in line to get our cutting-edge research on specifier personas: Specifer Personas for the Design Industry
Interested in finding out more about our research on Gen Z? Sign up to attend ThinkLab's live panel at NeoCon 2023, where we'll be releasing results from our current hackathon focused on Gen Z in the design industry.
Design Nerds Anonymous is a proud member of the SURROUND Podcast Network. Discover more shows from SURROUND at surroundpodcasts.com. This episode of Design Nerds Anonymous was produced and edited by SANDOW Design Group, with music from Blue Dot Sessions. Special thanks to the podcast production team: Hannah Viti, Wize Grazette, and Samantha Sager.
---