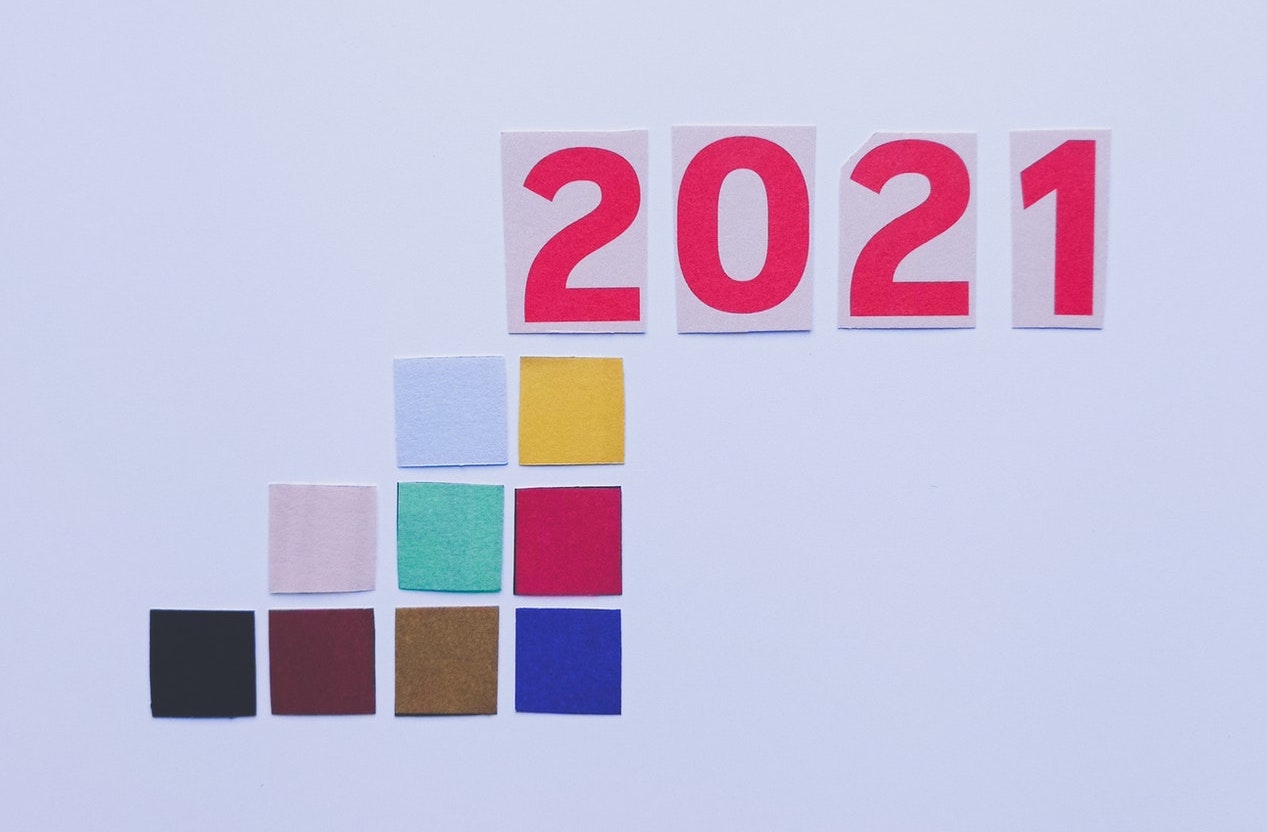 Each December, as the year winds to a close, we begin to reflect on the happenings of the year and whether or not things played out as we had predicted. At the beginning of 2021, ThinkLab presented our "Top Ten Bold Predictions" for the design industry in the coming year (and will be doing so again this upcoming January.)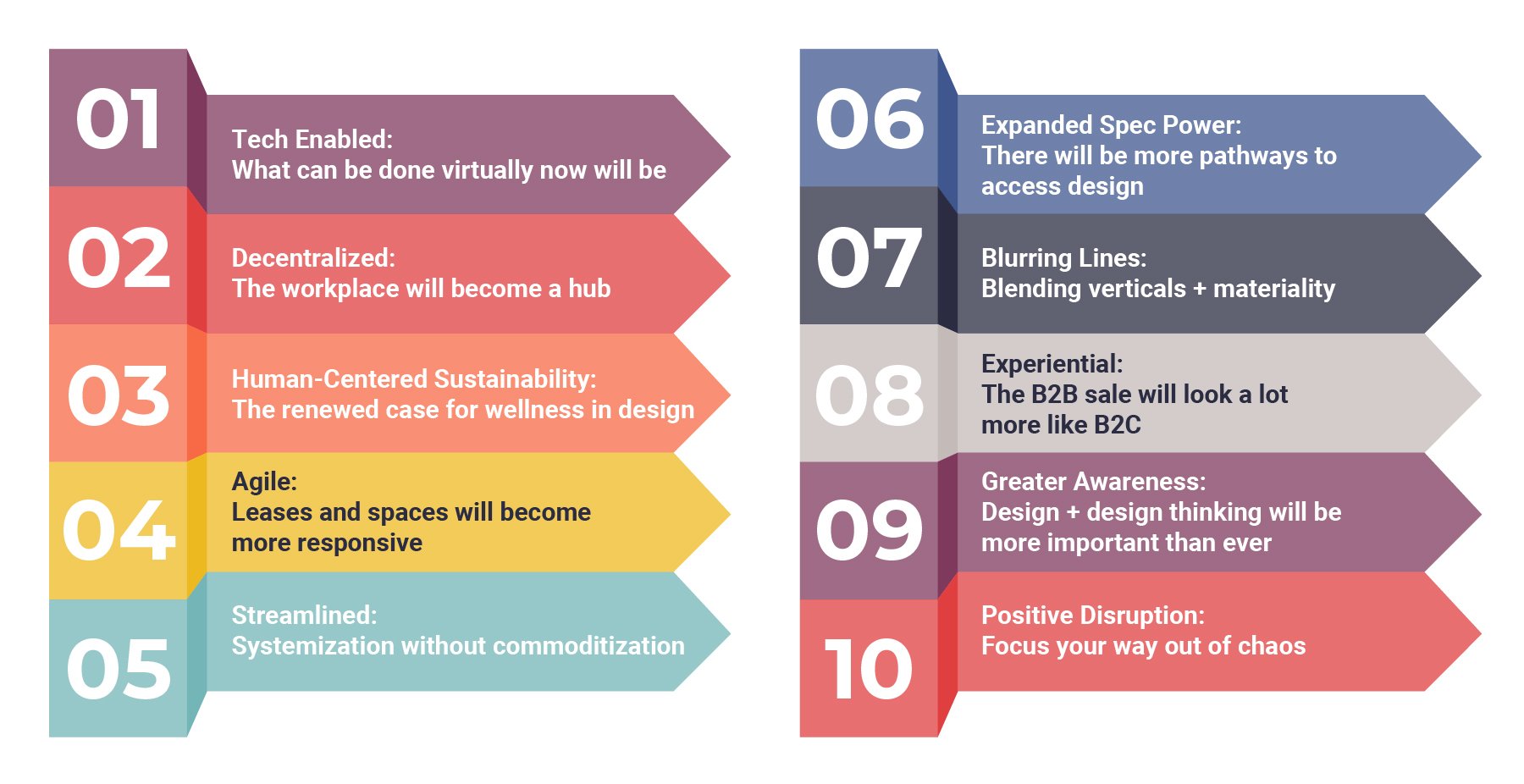 But just how did our top ten predictions play out? While we've benchmarked varying degrees of progress, what we can say for all ten predictions is that industry evolution, even when sped up by a global crisis, is slow going – and there is a lot of evolution left to be realized.
Let's dive deeper into five of our bold predictions for the design industry in 2021 and how things have progressed over the past 12 months.
ThinkLab's 2021 Design Industry Bold Predictions: Where Are We Now
1. Tech-enabled: What can be done virtually now will be.
How 2021 started: If necessity is the mother of invention, 2020 was an incubator for digital technologies that support remote work, learning, telehealth, and more. It also showed the value of in-person human contact vs. communicating remotely and when it can be beneficial to employ one or the other. At the onset of 2021, it was estimated that 56 percent of U.S. workers held jobs that could be conducted remotely at least some of the time.

How it's going: Hybrid is here to stay, with ThinkLab research showing that 74 percent of architectural and design firms plan to stay hybrid long term. Owl Labs found that nearly 70 percent of U.S. workers aged 22–65 report that they work remotely at least some of the time.

2. Decentralized: The workplace will become a hub.
How 2021 started: When we forecast 2021 from the viewpoint of December 2020, many were hopeful that the pandemic would be at least partially in the rearview mirror. As companies explored remote and flexible working models, ThinkLab predicted that real estate models might begin to address the needs of a dispersed workforce. We also predicted that communal work would be done in-office. Home would be leveraged more. New "in between" spaces would emerge.

How it's going: Kastle's back-to-work barometer finds that, as of this week, an average of fewer than 40 percent of office employees in the 10 largest U.S. cities are going into a central office "hub" on any given day. At the same time, a recent study by Coworking Resources and Coworker reports that coworking spaces are expected to grow at a staggering 21.3 percent CAGR, with the number of locations doubling from 2021–2024.

3. Human-centered sustainability — The renewed case for wellness in design.
How 2021 started: Wellness was top of mind in December 2020. ThinkLab estimated that 15 percent of total loaded costs per employee were allocated for "wellness," and we expected this figure to double by 2025. This would provide tremendous incentive for developing a proactive strategy that looks at employees as a profit/asset instead of just addressing loss/liability. ​
Considering the clearly adverse effects the pandemic has had on mental health, and amid ongoing hygiene fears, a new collaborative approach is being explored — integrating HR, information technology, facilities management, and business leaders alongside design teams — all focused on wellness and "well-being output" for the organization. 
How it's going: In the midst of the "great resignation/talent revolution," mental health benefits topped the list of offerings in 2021, according to Wellable. Two-thirds of employees said they were stressed out at work this year, according to Udemy, and Welltok reports that "50 percent of millennials have seriously considered switching jobs due to workplace stress." Encouragingly though, Welltok also found that companies with an effective and personalized wellness program motivate 80 percent of employees to do more to reach their wellness goals.


4. Agile — Leases and spaces will become more responsive.

How 2021 started: Toward the later part of 2020, talk in the commercial real estate world was centered around flexibility. ThinkLab cited a CBRE flash call that observed: "It has become increasingly apparent over the last few years — and certainly during times like this — that traditional real estate is not agile enough to align with the changes most companies experience regularly. Note: 'Agile' in this case refers to the flexibility around the use, amount of space, location, length of lease term, etc." ThinkLab predicted that a nimbler real estate model would emerge in 2021.​

How it's going: While commercial real estate was certainly hit hard, a PwC study in late 2021 concluded that the sector's survival during the pandemic was largely due to a focus on flexibility and convenience — which are expected to be status quo moving forward. Much is still to come in the evolution of commercial real estate, but static spaces are not the ones leading the way.

5. Streamlined — Systemization without commoditization.
How 2021 started: As real estate pivoted to increase flexibility, ThinkLab suggested that design would be offered in ways that could streamline the process for quick-turnaround projects. At the beginning of this year, ThinkLab predicted that high-end design, especially experiential design, would become more sought after, but by an increasingly elite subsector. The masses would seek a more "productized" approach to design and space that involved fewer unique choices, as well as more data-driven packages that could become, well, "good enough" for many. ​

How it's going: At ThinkLab we strongly believe in the power of design and design thinking and that a degree of systemization can be accomplished without commoditizing the value of design. 2020–21 has shown us that an industry rooted in bespoke design can pivot to provide good design (even if it's not entirely unique to that client) for projects large or small, within tight budgets and timelines. And the tech industry has responded to this demand. The interior design software market — supporting architects, designers, and the organizations that employ them — is on the rise, and expected to grow at a CAGR of 9 percent from 2021–2026. Software platforms like Canoa bring space planning, budgeting, product selection, code compliance, and occupancy planning all under one umbrella to reduce design time, and apply a data-informed approach that gives greater access to design to a broader audience.
Commercial real estate is also finding success by embracing a streamlined design model. Tina Lamkey, Senior Director of Design at CBRE tells us that "since launching on November 30th, 2020, CBRE's Office Ready program has already engaged with 12 major enterprise clients, completed 3 office ready builds, and won the CoreNet global innovators award for the program along with the CBRE Star Award for Design."
So here we are again, looking eagerly to a year ahead full of potential. In a world that is changing faster each day, it helps to remember these words from Gabor George Burt:
"Meaningful innovation does not need to be based on outright invention. Rather, there is an exhilarating shortcut. It is based on bold, new combinations of already existing components that simultaneously unlock heightened levels of consumer value and reduce costs."
ThinkLab will once again be hosting our "Top Ten Bold Predictions" digital seminar at the start of the new year. And if you are ready to dive further into these topics, join us in our club on Clubhouse, "Design + Data w/ThinkLab," every Friday at 9 a.m. EST. We are excited to dedicate the first Friday of every month in 2022 to exploring one of our bold predictions for the year in greater depth.
Erica Waayenberg is the head of Research & Content Development for ThinkLab, the research division of SANDOW. At ThinkLab, we combine SANDOW Media's incredible reach to the architecture and design community through brands like Interior Design Media, Metropolis, Luxe, and Material Bank with proven market research techniques to uncover relevant trends and opportunities for the design industry. Join in to explore what's next at thinklab.design/join-in.