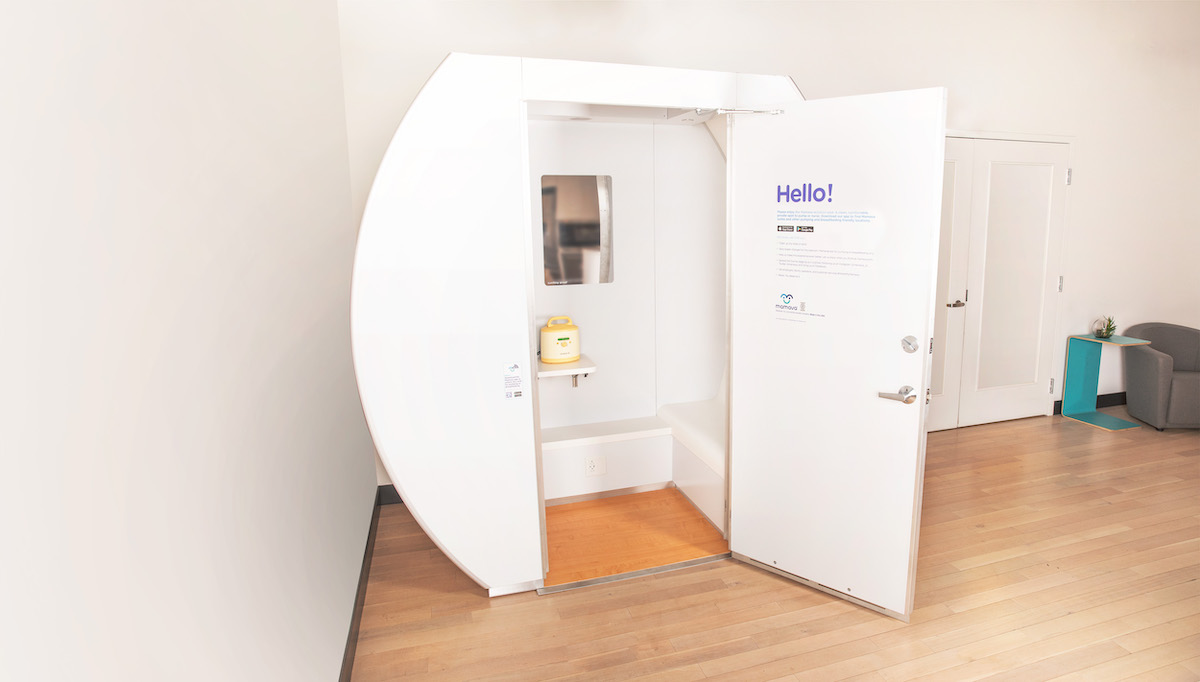 Late hours, crazy deadlines, pressure to network — the real estate and design industry can make it challenging for working parents to find enough time in the day. As many firms begin the hard work of rethinking and reestablishing norms and policies, we have an opportunity to reflect and make changes in when, where, how, and even why we work.
Indra Nooyi, the longtime PepsiCo CEO and one of the world's most powerful women, recently joined Adam Grant on an episode of his podcast, WorkLife, to explore some of these big questions around the future of work — from how to embrace flexibility to making family a real priority.
"I hope today's young people can balance all this better with some combination of flexible working or remote working and the ability to have families," Indra noted. "The biggest gap, I think, is all discussions on the future of work talk about robotics, technology, disruption — it does not talk about family. It doesn't talk about women, young family builders who are all central to this idea of the future of work." 

With this article, I — along with a small but mighty army of working parents in the Chicago area — want to challenge our industry to think bigger. We are poised for change, especially during this era of "the Great Resignation" and as the war for recruiting talent heats up. The pandemic has reinforced a mindset that values time as our greatest asset, and we believe we can build inclusive policies and practices with this in mind that can attract talent not only to your business, but to our broader industry.
Here are 3 ways the design industry can seize this moment and champion working parents:
Advocate for the mental health of working parents, especially now.
"We have this 'lean-in generation' of working parents who have to speak up and have to be willing to do what the generation before us had a harder time doing. Part of which is saying 'This is what we need to be successful.'" — Nikkie Kent, CRO of Mamava, in a recent ThinkLab Clubhouse session
The pandemic has augmented so many of the challenges working parents already faced. And, at the time of writing, the omicron variant is surging everywhere, closing schools and making parents feel like it's impossible to have both a kid and a job in this era, again.
"The next generation of motherhood should not have to ask 'How can I do both?'" — Nikkie Kent
So, if you are feeling this way, you are not alone. In part 1 of a recent panel discussion put on by IIDA Chicago, participants shared their advice for other working parents: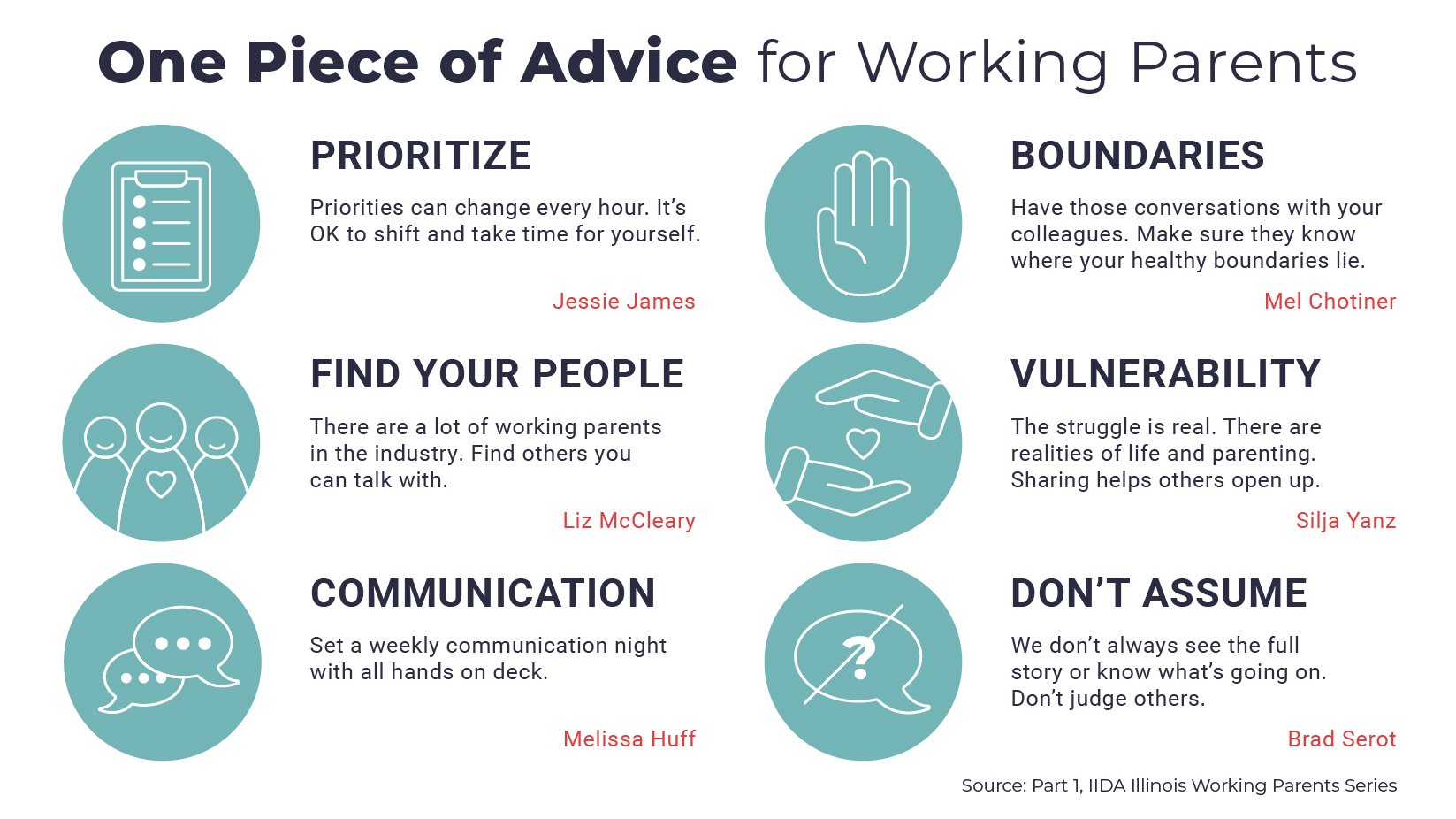 IIDA panelists share advice for working parents:
Prioritize. "Priorities can change every hour. It's okay to shift and take time for yourself." – Jessie James
Find your people. "There are a lot of working parents in the industry. Find others you can talk with." – Liz McCreary
Communication is key. "Set a weekly communication night with all hands on deck." – Melissa Huff
Set boundaries. "Have those conversations with your colleagues. Make sure they know where your healthy boundaries lie." – Mel Chotiner
Show vulnerability. "The struggle is real. There are realities of life and parenting. Sharing helps others open up." – Silja Yanz
Don't assume. "We don't always see the full story or know what is going on. Don't judge others." – Brad Serot
Here are other ways you can advocate for mental health for working parents:
Make sure

home office setups

are adequate.

Support expectant and breastfeeding parents with the information they need to be successful when they return to work.





Consider creating a remote-working guide for parents.

Reference and share

this guide

or

this list

of successful tips and tricks to navigate working from home with kids.





Find ways to create community.

Join or launch something similar to this

Facebook page for Chicago-area design moms,

or through other organizations like ASID or IIDA.
Drive inclusive policy change.
"The things that we do today are impactful in how we attract the next generation of talent, not only to our companies amidst the current war on talent, but to our industry. Your voice matters, and now is the time to speak up as the pandemic has put the spotlight on the need for change." — Ashley Delano, VP A&D + CRE at Level Reps, in a recent ThinkLab Clubhouse session
Perhaps our biggest learning from the past year is that the pandemic gave more parents the chance to work from home, and now they don't want to give it up. The struggles of working parents are also likely to persist even after the pandemic.
ThinkLab data suggests that the majority of A&D firms intend to remain on the hybrid spectrum, with three out of four firms consistently stating that they plan to allow their workers to work remotely one to four days per week. And, as we learned in Season 2 of our podcast, hybrid is the hardest. One of the key elements to policy change is getting hybrid work to work well, and this includes creating a policy and a culture that allow for digital equity.
"Working parents are the most productive people in the whole world. They are able to juggle so much and have so much passion about home and careers. Employers don't have to doubt that we will get the job done, no matter what happens. The more we can normalize the conversation about altered working hours and healthy boundaries, the more it will benefit everyone."

— Liz McCleary, VP and co-founder of Working Parents Collective at CBRE, in a recent ThinkLab Clubhouse session.
So, if you are looking to make changes within your organization, here is some advice from participants of part 2 of the IIDA Chicago panel discussion: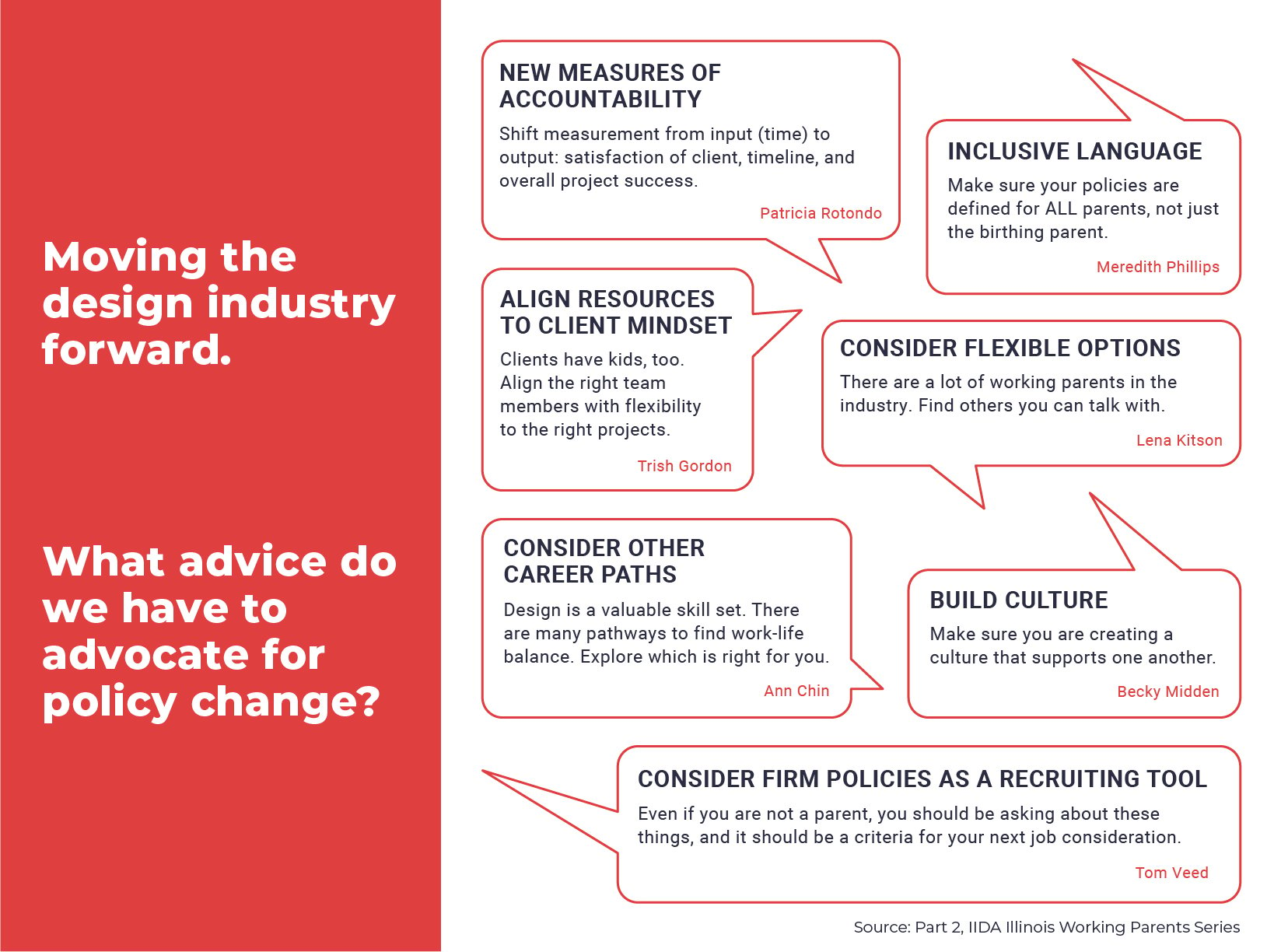 IIDA panelists share advice on how to advocate for policy change:
New measures of accountability. "Shift measurement from input (time) to output: satisfaction of client, timeline, and overall project success." – Patricia Rotondo
Align resources to client mindset. "Clients have kids, too. Align the right team members with flexibility to the right projects." – Trish Gordan
Consider other career paths. "Design is a valuable skill-set. There are many pathways to find work-life balance. Explore which is right for you." —Ann Chin
Use inclusive language. "Make sure your policies are defined for ALL parents, not just the birthing parent." – Meredith Phillips
Build culture. "Make sure you are creating a culture that supports one another." – Becky Midden
Consider firm policies as a recruiting tool. "Even if you are not a parent, you should be asking about these things, and it should be a criteria for your next job consideration." – Tom Need


Consider our power to design physical spaces for inclusivity.
One of the hardest days of a working mother's life is the day she leaves her baby to return to a physical office. If you haven't experienced this, it's difficult to describe the emotions in words. But there are many things employers can do to make for an easier transition back, such as creating well-designed spaces to support the physical needs of breastfeeding mothers. And a recent discussion on social media suggests that many of us would have designed lactation spaces completely differently after actually becoming moms.
"Looking back, I see now that it's easy to design space that is not functional as a mother's room. You often see a lounge chair and side table. In the design industry we are accountable to time sheets and billable hours every minute of the day, and we often have to work while pumping. We could suppose many of our clients desire similar productivity from these spaces. We need a table, task chair, outlets positioned appropriately, the opportunity for various postures, and adjustable lighting."

— Silja Yanz, Healthcare Designer, Chicago, in a recent ThinkLab Clubhouse session
In this recent Fast Company article, three Perkins&Will designers shared their concept for a better lactation space based on their own experiences. It includes a "collision zone" that invites people to share their experiences. We are also thrilled to share these guides of best practices for designing lactation spaces and their legal requirements, as well as a guide for how to advocate for lactation space when you consider legislation at the federal and local level.
For outside the workplace, there are new tools like the Mamava app, which helps connect you to Mamava pods in airports, but also other lactation spaces as you travel. (Think of it like the Waze for breastfeeding mothers.)
Beyond just creating these spaces, Liz encourages us to normalize the conversation: "Use your client sites, and don't be afraid to ask them. A lot of people built out breastfeeding space or have a Mamava pod. Unfortunately, many leaders don't think those spaces are being utilized, because no one is talking about it. I found as I got less nervous about asking, clients got more excited to show off the assets they have to support working parents."
So, as we look to create more inclusive conversations, policies, and spaces to help working parents succeed, Silja leaves us with this advice, "Be persistent. If you see improvements that can be made within your organization, figure out how to reach the people who can make those changes. Don't give up if the first answer is no. This is a season of life. If companies understand that creating policy and special arrangements that cater to needs with this season of life, they will have a greater chance of retaining top talent."
Amanda Schneider is President of ThinkLab, the research division of SANDOW Design Group. At ThinkLab, we combine SANDOW Media's incredible reach to the architecture and design community through brands like Interior Design Media, Metropolis, Luxe, and Material Bank with proven market research techniques to uncover relevant trends and opportunities for the design industry. Join in to explore what's next at thinklab.design/join-in.