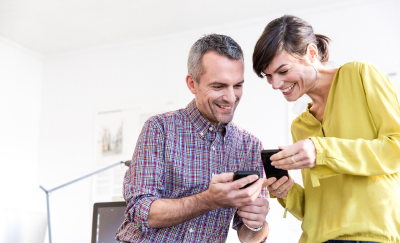 What Do I Need To Know About How Designers Use Social Media
Mpowered Podcast, Episode 24 Show Notes
Welcome to Mpowered, the podcast brought to you by Material Bank and created by ThinkLab.
In this bite-sized episode, we tackle the question, "What do I need to know about how designers use social media?" What non-traditional sites are also popular? Who is the social media winner? Host Erica Waayenberg settles the long debate and provides advice on how you can leverage these platforms for a better connection with the design community.
Subscribe to view future episodes here:
Have a Question?
If you have a question or topic you'd like us to tackle on air, we'd love to hear from you. Simply direct-message Material Bank on Instagram with your success story or question through the messaging function.

---
Transcript
Welcome to Mpowered, the podcast brought to you by Material Bank and created by ThinkLab. Consider this your new weekly dose of bite-sized, actionable insights to help you succeed as a B2B rep. I'm this week's host, Erica Waayenberg, head of research and content at ThinkLab.
We'll be answering one key question each week, many of them submitted by you. Want to join in? We'll share details about how to submit your question at the end of this episode.
Our question this week: "What do I need to know about how designers use social media?"
At ThinkLab we talk about the importance of social media frequently, but, new data from Rightpoint shows that 77% of Gen Z who are already a part of the workforce say they want visually driven scrollable product displays, and an overwhelming 93% stated that social media is important, not only in product discovery, but as part of their post purchase journey as well. Let's dive into social media in the two main ways that interior designers are utilizing platforms today.

First up, let's talk about how Interior Designers are marketing their own businesses through social media.
Interior design is a profession that celebrates visual aesthetics. With that in mind, it should be no surprise that Instagram is the number one platform for interior designers to market their businesses today. The visually centric content, ability to create carousels of images, tag products, or brands, and incorporate stories and reels into their content mix make this a great platform for increasing brand awareness and tapping into a huge number of prospects. While Instagram posts themselves tend to be the polished final product images, the casual, personal nature of stories and reels allow designers to showcase their process in a relatable way to their potential new audience. This same concept has also led to a tremendous rise in TikTok, content, promoting interior designers in the way that they work.
Outside of traditionally considered social media platforms some designers, depending on their focus, may also be using platforms such as Houzz or LinkedIn to reach a more filtered audience. While Instagram is for everyone, and all content, Houzz was created specifically to connect homeowners with design professionals. And in the commercial design realm, sharing an individual designer's project successes on their personal or firm pages can be a great way
to attract new clients as well.

Now let's explore the other side of social media, how designers are using social media for their own inspiration. For the visually inspired creative mind, social media is one of the arenas interior designer's go to when searching for broad scale inspiration. As one designer suggested in a recent ThinkLab roundtable discussion, interior design, as a profession used to be very secretive where no one would share the sources and brands that they were curating from for their projects. The goal was that clients would have to come to their firm in order to get that desired aesthetic. Today, however, interior designer's are an open book on social media, completely changing how designers and firms interact with, and glean inspiration from one another.
When asked how they leverage social media for inspiration, what we hear, most commonly is that designers are following other designers and firms that they admire, brands, and even trade shows to stay abreast of what's new in the market especially, in today's hybrid workforce where they may not see their local reps as often. Social media has grown from a platform where designers are passively taking in content to now being a place where they can connect with the brands and products represented in the content to move one step further down the product discovery and selection journey.

So how do you move a designer towards that connection? When it comes to leveraging your social media content to designers, remember that tagging and linking them back to any of the products showcased, is critical in order to convert that beautiful installation image into a viable project opportunity for your brand.
So, what if you don't have a robust social page and following just yet? Well, now is the time to start but while you build that media content, you can still deliver on the experience, with a highly visual, digitally linked and personalized message in your email outreach to designers.

Thank you for listening in and I invite you to listen in each week for more tips and tidbits to empower you as a rep. If you have a topic or question you'd like for us to tackle on air we'd love to hear from you simply direct message Material Bank on Instagram or leave a comment on LinkedIn with your success story or question.
---

Special thanks to Material Bank for partnering with us to provide bite-size, valuable insights for B2B reps in the interior design industry.