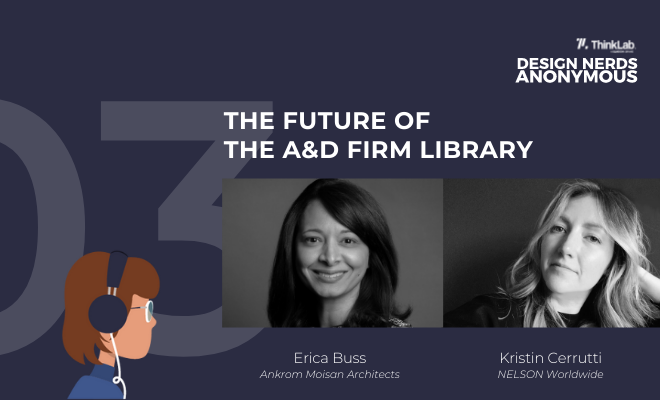 The Future of the A&D Firm Library
Preparing for transformative changes
The pandemic has forced many functions of the design library online. Does this mean that library will pivot to primarily virtual in the future, or will there be a move to return to more physical spaces? Design Nerds Anonymous host, Amanda Schneider, asks our expert guests to share what's working, what's not, and where they think the design industry is headed.
Subscribe to view future episodes here:
Design Nerds Anonymous Podcast
Season 3, Episode 03 Show Notes

In this episode, Erica Buss, research and information services manager at Ankrom Moisan Architects, emphasizes the remaining importance of physical spaces along with expert guidance and curation. And Kristin Cerutti, a design leader at NELSON Worldwide, stresses their approach to the digital space.
Ultimately, both agree that it's time for the library to be reconceived as a dynamic, living space, one that supports the larger ecosystem of the firm and is a source for both information and inspiration. It's not a matter of digital or physical. It's really a both/and.
Highlights from this episode:
[6:35] Erica explains how the library is not just a physical space, but also a service.
[10:37] Kristin details ways to repurpose the space once used for books and shelves.
[16:49] How can virtual events help foster deeper connections with colleagues?
[21:31] Kristin urges A&D consider the environmental impact of keeping libraries stocked.
[27:16] Erica talks about the power of collaborations with reps.
Connect with our expert guests on LinkedIn:

Take Action on this Episode
We put together a complimentary cheat-sheet featuring our top 10 tips for creating an integrated physical + digital go-to-market strategy. Want to email it to your team or print it out and pin it up at your desk? Download your cheat sheet here.
Share to Win
Want to help us spread the word about Design Nerds Anonymous? Simply share or subscribe using the quick & easy entry methods below to be entered to win a pair of Beats Solo3 Wireless On-Ear Headphones. One lucky winner will be set to listen to the new season in style!
*Note, after you complete one of the entry methods below, you'll receive a personal link to share on social for additional entries – thanks for helping share DNA with your friends and colleagues!

Can't see the giveaway form? Click here!
---
Special thanks to our podcast season sponsors,  Mannington Commercial, Keilhauer, theMART, and NeoCon – companies doing big things to move the design industry forward.