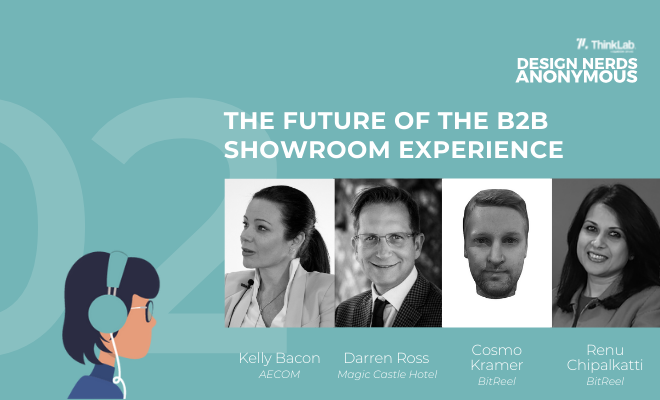 The Future of the B2B Showroom Experience
Preparing for transformative changes
We're at a critical point in the evolution of showrooms in the design industry. New digital dimensions are expanding what a showroom can do and how it can engage with architects, designers, and end users in a radically altered experience. In this episode, ThinkLab explores the possibilities of all this upheaval and asks the experts – what steps should we take now?
Subscribe to view future episodes here:
Design Nerds Anonymous Podcast
Season 3, Episode 02 Show Notes

First, Kelly Bacon, global practice lead of Workplace Advisory at AECOM, discusses the physical/digital convergence of the showroom and envisions one possible scenario for how a furniture rep and a designer might interact.
Darren Ross, our second guest, runs the Magic Castle Hotel in Los Angeles. He tells us about the hotel's celebrated "Popsicle hotline," an example of Darren's customer-focused mindset and commitment to creating memorable moments — both useful attributes when building a showroom experience.
Our final guests are Bitreel CEO Cosmo Kramer and COO Renu Chipalkatti, who discuss what the metaverse is and what it means for manufacturers and designers: Will there continue to be physical spaces? What will their role be?
Highlights from this episode:
[8:48] Kelly urges designers to consider functionality, especially when creating hybrid workplaces.
[19:12] Darren talks about the power of connection as the real secret to his hotel's appeal.
[23:38] "It was pretty stunning to see a gaming application that could be life-changing in terms of shopping."
[26:37] Cosmo advises manufacturers on their next steps to prepare for the metaverse.
[30:43] Renu discusses how showrooms will transition within the next five years.
Connect with our expert guests on LinkedIn:

Take Action on this Episode
Our latest ThinkLab playbook includes 20 easy-to-implement tactics to help you find success with an integrated phygital showroom experience –and to say thanks for listening, we're giving our podcast listeners the first chapter featuring all 20 ideas for elevating your showroom experience absolutely free. Visit https://info.thinklab.design/playbooks to download your complimentary chapter
Share to Win
Want to help us spread the word about Design Nerds Anonymous? Simply share or subscribe using the quick & easy entry methods below to be entered to win a pair of Beats Solo3 Wireless On-Ear Headphones. One lucky winner will be set to listen to the new season in style!
*Note, after you complete one of the entry methods below, you'll receive a personal link to share on social for additional entries – thanks for helping share DNA with your friends and colleagues!

Can't see the giveaway form? Click here!
---
Special thanks to our podcast season sponsors,  Mannington Commercial, Keilhauer, theMART, and NeoCon – companies doing big things to move the design industry forward.