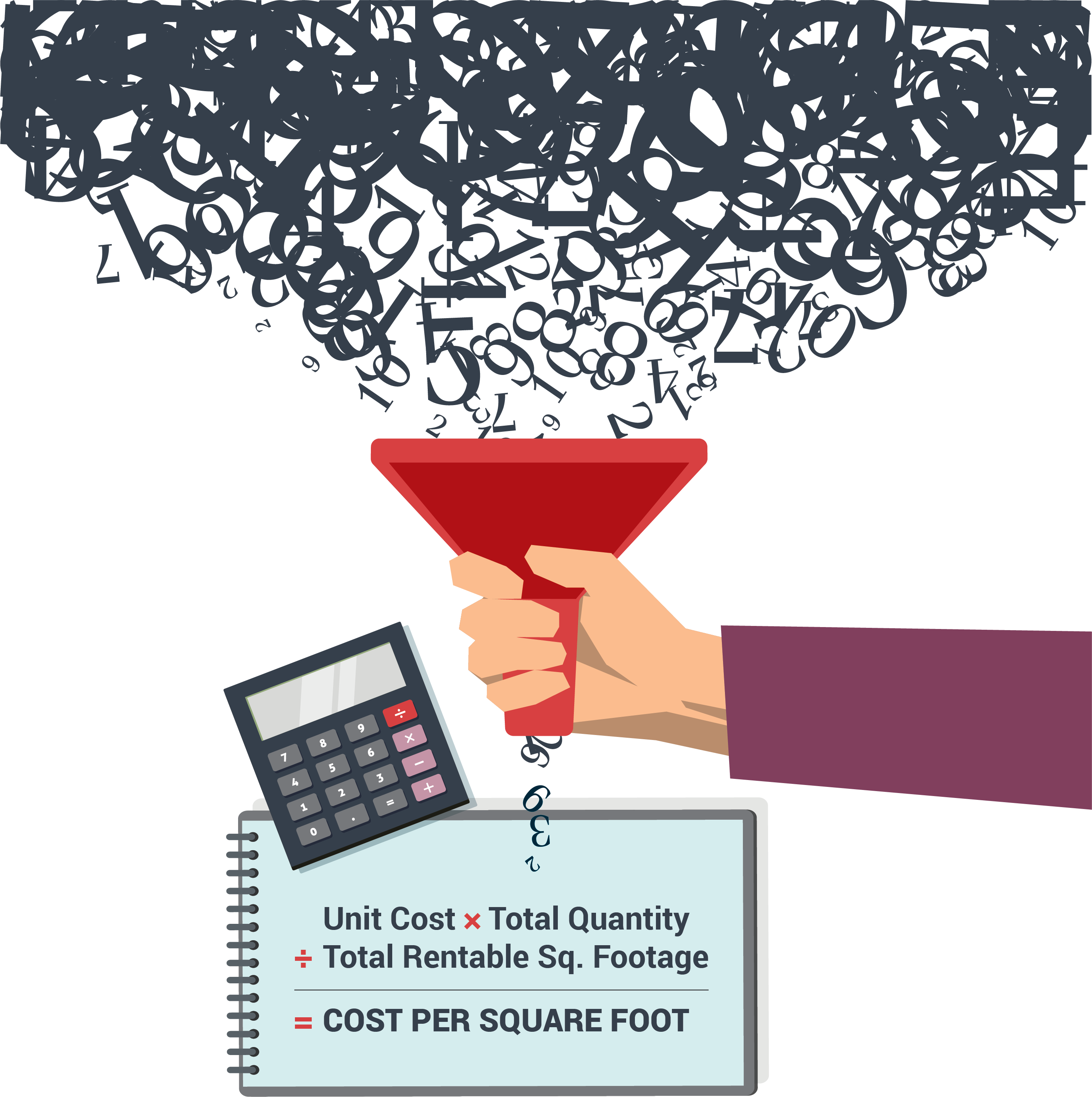 Let's take a moment to step into the client's shoes. They sit down for a planning meeting to discuss layouts and pricing for a new office space. Their leasing rates have been set at $XX per square foot. Their project manager has developed a project budget with a total dollar amount and price per square foot. But then it comes time to furnish the space. It costs $1,200 to $1,500 per desk, $400 per task chair, $150 per task light. And the list goes on. And while they can sit there and run the calculations for how many desks they need, plus ancillary, plus seating, etc., what they really crave is a simplified formula in the same language as their other costs—price per square foot.

As Melissa Perttunen, senior furniture analyst with CBRE Furniture Advisory Services, puts it, "We'd love to see the furniture industry adopt the same price-per-square-foot language used by other members of a project team. When we start a project, we are either given a budget by the project manager, or we are asked to create one, with both a dollar amount and price per square foot. By using both metrics, we are easily able to communicate with the entire project team, and we are better able to help the client determine how that furniture budget should then be allocated into different buckets: workstations, task chairs, conference, etc. While many have been using this language for years, we find that some dealers and manufacturers have not historically presented pricing in this terminology."

We know the client experience would be more streamlined with this small tweak. But where are we in the conversation? A look at some of the challenges in the industry can help us get closer.

A common language for HOW to do these calculations is needed.
Perttunen shares that Furniture Advisory Services has been quoting in price-per-square-foot terms for furniture from the start. Because they are working alongside CBRE's brokers and project managers who are using this language with the client, they developed a set of templates that translate all pricing received from dealers and manufacturers into the price per square foot.

And while, she adds, some firms have begun to also speak in those terms, limitations occur because the calculation process is unclear. There simply has not been a standard in the past. As she explains, "We find that getting to this figure is easier for some than others. For example, a dealer may take the price of a 6-by-6 station, divide by 36, and say that this is the price per square foot. However, it should be calculated in relation to the overall square footage of the space: price per square foot = (unit price * total quantity) ÷ total rentable square footage."

She continues with another example: "But calculation is only one-half of it. Last year, a manufacturer brought us to their showroom, and they were excited to show us that everything was quoted in price per square foot. But the prices were not accurate because they didn't have an appropriate square footage in mind, or benchmark prices appropriately against reasonable price per square foot was for the type of space and market. It's important to double-check any numbers against what is reasonable given the market, space type, and density."

Additionally, some of the biggest variables occur when you look at installation, tariffs, freight, and user preference. Let's take a look at all of them.

Install, freight, and tariffs pricing relies on a keen understanding of variables.
When the price-per-square-foot conversation comes up in furniture, the biggest question on everyone's mind often is how to account for freight. Freight to ship a fleet of height-adjustable desks from New York to Chicago is a heck of a lot cheaper than shipping from Tokyo to Chicago. So how can this be accounted for?

According to Perttunen, the key is in attention to details. As she explains, "You must consider that a $25-per-square-foot budget is not going entirely to furniture: It also needs to include tax, freight, installation, tariffs, and contingencies—all of which have project variables, which must also be considered."

She adds that some mainline companies include freight for workstations and offices, but if the space requires a lot of open-line ancillary and COMs, it's important to bump up the freight cost a bit to accommodate.

As for tariffs, she explains that the key is over planning and caution: "We must accommodate for steel tariffs. A lot of manufacturers are absorbing that in the list price, but they may include a surcharge down the road. You just have to be prepared for all the variables that could come your way." A great furniture partner will be adept and knowledgeable in all of these nuances.

User preference drives percentage allocation within the different furniture segments.
A steady uptick in free-address or unassigned seating has left a bit of uncertainty in the design world, specifically when it comes to pricing per square foot. How much should I allocate to the ancillary budget for a workspace that primarily promotes free address? What about task seating when there no longer are one-to-one ratios in assigned desks?

Perttunen elaborates: "When developing a detailed budget, it's essential to understand the client's priorities. You may have a client who is prioritizing task chairs and another one who wants 30 percent workstations and the rest open plan, so the price per square foot on components will differ. If manufacturers and dealers understand these priorities, they can recommend products that better align with those priorities."

At the end of the day, Perttunen agrees that we have a long way to go before we have a uniformed set of standards for price per square foot. But that being the case, she's excited for those conversations to take off. Speaking to the value of the metric, she leaves us with this inspiration: "We find it to be extremely valuable when there are multiple options on the table. Add glass to a workstation—it's $400 per user, but that gets complex quickly. So, if you say it's $X per square foot, that changes the conversation entirely. It helps us get to those decisions easier. And it also helps figure out the bigger conversations that we should be having earlier in the planning process. We're at a fantastic starting point in this conversation. I'm excited to see it really take off."

Have sometime to add about how your company is doing this uniquely? We'd love to hear from you!
Featured image: It's important to note that price per square foot must include the total rentable square footage, not just the space being furnished. Image credit: ThinkLab.

This article originally was published in Bellow Press and was reposted here with permissions.

Amanda Schneider is President of ThinkLab, the research division of Interior Design Media. At ThinkLab, we combine Interior Design Media's incredible reach within the architecture and design community with proven market research techniques to uncover relevant trends and opportunities that connect back to brand and business goals in a thought-provoking, creative, and actionable way. Join in to know what's next at thinklab.design/join-in.